29 August 2014

Sunrise 6:38 - Sunset 20:33
Today's Featured Photo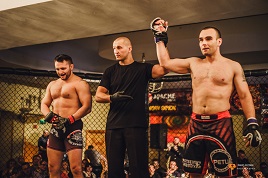 Robert Justynski has a gallery of photos from the West Cage Fighting Championship held at the Welcome Inn Hotel Castlebar. Click on photo to view.



---
Latest Headlines
At the Bonamh Market

-

28, Aug 2014

A heritage week event in Castlebar - Johnny Oosten has a sound recording from last weekend's Bonamh Market
The Handel Challenge

-

28, Aug 2014

Handel's MESSIAH will once again be performed in The Church of the Holy Rosary, Castlebar, 2 Nov 2014.
Volunteers Needed!

-

27, Aug 2014

Volunteers needed to tutor over 55s on Internet and email
Remembering 1798

-

26, Aug 2014

Historical tour of Castlebar remembering the Battle of Castlebar which occurred on 27 Aug 1978.










Try Our Newsfeed - updated 365 days a year
---