29 January 2015

This day 1886 - Karl Benz patents the petrol-engine car
Today's Featured Photo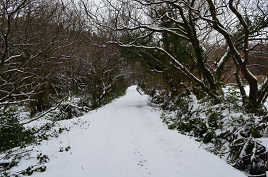 Lough Rusheen Bog Road under snow. Click for more from Bernard Kennedy.



---
Latest Headlines
Is It Time To Get Dirty?

-

26, Jan 2015

With the Greenway extension to Turlough Park due to open shortly and with the opening up of Lough Lannagh to the public, there is a sense of a new leaf being turned of late.
River Bridges

-

26, Jan 2015

The Castlebar to Turlough river Greenway is progressing well with bridges being installed.










Try Our Newsfeed - updated 365 days a year
---