By James Cahill
Ricjak is a steel cutter of 42 ft. in length of chine construction with twin keels and a skeg hung rudder. Her unladen displacement is 12.75 tons with a ballast ratio of 40 per cent. In 1976, while still a student, I attended an ANCO welding course for six months. Shortly before qualifying I borrowed £500 and with another £50 purchased 55 plates of steel at an engineering works. I commenced building in the Easter of 1979 in a field beside an old coastguard station in Westport, Co.Mayo. The hull was completed by the following Spring. Fitting out Ricjak absorbed all my weekends and money for the next two years. During1983 and 1984 I continued to improve the boat and her equipment.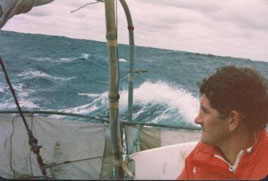 James Cahill on the Ricjak in 1985
1985 was a race against time, I had originally intended to sail the Atlantic alone but in the end I had a crew of ladies. Katherine and I had planned to marry and two of Katherine's sisters, Carmel and Fionnuala Killalea, volunteered to come along. To get some training, Carmel went to Spain on Asgard's first leg of her transatlantic cruise.
The honeymooners ... Katherine and James Cahill
Everyone gave up their jobs. The weather in 1985 was terrible and I kept everybody working as hard as possible while waiting for an improvement. This came for ten days at the start of October and so we set sail from Clew Bay to the Aran Islands with two additional crew, Joe Gibbons of Inishlyre Westport and Tadgh O'Driscoll from Castlebar.
From the Aran Islands we proceeded to Valentia in Co. Kerry where our two extra crew left us and we said goodbye to our friends.
We departed from Valentia at 18.00 on Monday, October 21st 1985, the Barometer was at 1,081 Mb., and rising slowly. Th wind was f.3/4 and tending to back towards the east and later the northeast. The second hand self-steering worked very well at this stage. For the first time I used the VHF to phone some friends and relatives. The sat. nav. broke down on the first day. We had plenty of books on navigation on board but not the ability to use the sextant. The following morning we set up classes and before we were across the Bay of Biscay, we were able to fix our position.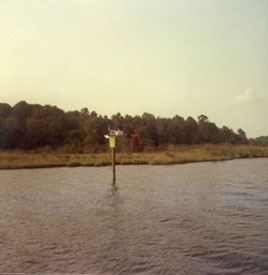 Luckily the route is well sign-posted ...
top
Lisbon
Six days later, on Sunday October 27th. With our compass on 170degrees, we were within VHF distance of Cape Finesterre. The weather became very nasty, as we were about to experience our first gale at sea. After a night of northeast and east winds and our confidence just a little shaken, we were slow to get our storm jib up the following morning to continue our progress southwards. There was a very high sea developing and we surfed down the slopes of large breaking waves for most of Monday. By the time we west of Oporto, the wind disappeared and we had to motor virtually all the way to the mouth of the Tagus and Lisbon. We had taken 9 days to travel from Valentia.
We were in shorts and suntans by now and hell-bent on enjoying on enjoying the sunshine and warmer weather of a more southern climate. After nearly our weeks in Lisbon we were getting used to the life on board. It was lovely to be in harbour and listen to the stories of terrible weather and bad conditions experienced by Swans and larger boats that had come down from the English Channel. I traveled to Gibraltar to collect a new sat. nav.
On the 3rd. of December we departed in a morning haze for Madeira. We estimated that it would take us six days. The Atlantic was still determined to resist our progress and after 15 hrs. out we experienced a short lived gale. I was seasick for a while but very well looked after. For two days after the gale we experienced torrential rain followed by periods of calm. With our solid fuel stove to keep the boat dry and cosy, we ate well, slept well and had good wine, played cards and listened to music. At daybreak on the 7th. morning we saw Madeira ahead, well above the horizon. As usual we ran in to the calm area around the Island and had to motor in until 22.00 hrs. when we entered Funchal harbour. We used Winkie Nixon's guide.
top
Madeira
Funchal harbour in Madeira has a beautiful marina and it is excellent but rather expensive. We managed to tie up to the ship Simrad, a Norwegian demonstration vessel, and the skipper John offered us the facilities of the ship. We also had some wonderful parties on board.
The facilities of the marina were excellent in every respect and we had a very enjoyable two-week stay on the island. The next port of call was Gran Canaria. Here we enjoyed Christmas with a number of friends we had met along the way and then to the islands of Teneriffe for the New year and La Palma for part of January.
top
Canary Islands
La Palma is the most westerly of the Canary Islands and is often recommended as a departure point for an Atlantic crossing. It is a very beautiful Island with very spectacular scenery. Visiting cruise ships tie up there for about 15 hrs. before departing again. We were glad we had purchased our main provisions in Las Palmas in Gran Canaria. In La Palma we took on water, fresh fruit and other perishable goods before leaving for the West Indies after nearly four weeks in the Canaries. We waited for two high-pressure areas to develop one at the Azores and one over North Africa. This gave us the north/ northeasterly winds required to travel south and west across the Atlantic.
top
Atlantic Crossing
It was time to go so we set sail in serene conditions under a full moon that first night sailing at between 4 and 7 knots quickly leaving La Palma astern. We saw the lights of the Island of Hierro ahead at 19.00 hrs. on Tuesday 14th. Jan.
The next day we set up our spinnaker poles on each side of the mast. They remained there until we reached Barbados. We furled our mainsail and it remained under its cover for the whole 2,700 miles While the seas were quite often large water never seemed to arrive on the deck. The self steering gear broke down and the crew had to manually steer almost all the way.
Life on board in general became really luxurious. Sunbathing, homecooking, wine and music. In hindsight the whole crew agrees that on such a passage it is well worth the effort to steer. This period provides structure to the day and imposes a certain self-discipline, which would otherwise not exist. We note from the log that on day four we traveled 170 miles in 24 hrs.
I noticed on each night that the wind backed further north pushing us 80 miles further south than our course. Those boats to the north of us got into sandstorms from the Sahara.
On the tenth day as the winds eased we set up the cruising chute and carried it for over 24 hrs. we put up an awning over the cockpit as it was getting too hot for comfort under the midday sun.
At the beginning of the second half of the passage we all became very anxious to have a swim in mid-ocean. It was quite a big operation removing sails and getting the boat to get everything set up to enable us to get over the side two at a time securely tied to boat at the end of a rope. While the seas appeared so lovely sailing down them at 7 knots , it was quite a different matter when the boat was almost rolling her gunwales under and making forward progress at ¾ knot. People were soon having second thoughts. However, having gone to the trouble we each had to go for a quick dip. We were quite content to swim along with flippers at the end of the rope for a short while before getting back on board again. As an experience the exercise in swimming in the middle of the ocean was worth while. However, we were well and truly tired after the whole operation was complete. We had a half-hour nap and a bite to eat before hoisting our sails again. Somehow the whole afternoon was gone before we were sailing again.
The flying fish landed on the deck on the morning of the 15th. day at sea . We didn't come across as many of these fish as we expected to. They were about the same size as a mackerel and tasted just as nice. They became a large part of our diet while we were in the Caribbean.
Carmel's birthday was on the 28th. of January, we had pancakes for breakfast, prepared by the skipper, birthday cake in the afternoon and a beautiful dinner that evening. The wind stayed a constant f.5. By the 16th. day we were carrying out some minor repairs on the sails.
At 21.00 hrs. on Sunday the 2end. Of Feb. our spinnaker halyard broke after a very hot day. The wind dropped later. The next day I climbed the mast to replace the halyard. We made only 3 knots average for the next few days and on the Wednesday evening at 18.45 Barbados was sighted straight ahead.
top
Barbados
At 20.15 we were 22 full days at sea. We had traveled 250 miles in the last three days and we were delighted to lay our anchor opposite a beautiful white beach on the north side of Bridgetown, The Capital of Barbados. We were entertained the whole night by loud Caribbean music and heard for the first time local popular songs like "Man shortage" and "Captain the Ship is Sinking". In the morning we spotted our two friends George and Candace Reville, two Americans who had crossed on their boat Vectus Dove , they had left two weeks ahead of us. The sense of enjoyment on waking up the next morning on a Caribbean Island after making our first ocean crossing is hard to describe. It was just so pleasant as one by one we jumped over the side for a swim before the heat of the day.
top
Atlantic, West-East
The next part of the article is devoted to the homeward bound journey from Boston to the Azores and then to Ireland in October and November 1986.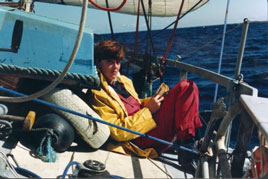 Fionnuala catches up on some reading ...
It was a very different cruise from that of the outbound journey in that our expectations were that things would get worse rather than better as in the Spring. Our crew for the return voyage were; James Cahill, Katherine Cahill, Fionnuala Killalea and Jarlath Cunnane.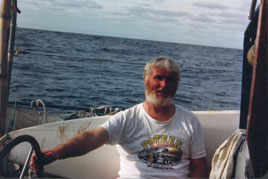 Jarlath takes the wheel
Jarlath flew out to Boston to join us on the return voyage. Carmel, the fifth member of the crew planned to fly out from Florida to the Azores to join us later. Jarlath used contacts to meet Arthur Snyder who had visited Dublin in his 44 foot 27 ton wooden schooner. We were royally entertained in the Marriott Hotel on the 30th. Of September by Arthur. By early afternoon we were waving farewell and as we weighed anchor.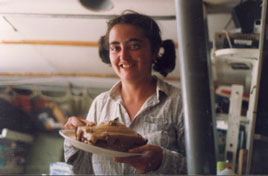 Carmel near the Bahamas
The half ton of shingles that we purchased for Jarlath's new house on the Island of Collanmore in Clew bay were all lashed down on the deck. Our stores were all packed away, our water tanks full, our sails ready and the crew in good spirits and we looked forward to getting into the breeze, as the temperature was 88 degrees. So we were hauling up our sails as we passed all the yachts, marinas and waterfront houses to starboard and later O'Hare Airport to port. By 18.00hrs. on 28th. Of Sept.1986 our course was 120degrees speed 6 knots, log reading 24 and wind SW F2/3. Boston was lost in the haze and the evening was getting cooler as the sun dropped. The waves were about 6 to 8 feet, I had already slept for an hour, Jarlath was now sleeping and Fionnuala prepared dinner. Over the next few hours the sea settled down and at 22.30 hrs. Cape Cod light appeared to starboard.
Our passage to the Azores involved 4 Storms and trailing sea anchors to reduce speed down waves. This alternated with periods of calm so that in 11 days we traveled 1,000 miles.
top
Azores
The Barometer was rising slowly, steadily once more as we approached Flores with high expectations. Saturday, the 18th. Of October 18 days , we had 170 miles to go and began to spot finback whales. They were too far away to take a photograph. It was nearly calm. The crews were suddenly in great form, we were back to eating hearty meals and Jarlath kept everybody entertained with Dublin building site jokes. I even wrote a Dunns Ditty for the I.C.C.
At 06.00 we noticed a ship anchored under the main village of Flores. At 10.40hrs I went ashore to make enquiries as to where we might find a place to tie up the boat. There is no natural harbour and we had to tie to rings on cliffs with the aid of a local man. We were glad to be on terra firma for a while.
On Wed. we set sail with two reefs, staysails and jib. The weather was well broken. We had a spectacular sail to Faial, one hundred and forty miles away. The wind was southeast and we sailed closehauled all the way. We were tied up in the Marina at 08.30, an exciting 20 hr. sail.
Carmel, the fifth member of the crew was expecting us. She came to the boat shortly after breakfast. Carmel had been waiting for us about one week and was able to introduce us to the town of Horta and showed us the famous Peter's Café and other sites of interest in the town.
The marina in Faial is very well equipped with shower facilities, automatic phones and excellent laundry facilities. While in Horta we met a Dutch man named Johan. When he met us he said "Conas ata tu?" He had worked for a while in Cork many years ago and hoped he would be back in the future.
top
Homeward Passage
By Wed. 29th. Oct. at noon we were ready to sail. The first five days were almost flat calm and progress was slow. We heard R.T.E. for the first time when we were 55 miles out of the harbour. We passed Graciosa, the most northerly island of the Azores,. The high Summit of Pico, 7,600 feet was still visible. Halloween arrived. Halfway to Inishlyre and home the crew began to notice it was getting cold and from there on we had gales with large following seas which broke over the boat. We again had to reduce speed with sea anchors. The boat took a pounding. We lit the stove for the first time since leaving Lisbon a year earlier. We did spot a weather plane overhead and tried to contact it using the mast lights. It continued flying a grid pattern. I climbed the mast to replace broken halyards when the wind decreased. Fionnuala baked fresh bread and a cake.
On Tuesday, 11th. Nov. it was dark as the angelus rang on RTE. We still had 160 miles to go to Inishlyre. The winds rose again to force 9. We were once more under storm jib traveling at 5 .5 knots. By midnight the storm sails were removed as the sheets parted. At 08.00 the next day we were 70 miles from home A reefed storm jib was now set. Our last sat nav fix put us 15 miles SW of Inishark then the battery went.
top
Landfall
The wind veered to the SE and decreased. Katherine spotted Slyne Head glowing on the horizon (viz.25miles).. Almost the perfect landfall. At 20.08hrs. we were 8.5 miles west of Inishark and sailing as close as possible to the south east wind under a storm jib. The wind now blew with terrific strength and we had to remove all sails and put out the sea anchor we all slept intermittently. At 05.10.hrs Katherine observed a lighthouse over our stern. We later identified this as Blackrock lighthouse on the north Mayo coast. We had overshot Clew bay and now the gale was against us. We had grave difficulty in tacking back against the wind with small storm sails. I took many hours to get back around Achill Head and into Clew Bay.
We were off Achill Beg Lighthouse as we switched on the radio. When listening to the news we learned of an upturned yacht being found off Co. Donegal and the search for us which was underway. Friday 14th Nov. came as ghosted into Clew bay at under 3 knots towards the Inishgort lighthouse. At 04.30hrs we arrived at Inishlyre Island and awoke Tommy Gibbons in order to announce our safe arrival to our families. Tommy appreciated the Caribbean rum.
top