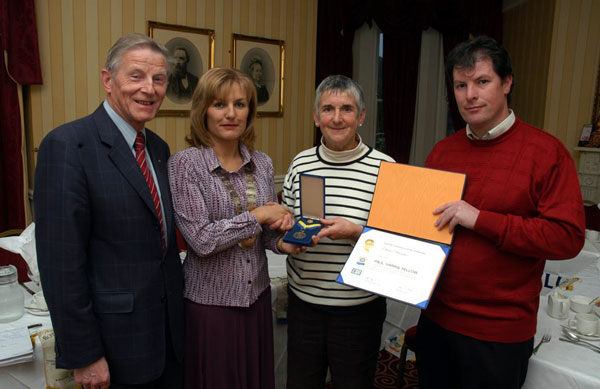 John Kilkelly, Vivenne Kyne, President Castlebar Rotary Club 2005-2006, Elaine Devereaux Castlebar Four Days Walks, and John Kilcullen presenting the Paul Harris Award to Ms Devereaux.
Castlebar Four Day Walks Receive Rotary Award


Elaine Devereaux of Castlebar International Walking Festival recently received an Award from Castlebar Rotary. This Award was given in recognition of her service to the Castlebar Community and to the Castlebar International Four Days' Walks.

Ms Devereaux received the prestigious Paul Harris Fellow Award from Vivienne Kyne President of Rotary Castlebar. According to Kyne "Rotary and the Castlebar Walks share a common goal of bringing people together in a spirit of fellowship". She also commented on how successful the festival is with 900 walkers participating in this year's festival.

The event has been running since 1967 and Ms Devereaux has been actively involved with the walks for over 24 years. Ms Devereaux and her fellow members were recognised by Rotary for their exceptional contribution to the Festival and the town of Castlebar in a presentation ceremony in Breaffy House Hotel.