Friday 4th - Monday 7th
June Bank Holiday Weekend
FEATURING 19 BANDS - FREE!........


MAP OUT YOUR BAND CRAWL TO THE 19 OR SO VENUES!


or LOOK AT THE GIG GUIDE

* Music nightly at 10 pm.
* Final changes available from the festival office - 094 23111
* Afternoon gigs in a number of bars each day
* Details will be displayed at the venues
* Bar extensions each night.
* All Blues Trail gigs are free
* The Blues Ball starts Sun 12 midnight in the TF hotel (adm £7)
* Phone Festival office for further info.

Castlebar Blues Festival Venues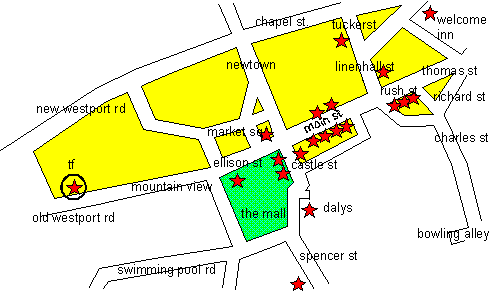 Click on the Red Stars to find out what's on where!

Venue List

Festival Information

---




FESTIVAL OFFICE: 094 23111
TOURIST OFFICE: 094 21207

---

Eugene's musical roots were developed early in the blues clubs of Louisiana and through gospel encounters. In '91 he formed The Hideaway Bridges Band, and toured extensively. A soul soaked singer & guitarist, with a voice even bigger than his girth, compares to a cross between BB King and Sam Cooke.



| | |
| --- | --- |
| Fri | |
| Sat | |
| Sun | TF Theatre |
| Mon | |

12 pm Sunday




---

Castle Inn

A 6-piece band from Portsmouth with a mission to show all that blues is the mother of all that's good! Live the band is tight, fresh, energetic and infectious combing traces of blues, jazz and rock in their originals and covers. By the end of every gig the audiences are in full party mood with the band.

| | |
| --- | --- |
| Fri | Castle Inn |
| Sat | Castle Inn |
| Sun | Castle Inn |
| Mon | |

10 pm nightly




---

Previously a member of The New Hokum Boys he has recently embarked upon a series of solo performacnes at which he gives fantastic renditions of such diverse material as that of Bahamian guitarist Joesph Spence or evocative Latin American dance tunes. Classic country blues, ragtime, jazz and beyond!

| | |
| --- | --- |
| Fri | McCarthys |
| Sat | McCarthys |
| Sun | McCarthys |
| Mon | |

10 pm nightly




---

The gritty warmth of Brid's voice enhanced by the heartfelt accompaniment of Paul Fairclough (drums), Dick Farrelly (electric/acoustic guitar), and John Kearns (bass) ensure each performance is memorable. Southern blues, soul and folk interspersed with self-penned originals..

| | |
| --- | --- |
| Fri | Stalky's |
| Sat | Stalky's |
| Sun | Stalky's |
| Mon | |

10 pm nightly




---

One of Ireland's top guitarists, John has played with everybody from Sherman Robertson and Wild Child Butler to Johnny Mars with whom he regularly tours. A former member of The Mary Stokes Band and Fattenin Frogs for Snakes his set includes his own unique tribute on acoustic guitar to Rory Gallagher.

| | |
| --- | --- |
| Fri | Willie Joe's |
| Sat | |
| Sun | Willie Joe's |
| Mon | |

10pm nightly




---

Blues with a touch of jazz, soul and rock - laid back n'sleazy one minute - dazzling the next and played to perfection. A highly polished 3-piece of staggering musical virtuosity. Features John Williamson (lead guitar & vocals), Simon Crumley (bass) and Leon Parr (drums) Definitely driven by the blues!

| | |
| --- | --- |
| Fri | Hennelly's |
| Sat | Hennelly's |
| Sun | Hennelly's |
| Mon | |

10 pm nightly




---

The preacher's son who after playing blues all Saturday night long, would arrive in his church to sing gospel in the Sunday choir. he played Rock n' Roll for 15 years in New Orleans before the term was used to define the music and plays historically rooted rural as well as urban blues music.

| | |
| --- | --- |
| Fri | Tipsy Toad |
| Sat | Tipsy Toad |
| Sun | Tipsy Toad |
| Mon | |

10 pm nightly




---

Stompin;, caffeine infused house rockin' blues. No frills - just a big fat groove and lots of presence. Featuring Big Daddy, lead vocals & guitar, Michael Greif, bass & vocals, Curtis Hightman, lead guitar & vocals and finally Richard Proctor, drums. Blues classics and originals.

| | |
| --- | --- |
| Fri | McGoldricks |
| Sat | McGoldricks |
| Sun | McGoldricks |
| Mon | |

10pm nightly




---

Nominated two years running for the 'Best British Blues Band'. Formed in '88 the Harp Breakers have a reputation of being one of the most exciting acts around and often bend over backwards (literally!) to please their audience. Regular guests of the Festival, with great response each time.

| | |
| --- | --- |
| Fri | The Bungalow |
| Sat | The Bungalow |
| Sun | The Bungalow |
| Mon | |

10 pm nightly




---

This band has been playing the blues for over 15 years. Arguably Ireland's Finest blues band, the illustrious line up includes Pat Farrell on guitar and vocals, John Quearney on bass and vocals, James Delaney on hammond organ and Noel Bridgeman on percussion.

| | |
| --- | --- |
| Fri | Tolsters |
| Sat | |
| Sun | Tolsters |
| Mon | Tolsters |

10pm nightly




---

Stunning classic blues and R & B. These young but highly accomplished musicians under the experienced hand of Frank Nazereth play with infectious excitement and drive. Featuring vocals, guitar, harmonica, drums and bass, this is their second visit to Castlebar.

| | |
| --- | --- |
| Fri | Daly's |
| Sat | Daly's |
| Sun | Daly's |
| Mon | |

10 pm nightly




---

Fronted by vocalist and guitarist Donald Craig, Graffiti Limbo from Derry, play a mix of originals and covers of artists such as Little Feat, Dr. John, Taj Mahal and Michelle Shocked. Featuring Rory Clements (piano/organ) and Allan Nicholl (lead guitar). Compelling and involving sets.

| | |
| --- | --- |
| Fri | Irish house |
| Sat | Irish house |
| Sun | Irish house |
| Mon | |

10 pm nightly




---

Brighton-based, this is a one-man blues band of awesome power and dedication. Notable slide guitar playing, blowing harp fills between vocal phrases, playing riffs during harmonica solos and growling out those blues lyrics with a voice like an angle-grinder.

| | |
| --- | --- |
| Fri | Ray's |
| Sat | Ray's |
| Sun | Ray's |
| Mon | |

10 pm nightly




---

One of Ireland's premier Blues performers and a prolific songwriter. Using slide guitar, harmonica and a voice as gruff as a Great Dane, his interpretation of the blues classics has been highly acclaimed. The Dermot Byrne Blues Combo consists of Dave Ross on bass and Ed O'Callaghan on drums.

| | |
| --- | --- |
| Fri | Flannelly's |
| Sat | Flannelly's |
| Sun | Flannelly's |
| Mon | |

10 pm nightly




---

Played at the Castlebar Blues Festival in '97 with 'memorable' drum solos and great audience appreciation and attention, they're back with classic American musical styles - blues and western swing, honky-tonk, jump jive, boogie woogie and a whole lot of fun - whew! Joined by a ventriloquist's dummy - Reg.

| | |
| --- | --- |
| Fri | Humbert |
| Sat | Humbert |
| Sun | Humbert |
| Mon | |

10 pm nightly




---

From the mountains high baove the sunshine coast, hat (strings, jug, panpipes & vocals), Itch (drums, washboard, kazoo & vocals) and Scratch (bass fiddle & vocals) play music steeped in the Delta Blues of Robert Johnson and Bukka White. Music that seeps into the floorboards and creeps out of your ashtray.

| | |
| --- | --- |
| Fri | Byrnes |
| Sat | Byrnes |
| Sun | Byrnes |
| Mon | |

10 pm nightly




---

A dazzling slide & acoustic guitar blues man, Will has travelled extensively in Europe and the USA, delighting audiences with his fiery musicianship. A fine songwriter, he includes many originals in his performance. Also plays the banjo & harmonica and draws his influence from the R & B greats.

| | |
| --- | --- |
| Fri | Welcome Inn |
| Sat | Welcome Inn |
| Sun | Welcome Inn |
| Mon | |

10 pm nightly




---

Bennett has learned his craft busking and touring around Europe in the '70s. He began writing in the '80s. Currently he plays with a band assembled from the cream of British R & B, including a 4-piece horn section. Bluesy horn riffs, funky power chords, atmospheric, gusty and convincing big city blues.

| | |
| --- | --- |
| Fri | Kingsbridge |
| Sat | Kingsbridge |
| Sun | Kingsbridge |
| Mon | |

10 pm nightly




---

Fresh, alive and completely real, Errol and his talented band provide a full-on mix of reggae rhythms with the deep old blues sounds of the Delta. The conviction and authority of Errol's, songwriting, singing and harmonica playing has earned him appearances in many festivals and on radio and BBC TV.

| | |
| --- | --- |
| Fri | Cox's |
| Sat | Cox's |
| Sun | Cox's |
| Mon | |

10 pm nightly




---

* Music nightly at 10 pm.
* Final changes available from the festival office
* Afternoon gigs in a number of bars each day
* Details will be displayed at the venues
* Bar extensions each night.
* All Blues Trail gigs are free
* The Blues Ball starts Sun 12 midnight in the TF hotel (adm £7)
* Phone Festival office for further info.






FESTIVAL OFFICE: 094 23111
TOURIST OFFICE: 094 21207






---

Page maintained by Castlebar Information Age Town Project, info@castlebar.ie
Mayo Editorial Services mayoedit@iol.ieCopyright © CIAT. Created: 31 May 1999