Mayo County Library Service
….book lending, inter library loans, reference, careers information, college prospectus, local history, genealogy, newspapers and magazines, business information, videos and audio, talking books, language tapes and videos, exhibitions, talks, childrens' activities, internet access and multimedia, other services, school library, mobile library…
Read on if you want information on any of the above…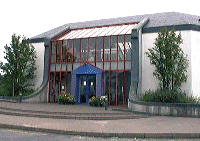 BOOK LENDING
Mayo County Library

has over one quarter of a million books in stock on every subject from genetically modified food to computer manuals and from science fiction to servicing your car are borrowed from Mayo County Library annually.
INTER LIBRARY LOANS
Your local library can supply you with any title published anywhere in the world through our international inter-lending network.
REFERENCE LIBRARY
In each branch to answer your work, home and leisure information queries. We have special collections covering environmental, EU, consumer and tourist information.
CAREERS INFORMATION AND COLLEGE PROSPECTUS
A complete careers information service in Castlebar Library with smaller services in other branches. Study Guides for students are also available from the library service.
LOCAL HISTORY AND GENEALOGY
You can discover the meaning of your surname, the history of your parish or the stories of the lives of famous Mayo people such as Granuaile, Michael Davitt or George Moore at your local library. All of the branch libraries hold collections relating to the local history of their surrounding area. The central library in Castlebar holds a vast collection of books, newspapers, journals, maps and photographs covering all aspects of the history, folklore and geography of the county. The Wynne Collection of over 3000 photographs of local interest is the jewel in the crown of this collection.
NEWSPAPERS AND MAGAZINES
The central library in Castlebar holds a complete collection of local newspapers including the Connaught Telegraph from the early part of the Nineteenth Century on microfilm. Other branches stock local and national newspapers and a selection of magazines and journals.
BUSINESS INFORMATION LIBRARY
Castlebar holds a large collection of books, journals, tapes and videos covering all aspects of business including marketing, personnel management, start your own business and accounting.
VIDEOS ANDAUDIO TAPES
Most branches now hold a small stock of educational videos and audiotapes covering history, DIY, nature, sport and Shakespearean plays. An excellent collection of health videos is available in Ballina Library
TALKING BOOKS
A wide range of 'talking books' is now available in all branches. These are particularly useful for the visually impaired but are also used by housewives and people who travel long journeys. They provide a "user friendly" means of becoming acquainted with the more difficult classics such as Ulysses.
LANGUAGE TAPESAND VIDEOS
Available in all branches.
LARGE PRINT BOOKS
All branches hold a range of books in large type for the visually impaired.
EXHIBITIONS
Numerous exhibitions on topics as varied as The Famine to animal welfare are held in our branches each year. Exhibitions by local artists are always welcome.
TALKS
Every year numerous talk and lectures are held in the central library in Castlebar. Topics covered in the past have included euthanasia, drug abuse, taxation, heart disease, the Irish language and the Mayo Gaelic football team. Authors who have spoken in the library include Deirdre Purcell, Bernard Farrell, Nuala O'Faolain, Terry Prone, and Joseph O'Connor
CHILDRENS' ACTIVITIES
Mayo County Library run numerous events for children every year - Story hours, face painting, cartoons, a summer book club, puppets, and children's theatre. Visits by children's writer are also frequently arranged Marita Conlon McKenna, Siobhan Parkinson, Michael Mullen, Una Leavy Don Conroy are among the authors who have visited our branches in recent years. Local volunteers who are prepared to read to children are always welcome.
INTERNET ACCESS AND MULTIMEDIA
Access to the wide range of databases and information which is available on the Internet is available in Castlebar Westport, Ballina and Ballinrobe, Claremorries and Ballyhaunis branches, and will soon be available in our two new libraries in Swinford and Crossmolina. Multimedia encyclopaedias, dictionaries and children's information are also available in these branches.
OTHER SERVICES
Application forms for passports, motor tax renewal and driving test are available in most branches.
Voters registers and planning application forms are available in all branches.
SCHOOL LIBRARY SERVICE
The School Library Service provides book exchanges to the 187 primary schools throughout the county twice per annum. Over 70,000 are exchanged annually.
THE MOBILE LIBRARY SERVICE
The dispersed pattern of population in County Mayo means that a mobile library is necessary to provide a service to those living in remote areas.
Mayo County Library's two mobile libraries visits ninety small towns and villages throughout the county every fortnight. Austin Vaughan, County Librarian emphasises the social aspect of the mobile service and sees the service as a vital aspect of Mayo County Council's commitment to dealing with social isolation.
In rural areas where there is sometimes a shortage of facilities, the value of the library is inestimable. Young children are introduce books and to the joys of reading, while older people are afforded the opportunity to follow upon hobbies or interests they may have cultivated during their earlier lives and to develop them further.
Mayo County Council

was among the first local authorities to provide a public library service. The County established a County Library scheme for a trial period in 1925, placing it on a permanent basis in 1928. While resources were in short supply in the early years, a network of centres was gradually built up around the county. Trains, buses and mail cars were all used to transport books at various stages of library development. Today Mayo County Library has an established network of branches at key locations throughout the county. The service is delivered through twelve branch libraries, two mobiles and a school library service.
The public library service plays a vital role in fulfilling the social role of local authorities maintains Austin Vaughan, Mayo County Librarian. They contribute to civic pride and to the economic and educational development of a community. The library service maintains the only readily accessible collections of materials relating to the literary, visual and dramatic arts and music and as such is a mainstay of culture in the county.
Austin Vaughan also believes that even those who do not directly use the service obtain a real benefit from it, through the enrichment of the community and its individual members. He quotes the Nobel prize winning writer Octavia Paz who viewed libraries as "a bulwark against the vast wave of stupidity that surrounds us today". For this reason he argues strongly that the library service can perhaps be viewed as the most important service which Mayo County Council provides.