---
Tipp, Top As Mitchels Hurling Chairperson.
Tony 'Tipp' Stakelum was appointed the new chairperson of the Castlebar Mitchels Hurling Club at their A.G.M. last Sunday evening. In his opening address he paid a lovely tribute to the outgoing chairperson Fr. Michael Murphy and to the work of all the officers and club members over the last four years in promoting the great game of hurling in Castlebar. The following officers were elected to run the club in 2006.
President – Brendan Campbell Vice-Presidents – Mick Byrne & Mick Duane
Chairperson – Tony Stakelum Vice Chairperson – Paddy Fahy
Secretary – Eugene Connolly Vice Secretary – Darren Greaney
Treasurer – Gerry Sheridan Vice Treasurer – Martin Clarke
Registrar – John Kennedy P.R.O. - Fr. Michael Murphy
Schools Officer – Ger Whyte Youth Officer – Tom Staunton
Irish Officer – Conal O'Domhnaill County Board Delegate – Michael Murphy
Juvenile Chairperson – Gerry Lane Senior Manager – Ray Coy
Suck Valley League
On the field the season has already got under way with the first round of the Suck Valley League. The league consists of eight teams from Galway, Roscommon and Mayo and each weekend you play a club at under 12, 14, 16, and minor level. This weekend Castlebar Mitchels Hurling Club were the hosts of Ahascragh – Fohenagh and despite the wintry conditions we had some very competitive games of hurling between the two clubs. Next week we travel to Pearses of Roscommon. Details are at the end of the piece.
Minor
Ahascragh – Fohenagh 0-7 ; Castlebar Mitchels 1-3
This was a well contested game despite the conditions with Ahascragh – Fohenagh moving into a four point lead in the first half with the wind at their back. At the start of the second half they extended it to five points before Mitchels started to assert their control. Gerard O'Boyle with a well taken goal and points from Sean Gavin and Andrew Butler left the score level with time nearly up but Ahascragh – Fohenagh put together a lovely move to finish the game with a point and claim the victory.
Team; E. Murtagh, K. Lavelle, P. Fitzgerald, C. Hayes, C. Sheridan, D. Collins, R. Kenny, D. Sheridan, J. Sweeney, S. O'Malley, S. Gavin, A. Butler, L. Murphy, G. O'Boyle, B. Raftery.
Under 16s
Castlebar Mitchels 0-5 ; Ahascragh – Fohenagh 1-2
A strong wind blowing straight down the pitch made this a game of two halfs. In the first half Ahascragh – Fohenagh with the aid of the breeze went in with a four point lead despite some great defence by the Mitchels. In the second half they extended their lead to five before Mitchels came roaring back with five unanswered points to draw level. At this stage Mitchels were totally on top but missed some good opportunities to win the game. Andrew Butler's accuracy both from play and frees was a big factor as was exemplary defending from Liam Williams at full back. Overall it was a great team performance and a good start to the season.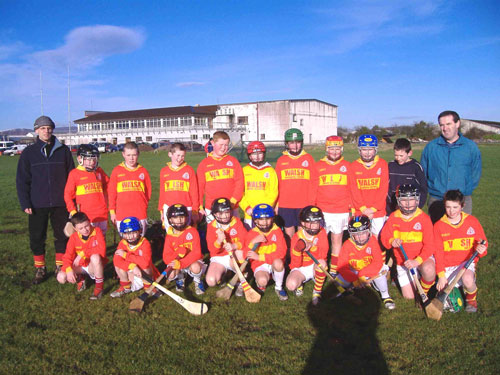 Castlebar Mitchels Under 12 Team
Team; M. Clune, D. Mulvihill, L. Williams, M. O'Donnell, E. McCarney, R. Kenny, M. Gallagher, P. Redmond, L. Murphy, V. O'Brien, A. Butler, N. McCarney, D. McTigue, L. McGrath, J. Cotter, S. Moran, C. Cox.
Under 14s
Ahascragh – Fohenagh 1-3 ; Castlebar Mitchels 1-1
Mitchels dominated the early play in this game but could not make it pay on the scoreboard and Ahascragh – Fohenagh led by two points at the break. A Michael Clune goal for Castlebar and a Jamie Redmond point in the second half brought them back into contention but once again they spurned the opportunities to go on and win the game. On the other hand the visitors took their chances and hung on under pressure for a hard earned win. Rory Byrne, Richard O'Dea, Nicholas Quinn, Fergal Durkan and Michael Clune stood out for Mitchels in this game.
Team; B. Lane, C. Morris, R.O'Dea, S. Irwin, R. Byrne, N. Quinn, P. Condon, F. Durkan, M.Clune, D. O'Malley, A. Gavin, N. Walsh, J. Lowe, D. McHale, N. O'Malley, C. Gavin, J. Corcoran, G. Duffy, J. Welby, C. Munnelly, J. Redmond, Jos. Redmond, D. Togher, D. Loughran.
Under 12s
The Mitchels under 12 team were under pressure from the start and despite losing put in a brave effort. This was their first get together this season and it should stand to them in their future games. Both teams played some nice skilful hurling on the day despite the trying conditions with Ahascragh – Fohenagh coming out on top.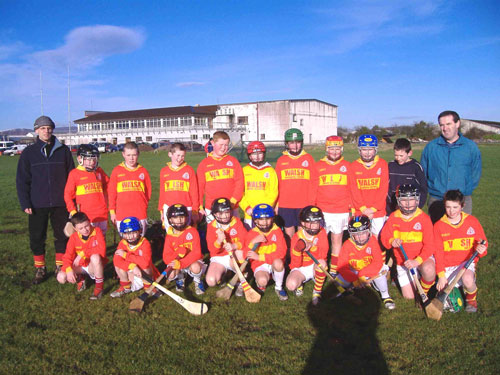 Castlebar Mitchels Under 12 Team
Team; A. Staunton, D. Munnelly, B.O'Malley, D. Costello, A. Jensen, C. Mylett, T. Quinn, A. O'Sullivan, A. Towey, P. Colleran, C. Walsh, D. Singh, A. Singh, L. King, L. Ruddy, N. Fahey, G. Robbinson, P. Cronolly.
Pearses, Roscommon versus Castlebar Mitchels Jan 21st & 22nd
Next weekends series of games are against Pearses of Roscommon @ Pearses Club. The under 12s and under 16 games take place on Saturday while the under 14s and minors play on Sunday.
The Bus on both days will leave An Sportlann @ 9am. Please bring a packed lunch and drink. The cost of the bus is ?5.
Please inform a team mentor by Thursday evening if you are unavailable.
Under 12s – Barry Murphy or Michael Howley
Under 14s – Gerry Lane or Paddy O'Brien
Under 16s – Michael Clune or Ger Whyte
Minor – Darren Greaney
© Copyright 2006 by the author(s)/photographer(s) and www.castlebar.ie

Top of Page