---
Castlebar's 18th annual Pantomime "Robinson Crusoe" opened in the TF Royal Hotel and Theatre on Wednesday, January 15 and runs through to Sunday, January 19 2003.
The show is in the capable hands of Producer and Director Tony Varley; Musical Director, John Flatley and Choreographer, Jason Gutherie and provided some wonderfully entertaining evenings' entertainment for Castlebar panto afficionados.

The principal roles are played by Mary McHale (Ma Crusoe); Mossie McLoughlin (Robinson Crusoe); Des Gilsenan (Wil; Atkins); Laura Daly (Polly); Christine Ralph (Topsy); Michael Tolan (Silly Billy); Sharon Lavelle (Debbie); Padraic Heneghan (Roger); Michael Rice (Man Friday); Lar Davis (Old Man of the Sea); Karen Conway (Good Fairy of the Sea); Peter Cotter (Sailor); Antoinette Dugdale (The Witch Doctor).

Lots of photos of the 2003 production of Robinson Crusoe.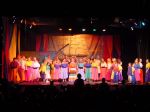 Castlebar Panto 2003 was Robinson Crusoe.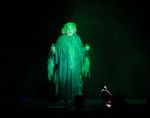 Lars Davis scaring the living daylights out of the youngsters!

Audio Panto: Our selection of RealAudio files - click individual links to get a flavour of Robinson Crusoe 2003
- Introduction
- Silly Billy
- Captain Bill Atkins
- Over the Rainbow
- The Lion Sleeps Tonight
- Interview with the Fairies
- Here comes the Sun
- Interviews with the Audience
- Drunken Sailor
- or listen to all of the above as a continuous Selection of Panto Clips (23 minutes in total) - (RealPlayer needed)

Panto Video: Castlebar pantomime 2001 Aladdin - Castlebar's 2001 Pantomime - an archive video.
© Copyright 2006 by the author(s)/photographer(s) and www.castlebar.ie

Top of Page