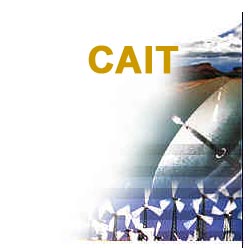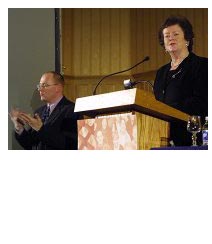 Castlebar Receives CAIT Funding of 99,000 euros
Castlebar Server Project is to receive funding from the Community Application of Information Technology - or CAIT Initiative, to assist their efforts in bringing the benefits of Information Technology to a wide range of community groups and individuals in Castlebar and County Mayo.
At a ceremony in Athlone on Monday 25 June 2001 Minister for Public Enterprise, Mary O'Rourke TD announced the allocation of £4M to 71 different community groups and organisations around the country. Four groups won awards in County Mayo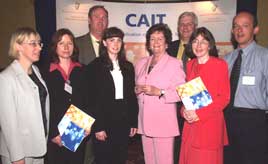 Click to enlarge the image
Two of the winning groups from Mayo with Minister Mary O'Rourke
Front row left to right : Regina McGarrigle, President Castlebar Chamber of Commerce, Ramona Lavelle, Castlebar Server Project, Eileen McNamara, Meitheal Mhaigh Eo Teo, Minister Mary O'Rourke, Dr. Mary Flannery, Western Health Board, Frank Murray, Western Health Board
Back row left to right: Justin Sammon, Meitheal Mhaigh Eo Teo, Joe Brett Meitheal Mhaigh Eo Teo.
The Mayo Winners included:
Castlebar Server Project Ltd., Castlebar (€ 99,000)
Meitheal, Mhaigh Eo Teo, Newport; (€ 121,000)
South West Mayo Development Co., Ballinrobe (€ 41,000)
St. John's Rest and Day Care Centre, Knock (€ 15,000)
Regina McGarrigle, President Castlebar Chamber of Commerce and Ramona Lavelle, Marketing Manager for the Castlebar Server Project Ltd. were in attendance on behalf of the Castlebar Server Project, when the announcement of the individual awards was made by Minister O'Rourke.

The primary goal of the Castlebar project is to develop an inclusive information society in Castlebar and County Mayo. The aim is to register new users in the existing community access centre, provide one-to-one meetings, training, free access, 180 hours of preferential computer for registered trainees, install self-training software and provide tutor-led training. The project builds on existing successes in Castlebar arising from the eircom Information Age Competition (which is now drawing to a close).

The projects will run over an 18 month period.

The main aim of CAIT is to bridge the digital divide and to introduce new technology and information systems to those in our society who are unfamiliar with and who do not use the new technologies in their everyday lives. In excess of 450 applications were received and Castlebar is proud to be chosen by the independent panel of judges in the intense competition for funding.