t h e l o n g w e e k e n d i s h e r e !
The Bulletin Board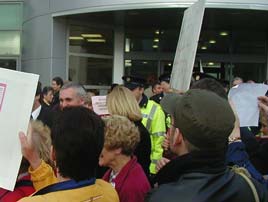 Muirsíns photo of Bertie under siege at Mayo General Hospital yesterday
Halloween spirits in Castlebar: Send a scary Castlebar Halloween Card to your friends. For a tasty seasonal treat check out Joe Mc Hughs Halloween Pumpkin Recipes
Oireachtas 2000: The Oireachtas is a celebration of all that is best of our native language and culture. Oireachtas comes to Castlebar 2-5 November! Is onóir mhór i seo do Chondae Mhaigheo, do Ghaeltachtaí Maigheo agus do lucht na Gaeilge sa Chondae.
Read all about it!: All the biggest stories from around Mayo in our weekly papers round up!
Castlebar Cinema: School's out this week. What's on in the cinema? Why not go to the flicks?
Badminton Club: Castlebar Badminton Club. All systems go for the new season.
Bridge Results: Castlebar Bridge Club. Results updated to 17 October.
Athletics: Castlebar Athletics Club. Up and running also - now that the olympics are over.
---
Having a Whale of a Time at St. Pats
CRCFM Live: Live RealAudio webcast from CRCFM - 11:00 to 21:00 weekdays and 9:00 to 18:00 weekends. Ireland's first community radio to be webcast live.
Email Competition: Win Your Spring Bulbs Test your gardening knowledge at www.gardencentre.ie. This site is hosted on our www.informationage.ie server.
Nostalgia ain't what it used to be: Old photos and discussion of The Rare Ould Times in Castlebar.
Why not Work in Castlebar? Spar Express Manager and staff wanted. Remember that there are always lots of jobs at our jobs page. If you have positions to fill, you can advertise here too - it's free!
---
Network Mayo: October / November update. The organisation for women in business in Mayo.
Castlebar Parish: Each week you can read the online version of the Sunday Parish Newsletter.