A Rose by
Any Other Name . . .
The Green 'n Red Interview
The Green 'n Red team meets up with Aoibhinn our Mayo Rose and winner of the Rose of Tralee competition 2005.
Let's see now, Carnacon. Now how do I get out there again ? Oh yeah, out the Golf Links road for a bit and then take the badly signposted turn off, down through Errew and keep an eye out for the signs for Moorehall. Gawd, but it's been years since I was out here and to think that when we were kids it used to be a regular haunt for the Sunday spin and at times even a cycling adventure out from Castlebar, mental note must bring the nieces and the nephew out here some weekend, they'd love it.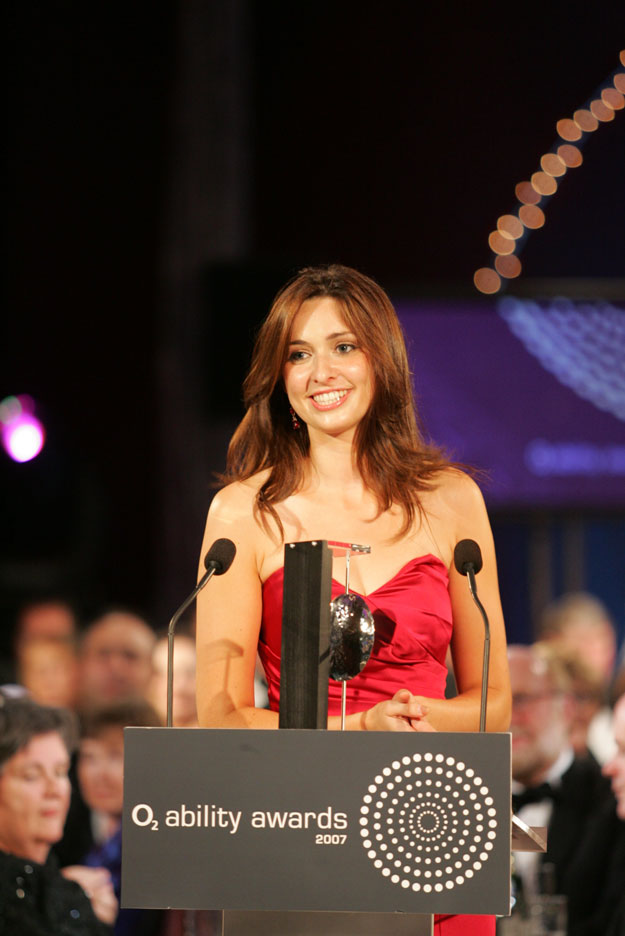 I should be concentrating on my driving but my mind starts to drift a little . . . "On June 16th 1982, at 6:28pm and 32 seconds, a bluebottle fly capable of 14,670 wing beats a minute landed on Rue St Vincent, Montmartre. At the same moment, on a restaurant terrace nearby, the wind magically made two glasses dance unseen on a tablecloth. Meanwhile, in a 5th-floor flat, 28 Avenue Trudaine, Paris 9, returning from his best friend's funeral, Eugène Colère erased his name from his address book. Nine months later, Aoibhinn Ní Shúilleabháin was born." (Ed : Confused ? See Aoibinn's favorite film - Amélie).
As we negotiate the tight little road through the bog to Carnacon we review the official bio from the Rose of Tralee site - Aoibhinn is 22 and has recently received First Class Honours in her Theoretical Physics Degree from UCD and plans to continue her post graduate studies in Bio-Physics. Her impressive academic achievements include a student placement in 2004 at CERN (Centre European de Research Nuclear) in Geneva, awards in the international Mathematical Contest in Modelling, an Entrance Scholarship from UCD in 2001 and scholarships from Bord Na Gaeilge. This native Irish speaker loves singing and also plays concertina, piano and guitar. She has been a member of Comhaltas Ceoltóirí Éireann for many years and has awards for sean-nós singing, Cómhra Gaeilge and Grúpa Ceoil. Aoibhinn has won national awards for short-story and poetry and is an enthusiastic singer-songwriter. She has five younger brothers, loves travelling and fishing on Lough Carra. Whew ! All that and only 22 !
Okay here's Carnacon, better park up and ring this lady to find out where we'll pick her up, "Hi Aoibhinn, we're just parked beside what I could best describe as a shrine erected by the Carnacon ladies football team in your honour . . . ","You're just up the road ? Grand see ya in a minute"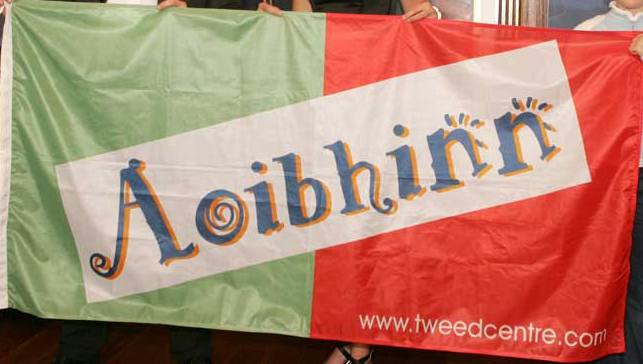 The big Tweed Centre sponsored 'Mayo Aoibhinn' flag in the front garden lets us know that we're at the right spot. Aoibhinn comes out to greet us and it's the first time I've seen her without the fancy dresses, tiara, etc. and I'm totally disarmed by the friendly bubbly young lady that I meet. I suggest that we head up towards the lakeshore and Moorehall for a few photos. It's the end of August and school has just restarted so there's a bit of a chill in the air, Aoibhinn dives back inside to grab a fleece.
"Should I bring my sash ?" she enquired, "No, let's just keep it casual, we're here to interview you".
We squeeze her into out little car, "Apologies Aoibhinn, I guess we shoulda brought the open top sports car but we decided to leave it at home in the driveway today".
"Ah sure when I get my Smart car I'll be able to drive to meet people".
"You know we could be kidnapping you ?" we joke, "Whata headline that'd make !", driving down the road I already have the impression that we could demand a fairly hefty ransom too.
We head down past the 'welcome home' and 'well done' banners and flags, through the heart of the village of Carnacon and towards Moorehall and it's car park.
We find a nice little picnic bench under the cover of the trees with nothing but the tranquility of the Moorehall woods around us and we start the interview proper :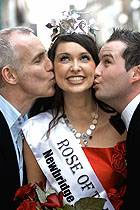 GnR : We're talking to Aoibhinn, the Mayo Rose and the winner of the Rose of Tralee. Thank you for agreeing to do this interview and for inviting us out to Carnacon.
A : Not at all, my pleasure.
GnR : So, you're feeling exhausted ?
A : A little bit tired, yeah. I think you can see that in the face…
GnR : No, no. As pretty as ever I think, but exhausted by all the razzmatazz I can imagine…
A: Yeah. Well, it's just that I didn't realise how big it was going to be. The Press has just been unreal. All the well wishers and phone calls have just been really lovely.
GnR : Brilliant. We're going to start you off with a big question. I think that Gerry Ryan may have asked you something similar. Myself, I think that every man of every age in Mayo has fallen a little bit in love with this beautiful, intelligent creature called Aoibhinn, and that every woman of every age greatly admires your beauty and the fact that you show off the best attributes of women. We're all well aware that you're a multi talented person but we all want to know the flip side, what's your deep dark secret? Tell us one bad thing about Aoibhinn so that we don't think you're an angel, that you're human like the rest of us.
A : OK, well, I'm… kind of… bossy.
GnR : Your brothers will testify to that, will they ?
A : Yeah, they will indeed. But you have to be bossy when you've five younger brothers.
GnR : I suppose yeah. You had a keen interest in the stars, I don't know whether or not you still do ?
A: I did when I was younger. I used to stay out late with Dad because he has a telescope from the Primary School where he was principal, and we used to just look at all the constellations and he taught me all about those. So, that where's the interest came from…
GnR : For physics and maths ?
A : Yeah, and hence I went into astrophysics, but now I've kind of turned away from that...
GnR : Oh, you went into astrophysics first ?
A : Well, theoretical physics with the point of doing astrophysics in the end, which I did and I really enjoyed, but I enjoy fluid dynamics more.
GnR : And do you have a favourite celestial object of any kind ?
A : Ah… ooh… neutron stars…
GnR : Yeah, I can appreciate that, always sending out their little signal all the time.
A : Absolutely…
GnR : You can tell that I'm a bit of a geek as well, you know…
A : No, we're not nerds, we just like physics…
GnR : No, not nerds, geeks – there's an important difference… Do you believe in extra terrestrials at all or that there's any kind of life, it doesn't have to be little green men or anything ?
A : Yeah, I'm sure that there's some form of life on some other planet in the universe.
GnR : Loads of people will be delighted to hear that you know. Do you like any computer games at all, Aoibhinn ?
A : No, I'm actually not a computer games fan. Though I like minesweeper, that's about as far as it goes.
GnR : No ? Even solitaire ?
A : No, too boring…
GnR : Are you into any science fiction at all ?
A : I love Anne McCaffrey and Arthur C. Clarke. I get my grá for science fiction from my dad, I used to always read his books when he had finished them.
GnR : So, Dad's into science fiction? A school principal into science fiction ? I'm delighted to hear that because so many of them want you to study the classics but I think myself that Arthur C. Clarke could be classed among the classics … Favourite book ?
A : I read and re-read Anne McCaffrey when I need just a nice little boost because they're happy stories and good heroines and stuff like that. But, a favourite book… that's a tough one on the spot. Maybe…"The Five People You Meet in Heaven" by Mitch Albrom.
GnR : Favourite film ?
A : Amélie
GnR : Favourite poem of any kind ?
A : Let me see… These are questions I haven't been asked before…maybe "Hope is the thing with feathers" by Emily Dickinson.
GnR : Favourite actor ? Don't say Brad Pitt…
A : God No, though I love watching him but he wouldn't be my favourite actor. I'm really bad with names of actors and actresses would you believe, but I like that big guy from the Shawshank Redemption, he's old now? He just got an oscar…
GnR : Morgan Freeman ?
A : Yeah, that's him, I like him.
GnR : Yeah, a lot of people like him alright. Favourite actress ? Other than yourself obviously...
A : No, I'm not an actress, come on… Oh, the name has just completely gone… You caught me on a bad day; I'm just tired. The one from Breakfast at Tiffany's, what's her name...?
GnR : Audrey Hepburn ?
A : Yeah, I love her style
GnR : How's your boyfriend taking all the adulation and attention that you have been receiving ?
A : He's taking it really well. He's being very patient so I'm very lucky with that because we haven't actually got any time together yet so…
GnR : Will you get time together over the next year or so ?
A : I'm hoping that we will because we're planning on going to Dublin so he's asking how often will I be away and I really can't say. But, hopefully, once we get up to Dublin he'll be starting college and we'll get back into a routine, it'll be alright. But he's been great about it.
GnR : I remember when Mindy won, herself and Paddy Flannery went away on a trip to see her relations in the Philippines and a film was made of it for a programme for RTE.
A : Yeah, well you see Peter's in college so I don't think that he'll be able to take the time off college.
GnR : It said on the Rose of Tralee's website that your plans were to continue your post-graduate studies in biophysics, but you're putting that on hold for the year I take it. Do you want to explain to the uneducated what biophysics is ?
A : Yeah, well I actually was going to do a Masters in computational science, people kind of got that just a little bit wrong. It's just taking the programming and taking the mathematics that I've done and just putting it into programs. So computational science, it'd be just taking big problems from the real world and just putting them on the computer and getting answers quicker. But biophysics then is taking in information from the biological sciences and using my maths and my physics, which is basically problem-solving, using that to maybe detect brain tumours easier, to treat them easier, or to treat diabetes easier, this is what I'm hoping eventually…
GnR : So, it's a mathematical number crunching exercise for biology ?
A : Yeah, well it's kind of like that… it'd be taking in mathematical models and just using them on biological problems.
GnR : You're a powerful singer !
A : Well, I enjoy singing but I'm not a great singer.
GnR : I think all your friends out in CERN seemed to appreciate it because you had something on the CERN website about not contacting your room for guitar parties after 11 o'clock at night ?
A : Yeah, it happened a few times.
GnR : Is there any chance that there's an Aoibhinn album in the works or even a single for charity or for the Mayo team or something like that ?
A : No, there's nothing in the works but that's a great idea. Peter bought me a voucher to record some of my songs in Temple Bar Music Centre so I did that in June but I actually haven't got the CD yet.
GnR : My God, that'll sell like hot cakes, you should get it out there…
A : Oh no, it's just for myself, just to have them. We'll see now…
GnR : What music are you listening to on your MP3 player at the moment ?
A : I'm listening to Joni Mitchell on the new mp3 player that Clever Stuff in Kiltimagh presented to me before Tralee.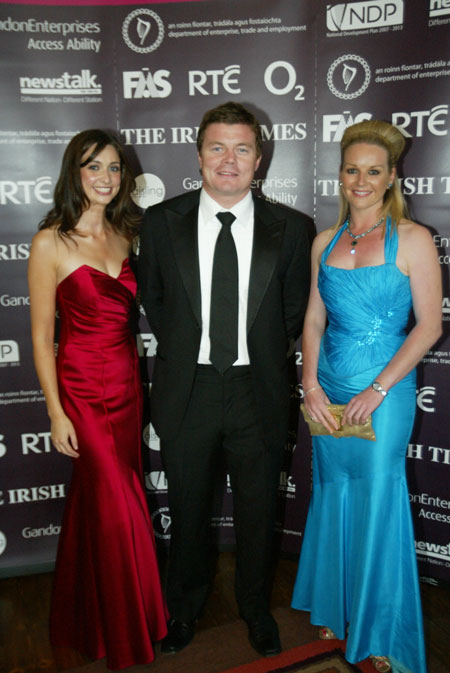 GnR : World class lady footballers, physicists and gorgeous beauty queens, Carnacon is a fairly productive little area so what's so special about it ?
A : It has to be the community spirit. First of all, as you can see it's a fabulous area, it's got the lake and lovely forest. But it's also a very historical area, I think that could have something to do with it. The Celts were here, we've got plenty of fairy forts around and all that, it's obviously magical as well. But the community spirit is just great, and I think that growing up in that, you really feel looked after. There's always someone around who's looking out for you.
GnR : Yeah, your dog can wander around the village without anyone getting annoyed ?
A : Yeah, that's it, everyone knows each other. There's always a babysitter available, there's always something going on, so it's a lovely place to grow up in. So I think that adds to your confidence as you're growing up as a young person.
GnR : I can imagine that it's good to have a support network around you.
A : Yeah, exactly.
GnR : I notice that on the roadmap I have in the car that Carnacon isn't actually marked on it at all. OK, it is signposted when you come out of Castlebar but it is easy enough to miss it, so I was thinking we should write a letter to the ordnance survey people and tell them that they should officially add it on…
A : For the tourists maybe now…
GnR : Well you know, this is a great chance to boost the area…
A : Yeah, and hopefully it'll do that. Hopefully there'll be more people visiting and enjoying the sights.
GnR : Now, we're going into the ladies topics. During the Rose of Tralee, I noticed that all the roses were all wearing beautiful silver jewellery, I assume that that was Newbridge silver ?
A : Yeah, all Newbridge. Newbridge is the biggest sponsor of the Rose of Tralee so we got so many pieces of jewellery, it was unbelievable. Our parents got cufflinks and little mirrors and we got sweet holders, just everything you could think of, Newbridge silver just gave to us. We were just treated so well by them.
GnR : And the piece you wore on the night, were you allowed pick that out ?
A : Yeah, it's all down to yourself. You wear what you like. They just have such a really wide collection.
GnR : I thought some of the Roses were wearing some similar stuff and I wasn't sure then whether Newbridge said maybe you three wear this one and you three wear this other one…
A : Well, they had an evening with us with Celia Holman-Lee, she's the owner of the top model agency in the country, and she spoke to us about posture and how to enter a room and all that, and then they had a big display of all the jewellery and they had three girls there to advise us as to what item would best suit our dress for the night. So, it was really helpful, they were very good to us.
GnR : So, of all the dresses and clothes you got through, what was your favourite ? Was it the winning dress ?
A : Well, I love that dress, I love the blue dress. I wore an orange version of that for the regional finals and because I loved it so much I just had to get it in a different colour.
GnR : One in every colour ?! Also, during the pageant, you travelled around Ireland and you saw a lot of the tourists' sights. Is there anywhere in Ireland that you haven't been to but you'd really like to see or visit ?
A : I'm sure there's plenty. I actually haven't been to Newgrange which is really embarrassing…
GnR : Most beauty pageants ask questions like if you had one wish… and you're supposed to say you'd like world peace and all that, but if you had one wish and you had to be selfish, pretend you won the lottery maybe, what would you do with it?
A : Before I answer that, can I just say that I don't think that the Rose of Tralee is a beauty pageant.
GnR : Very good, we like to hear this sort of thing…
A : Well, I don't think I'd be there personally if it was a beauty pageant. The competition is really not based on looks, it really is about your personality and how you interact with people and how confident you are, whether you'd be a good ambassador. It's so different from Miss Ireland in that respects, and then the difference is that there isn't the competitiveness with the girls. Now, what would I do with the money ? I'd probably buy a house for everybody, like Mom would love one in the sunshine in Spain and Dad wants one in the Corrib, so that'd be it, they could spend their summer there. And, the lads would all love cars when they're old enough…
GnR : That's most of it gone in this day and age. Like a lot of people I know, I was never great for Irish but I did spend three weeks in the Gaeltacht, out on the Aran Islands. I got an awful fright about half-way through, I remember I started thinking 'as Gaeilge' and I actually stood in my tracks and went 'wow'. Now, I'm assuming you kind of grew up bilingually so do you think in Irish all the time or…
A : It depends, it's really odd. Sometimes, I just jump between the two. When I'm particularly tired I just start talking in Irish when I'm not kind of not minding myself, so I do think in Irish a fair bit I suppose, and it helped that I was on the Bord na Gaeilge scholarships in UCD because we spoke Irish in the house for two whole years, so I suppose I think in both.
GnR : And what about thinking 'as Gaeilge' ? Does it help with unlocking some new physics theory or anything like that ?
A : Oh, you never know, but it's definitely worthwhile because it helps you learn other languages I reckon…
GnR : I'd guess that the roots of Irish are more in Latin than English ?
A : Well, I don't know where the Irish history comes from, but because it's so different from English, like the grammar rules are so different, learning both of those in primary school leaves you wide open to learning French and German better. When I was in CERN, a Swedish guy and I found loads of similar words, probably from the Vikings and that… Irish really is a mixed language.
GnR : You said you liked fishing, do you really like fishing ?
A : Well, I'm actually really bad at fishing but I love being out on the boat.
GnR : What's your favourite bait ?
A : I don't know, I don't pick the baits, I don't put them on, I just sit there with the rod. I use the boat for thinking and chatting. I could spend my whole day out there, a whole month out there, it's just being on the lake…
GnR : What's the biggest fish that you've ever caught ?
A : Not very big, I thing 4lbs or something….
GnR : Mayo people I think are a desperately proud people and our hearts burst with pride any time any one of our own does well. You brought joy into a lot of the homes across the county but what do you think makes Mayo people what they are ?
A : Am, that's a tough question but I definitely think that Mayo people have something different from the rest of the country because we are a particularly proud county, particularly friendly I think as well. So what makes us different ? I suppose because we're the most westerly of all the counties and we've been left out of the whole European thing, the Romans left us behind and Cromwell left us behind, and maybe it's just because we've maybe been left with our Celtic heritage more, maybe that makes us different.
GnR : That's a great answer. Have you any messages of inspiration for the young people of Mayo ? Not that you're not young yourself, but you know what I mean…
A : Everything in moderation maybe. Enjoy yourself but keep your feet on the floor.

GnR : Now, were going to throw twenty quick fire questions at you…Favourite flower ?
A : Daisy.
GnR : Left or right handed ?
A : Right handed.
GnR : Eye colour ?
A : Blue-grey.
GnR : Belly button, inny or outy ?
A : Inny.
GnR : Favourite colour ?
A : Yellow.
GnR : Favourite Irish word ?
A : Nóiníní (means daisies) actually.
GnR : Favourite particle ? Gluon ? Muon ?
A : That's a toughie, gluon…
GnR : Have you a favourite dimension, for someone who's wrapped up in astrophysics ?
A : It has to be third…
GnR : Favourite soup ?
A : Chicken.
GnR : Favourite drink ?
A : Champagne.
GnR : Favourite meal ?
A : Chips, I love chips.
GnR: Favourite dessert ?
A : Mom's trifle.
GnR : Fizzy cola bottles or apple-jacks ?
A : Fizzy cola bottles.
GnR : Podge or Rodge ?
A : Podge.
GnR : Priest of the Year or the Lovely Girls competition?
A : Lovely Girls.
GnR : Beef or salmon.
A : Oh, neither.
GnR : Swings or roundabouts ?
A : Swings.
GnR : Heels or runners ?
A : Definitely runners.
GnR : Hands or feet ?
A : Hands.
GnR : Crosswords or sudoku ?
A : Well, I haven't done sudoku, though it was a massive fad in our class when we were supposed to be studying, so I stayed away from it as I was studying. I'd have to say sudoku because I'm really bad at crosswords.

GnR : Well done Aoibhinn, any upcoming events that you're attending, the Late, Late show maybe ?
A : Well I've been asked to give a talk in Trinity to the Women in Science and Technology group.
GnR : Wow, that's great.
A : Yeah, I was delighted and flattered that they gave me the opportunity to address their group and I really would like to use my year as the Rose to help to push physics and maths, so we'll have to see what happens.
GnR : One last thing, I noticed that Stauntons were good enough to give you a digital camera as a gift and I was wondering if you'd be willing to send us back a few snaps from your travels around the world to use on Castlebar.ie ?
A : Yes, no problem, I'd be delighted.
GnR : Great, okay that's it then, Aoibhinn Ní Shúilleabháin thank you very much or rather 'go raibh maith agat' and best of luck in your year ahead as the Rose of Tralee.
A : Thank you and a big hello to all the readers of Castlebar.ie from both home and abroad and thank you for all your messages of support.
Links to Aoibhinn's Pages on the Castlebar.ie and other websites :
(C) Copyright 2005 by the author(s)/photographer(s) and www.castlebar.ie