Re: For JDP
---
[ Follow Ups ] [ Post Followup ] [ Castlebar Old Photographs ]
---
Posted by MM on November 13, 2001 at 19:58:34:
In Reply to: Re: For JDP posted by Murrisk on November 13, 2001 at 16:27:23: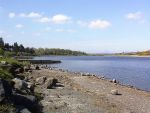 For Murrisk
The whole landscape of the lake shoreline has changed. The area for car parking can be reached from behind the graveyard and is by the lake. The river runs next to it into the lake. I am sure UTP,MAP,Tempus or JDP or Max ( if he would ever come online) could tell you exactly where it is. I think its the river where the St Patricks Ave kids played that jumping game. The name escapes me at the moment.

---
---