---
[ Follow Ups ] [ Post Followup ] [ Old Photos] [ Castlebar.News] [ Castlebar Nostalgia Board ]
---
Posted by Murrisk on January 08, 2003 at 08:41:33: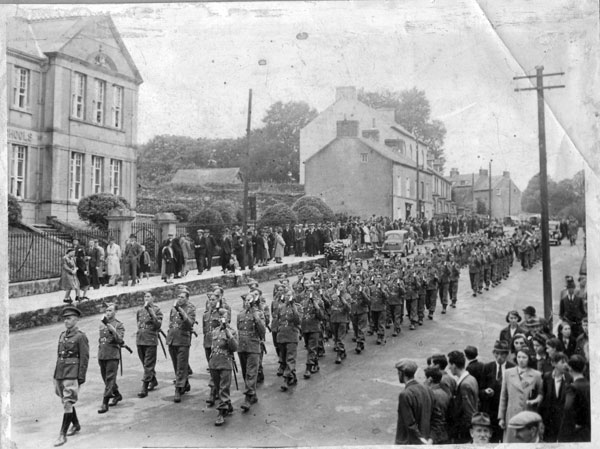 This photo of a funeral with military guard was given to me recently following the death of an elderly Castlebar lady. The photo was believed to have been taken from the front of the Church of the Holy Rosary looking towards the old St. Geraldís College. The school and view looks like Chapel Street but Iím not too sure. The photo was taken in the late 1930ís or in the 1940ís, probably the 1940ís based on the civilian clothing. The military caps are an old style as are the Lee Enfield rifles. The soldiers are wearing crossed rifles collar badges indicating a rifle company, and the shoulder flashes appear similar to the old Eastern Command insignia. All soldiers are wearing webbing with two cartridge pouches and bayonet. The registration of the car is Z 7814 Ė a Dublin registration (Z was introduced in 1927). There is an ass cart loaded with wood behind the car.
I count 57 soldiers followed by a 12 member military band. The hearse is flanked by another 6 officers and there are more people walking behind the hearse. Two vehicles of the cortege can be seen coming around the corner.
Can anyone help in identifying where the photo was taken ?


---
---
[ Follow Ups ] [ Post Followup ] [ Castlebar Nostalgia Board ]