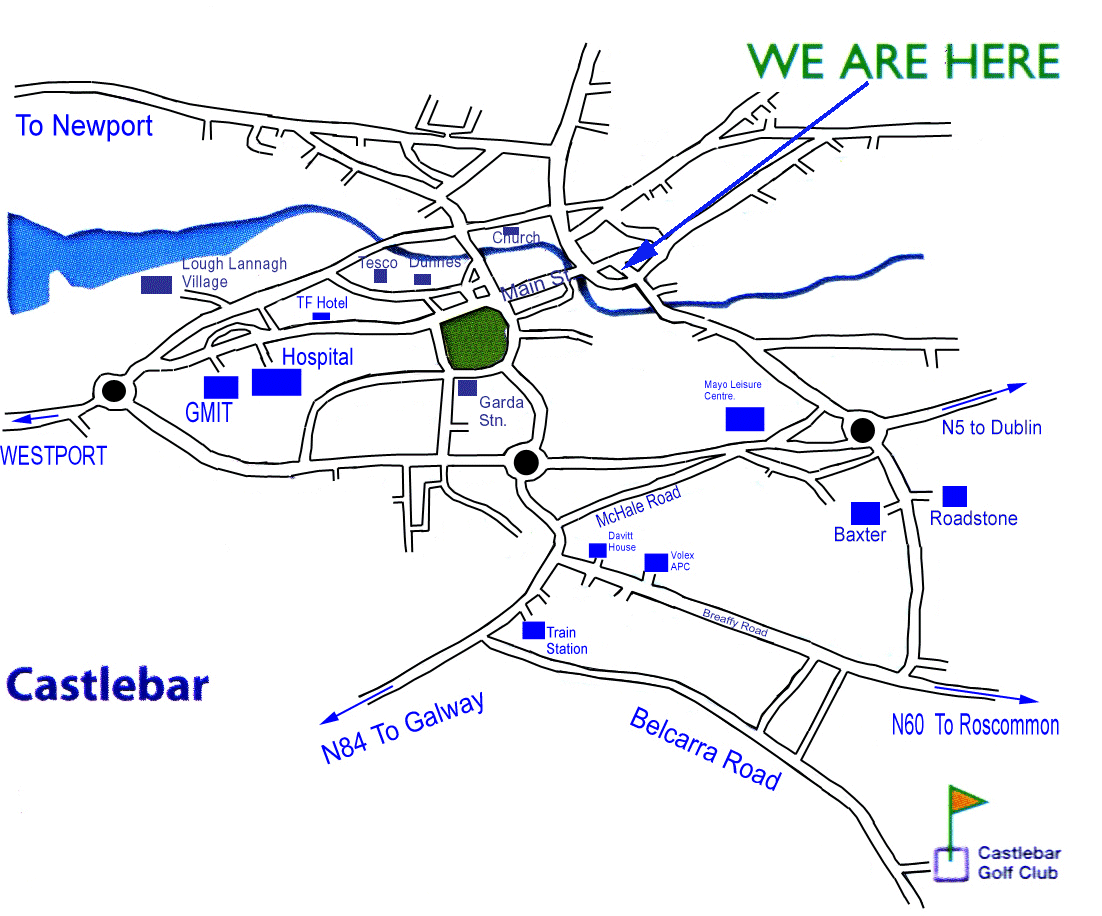 Situated right in the heart of Castlebar town, Kenny's Guesthouse is easy to find. If coming to Castlebar via the N5 (from Dublin, Swinford,Knock Airport etc.), turn right at the 1st roundabout and then veer left at the mini-roundabout and we are on the right. If coming to Castlebar from Galway then turn right at the first roundabout and left at the second roundabout and then veer left at the mini-roundabout and we are on the right. Coming from Claremorris, the easiest way is to turn right at the very 1st roundabout (Kilkenny Cross), then straight through the 2nd roundabout and veering left at the mini-roundabout we are on the right.
Should you require further directions when arriving in Castlebar, please feel free to phone us, we are happy to help!


Castlebar is the principal town of County Mayo in the West of Ireland. Mayo is the 3rd largest county in Ireland, behind Cork & Galway, and is arguably one of the most unspoilt and beautiful areas in the Country.
Castlebar itself is a bustling, thriving town. With a constantly growing population, which is becomming more cosmopolitan, it provides the visitor with a wealth of activities, from sports to fine dining, museums and arts and crafts.
Fancy a pint of the "black Stuff"? Castlebar has a wide variety of pubs to choose from, those with traditional music, modern contemporary music, or for those who prefer the chat, no music at all!
If shopping is your thing then Castlebar is certainly the place to be. With fashion boutiques, department stores, accessories shops, salons, everything you want is available!
Steeped in history, Castlebar was centrally involved in many historical moments of Irish history. General Humbert led his famous rout of the occupation forces here in 1798 and testament to this are the various monuments in and around the town. Visit the National Museum of Ireland - Country Life, in Turlough, Castlebar to step back in time and see how people lived in bygone days.