Ian Mc Keever will be the special guest at The Seven Day In A Row Croagh Patrick Challenge Awards Night to be held in Royal Theatre Castlebar on Friday 8th October.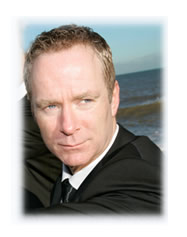 Ian mc Keever is a respected Communications lecturer, Adventurer and Broadcaster.
He has recently taken on a series of difficult challenges on mountains, at sea and on land in the hope of proving what is actually possible through properly channelled belief, motivation and the right preparation regardless of age or a person's background.

Climbing
2004 5 Peaks world record for British & Irish mountains in 16 hours 16 minutes.

2005 Croagh Patrick 7 times in 17.5 hours

2006 The 26 peaks of Ireland North and South in 98 hours.

2007 The World Record for the 'Seven Summits Challenge' by climbing each of the Continent's highest peaks in a time of 155 days.

2008 Trained and guided his 10 year old Godson Sean mc Sharry to the top of Kilimanjaro making him the youngest European to ever do so.

2009- Present. He now trains and guides people of all ages, shapes and sizes to Africa's highest peak following the same 'Broccoli' programme that he gave his Godson. He has now helped over 100 people successfully to the summit.
Other
In 2009 he was part of a team that attempted to row the South Atlantic Ocean in a new world record time and create history by becoming the 1st crew to ever row an ocean in under 30 days.

In February 2010 he turned 40, and now turns his attention to 'dry' land and a shot at Eamonn Coughlan's outstanding 4 minute mile record which he set at 41 in 1994... Ian hopes to emulate Eamon's indoor achievement and become the 1st man over 40 to break 4 minutes outdoors.