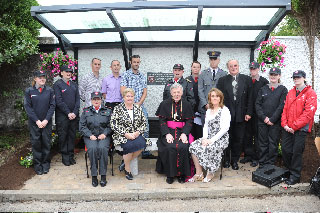 At the unveiling of the memorial to Capt. John Cunningham, Castlebar Order of Malta.

A fitting memorial made to Capt John Cunningham DM, R.I.P., at the Order of Malta headquarters in Castlebar last Saturday evening (14 August 2010). The memorial was instigated by the cadets of the unit who served as cadets under Capt John. Four of the six cadets are now transferring in to the senior unit and during their graduation process they decided to remember Capt John Cunningham in a more permanent and visible way around the unit.

The project started when the cadets got Joe Mongan of Mongans Construction to pave an area outside the building. Then they got Aiden McGunniss of Roadstown, Castlebar to help them. Aiden sponsored a granite seat which was a wonderful idea. After this was received they decided weather conditions did not suit their idea so they asked John and Sheila Murray of Murray recycled plastics and Paul Rowland of Rowland's roofing to protect their project.

The project was unveiled on Saturday the 24th July 2010 by Comdt Winnie Maye, National Director of the Order of Malta and Archbishop Michael Neary. The cadets of the Order of Malta were supported by cadets from Ballina and Ballinrobe, the Assistant National Director Pascal Devilly, the Order of Malta Quartermaster Comdr Jimmy Maye, Fr. Cosgrave P.P. Castlebar, Region Four Cadet Liaison Officer Leonard McDonald, Tom Jennings O.C. of Castlebar Unit, members of the Castlebar Senior Unit, the Cunningham Family, members of the neighbouring Units including Westport, Ballina, Ballinrobe, Achill and Knock and neighbours and friends from Castlebar.

The cadets involved in this every lasting memorial were Sgt Caoimhe Ryan, Sgt Gary Costello, Cpl Jane Murray, Cpl Aiofe Deasy, Cpl Laura Gavin, Cpl Saoirse Murray, Cpl Niamh Gielty and Cpl Shane Noonan.

The seat and plague is an everlasting memorial to a man who has left an every lasting effect on the cadets, the Seniors and the people of Castlebar.

In loving memory of Capt John Cunningham DM, R.I.P.