Residents demand that 'troubled' estates be divided.
The Connuaght reports on a Town Council meeting at which vandalism and violence were up for discussion. A bonfire was lit the day before Bonfire's night piled up against an ESB pole and causing a power cut that lasted for 15 hours within the Knockthomas/Riverdale Court/Rowan Drive area. Cllrs Mee, Kilcoyne and Gavin and King appear to be supporting what appears to be an engineering solution to the problem - a move to put a fence between two of the estates in order to stop through-traffic. It is claimed that outsiders from other areas are gaining easy access to the estates and this is leading to anti-social behaviour in the estates. Cllr Blackie Gavin said "There is an awful lot of overgrowth in the area and awful carry on in the trees". The town engineer Shane McDonnell had surveyed the area in advance of the meeting. The residents are pushing for a dividing wall or fence and the closure of some steps and paths in order to discourage congregations of young drinkers and consequent anti-social behaviour. Some of this was quite serious including the burning of a car on the same night as the electricity blackout.
It sounds like some adult supervision was required for the youngsters lighting a bonfire stacked up against an ESB pole. Seems odd that no one passing thought it sensible to either warn the youngsters that this wasn't a sensible course of action or, if they felt threatened by the youngsters, to report it to the fire brigade before the stack was lit?
This is an old one I guess going back to ancient Greek when the Aristotle bemoaned what the youth of his day were getting up to. But I'm wondering whether the lack of interference by adults in children's affairs nowadays is actually the root cause of the problems discussed by Castlebar Town Council last week? In the 'old days' any young eejit building a stack of mattresses and pallets at the base of an ESB pole the day before St. John's Eve would have got a right clip on the ear and be told to move it pronto. Johnny Mee is reported as saying that he was horrified to see the streets of the town packed at 1:00am in the morning like the day of Connaught Final. From my own experience many of the late night crowd could be 13 years or younger. So what on earth are parents thinking of nowadays? The parents in the estates concerned, however, are pointing the finger not just at youths from other parts of Castlebar but indeed from other towns availing of the access and open spaces (and the undergrowth and branches if Blackie Gavin is correct) for some late night drinking and anti-social behaviour. One of the residents also mentions an individual of 40+ as the main law-breaker. Perhaps this is a reference to a certain long-haired drug dealer that is known by sight around the town by many parents but apparently quite difficult for the Gardai to catch with incriminating evidence on his person?
All of this of course points to the really important role of the volunteer organisations in the town – soccer, GAA, swimming, tennis, summer camps, arts, youth projects, etc. The folk who see the need for their own kids to be occupied and entertained especially during school holidays and help organise other people's kids too in the process. These voluntary groups are always short of helpers.
Town Council want Dunnes development to commence at once
A decision was issued by An Bord Pleanala in relation to a planning application by on Dunnes Stores Ltd. for a change of use from retail to a restaurant and addition of a first floor extension at their Bridge Street premises. One condition imposed by Mayo County Council was deleted (relating to a river walk). Following the decision the Town Council have written to Dunnes requesting that they commence work on the development immediately.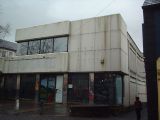 So it looks like the long running derelict Bolgers building saga may finally be coming to an end. The eyesore on Bridge Street, which has been closed for many years, has been a bone of contention for quite some time. All sorts of solutions from compulsory purchase to declaring it a derelict building were mooted. All to no avail until now. At least now there are definite plans for a restaurant that will seat 164 people. We will believe, it as they say, when we see it!