Departure fee crucial to Knock Airport
THE Chief Executive Officer of Knock Airport has revealed that the controversial departure fee charged at the Mayo airport is integral to the viability of the airport. Liam Scollan was responding to entreaties from Fine Gael MEP Jim Higgins who has called for the abolition of the charge. Mr Scollan maintains that the reasons behind the existence of the charge are threefold. The first was Knock's weak position relative to other Aer Rianta airports; the second is the forthcoming 40m investment at the airport; the third is the day-to-day overheads and running costs of an airport. Mr Scollan also pointed out that passengers departing the country via Knock are generally paying less than passengers departing through other airports in total taxes charged.
---
The controversial 10 euro departure fee at Knock. You get that feeling alright when you have your boarding card in your hot little hand and you're lugging your carry-on luggage towards the boarding area of Knock Airport. It's a bit like buying a pint in a fancy Dublin pub, or being hit over the head with a cosh – you feel like you're being mugged when that nice girl behind the counter coughs politely and demands that you hand over 10 euros before you even think of heading through into the boarding area! At least they don't charge 10 euro to return from wherever it was that you flew out to. But could the airport survive without it? Probably not.
---
Recycling message hitting home
THE fact that children are now being taken on school tours to recycling centres is testament to a positive change in attitude towards the whole idea of waste management, according to Mayo Environmental Health Awareness Officer, Sharon Cameron. "The idea of putting 20 children on a bus and bringing them on a tour to the local dump isn't unheard of anymore," Ms. Cameron told the Mayo News, when speaking about the heartening recycling figures released by Rehab Recycling to coincide with Repak National Recycling Week, which runs until Sunday next. According to the latest figures, glass recycling in Mayo continues to grow dramatically, with 2,863,000 bottles and jars deposited in the county's bring banks during the first eight months of the year. This represents an increase of 22% on the corresponding figures for the same period last year.
---
It is amazing alright a school tour to the 'dump' – of course we're not supposed to call them dumps anymore. I saw photos of the pupils of Scoil Raifteiri visiting Derrinumera last week on the Castlebar.ie front page. This week you can support St. Vincent De Paul by paying a visit to a recycling bring bank it seems. I'm not sure whether glass bottles count as packaging but the radio ads say that REPAK will donate a significant sum to SvdeP if there's an increase in the amount of packaging that is recycled this week. So get out there and recycle.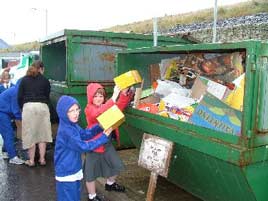 ---
Castlebar targeted for crime reduction
CASTLEBAR Gardaí will not allow anyone to buy, intimidate or engineer their way out of prosecution for assault. Speaking to the Mayo News last night Superintendent Pat Leahy issued this stern warning as Gardai increase their efforts to cut crime in the county. Superintendent Leahy stated that while there have been situations in the past where people report assaults and then withdraw charges some days later, Gardaí in Castlebar will refuse to accommodate such action from now on. In such instances, he said, drink has often been a factor. "If we suspect there has been an assault, we will go to court. The guards will investigate it, whether people like it or not," insisted the Superintendent. He acknowledged that proceeding with a case could give rise to a hostile witness in court, but asserted that this was something for the courts to decide upon. "We are trying to instil in people that they can't get their way out of an assault. We will proceed if we think there is a case."
---
A strict clampdown on assault is crucial in any attempt to maintain law and order. It is very worrying of course that people who reported assaults later withdraw the charges. Is this because of intimidation or just that people cool down and don't want the hassle of going through the court process? Last year after the Limerick case debacle there was a lot of talk about new legislation and procedures to get around the situation where intimidation of witnesses resulted in the collapse of cases or the withdrawal of charges. It's good to see the local Gardai insisting that they will automatically take the case to court once the charges have been made in the first place. It is vital obviously that witnesses be protected and that any attempt at intimidation also be prosecuted. Otherwise we may as well lock or doors and barricade ourselves away while anarchy reigns outside. Mayo and Castlebar in particular is a fine safe place to live. Obviously there are problems but they are not insurmountable with a bit of goodwill and co-operation from the general public. People need to stand up and be counted.
---