P. Flynn's day of reckoning
The long awaited appearance of former Environment Minister and EU Commissioner Padraig Flynn before the planning tribunal is now expected to happen this week. Mr Flynn's appearance is expected to fill the public gallery. The flambouyant Mr Flynn's jousting with Tribunal lawyers could prove to be the highlight of the proceedings. Mr Flynn has persistently refused to comment publicly on the allegations made by Luton based property developer Tom Gilmartin that he gave a £50,000 contribution to Mr Flynn for the Fianna Fáil party. In a statement to the tribunal, he accepted that he had received a cheque for £50,000 but claimed that it was a contribution, by Mr Gilmartin, to him to cover his election expenses. The £50,000 cheque, made out to cash, was lodged into an external account in Mr and Mrs Flynn's names with an address at 34 Northumberland Road, Chiswick, London. There is no such road in Chiswick.
---
By this weekend the national newspapers are full of Dorothy Flynn's testimony at the Planning tribunal. The tribunal was investigating deposits of 145,000 euros in particular. Of this 50,000 was accounted for by the Gilmartin cheque and 16,000 by the sale of sites. The tribunal lawyers attempted to track the Gilmartin monies through various accounts including a bogus non-resident account and an NIB Monaghan account apparently set up by the Flynns' daughter Beverley. Mrs Flynn said that the money used to buy a farm near Killala came from a separate investment account but, after a short recess in the proceedings apparently just to check on this fact, no withdrawals corresponding to the amount involved were found by the Tribunal lawyers. She agreed that the similarity between the sum of money used to buy the farm and the amount withdrawn from the NIB account were strikingly similar. There also appears to be still confusion regarding whether the monies were political donations are not. The Flynns' lawyer has withdrawn an earlier statement to this effect but on the witness stand this possibility was raised again. No comment is needed, jaundiced or otherwise, the tribunal evidence is speaking volumes.
---
Michael on charity drive
A Mayo man, now living in Craddock in England, has organised a Vintage Tractor Drive from Birmingham to Crossmolina, in aid of the Mayo Roscommon Hospice and the Association of Children's Hospices in England. On July 7th Newport-born Michael Clancy left Birmingham's Bull Ring in his vintage 1947 David Brown Tractor to make his way to the Emerald isle, via as many Rotary Club Districts as possible. The crew are due to arrive in Ireland today (Tuesday), with two tractors, support vehicle and vintage cars. Mr Cecil Jackson, the Chairman of the North Mayo Vintage Club is today travelling to Dublin to meet with Mr Clancy and accompany him on his slow-moving journey to the West. On July 18th, the Vintage Tractor Drive will conclude at the Mayo North old Engine and Tractor Club Meeting in Crossmolina. Travelling at an average speed of 14 miles per hour, the team have been endeavouring to journey for six hours each day, covering approximately 90 miles. Through the Vintage Tractor Drive, the members of Rotary International in Britain and Ireland are supporting the Association of Children's Hospices and the Mayo Roscommon Hospice Foundation.
---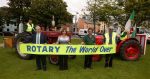 Anyone going to this amount of trouble to support the hospice movement has his heart in the right place. One sure thing we are all going to die sometime and we all have friends or family members who have suffered from long fatal illnesses. The hospice movement provides two things – dignity for the person who is dying and support for those who are being left behind. I saw the photos of the David Brown tractor arriving in Castlebar and by coincidence I also saw the Tractor team passing through Westport on Saturday afternoon. Hopefully, they will raise a lot of much-needed funds for the Mayo Roscommon Hospice. So if you are offered card with a line to fill in put your name on it - and put your hand in your pocket.
---
Secret cameras spark strikes in NCT centres
Ballina and Westport car test centres were both hit with one day strikes last week after staff members became aware that they were being surveyed by secret cameras and private investigators. A total of 72 car tests were cancelled in Mayo on Tuesday last when three testers in Ballina and four in Westport went on strike, over these extra supervision techniques and the sacking of 10 union activists. The NCT Service Ltd, which operates the car testing service on behalf of the Government, is responsible for the implementation and operation of the car testing service in Ireland. The Swiss company says it was surprised at the announcement of the one day strike with provisional agreement on the cameras made in March. "It was totally out of the blue; we were happy to go through normal industrial relations procedures." NCT Service Ltd says the cameras were introduced for "safety and security reasons" and "staff agreed to have concealed cameras installed in rare cases of gross serious misconduct".
---
But I can't imagine a situation where at a time of 'full employment' staff would agree to the installation of 'secret' cameras. Isn't it strange how two major government sub-contract jobs for a) clamping and b) the NCT have produced some of the more bizarre, throwback, examples of precisely how not to run a business – in one case the treatment of paying 'customers' and in the other the filming of employees at work using secret cameras? In my experience the NCT staff in Westport have been nothing but courteous even when they are giving you the bad news that your old rust bucket on the ramp is not going to get its NCT without another visit to your local friendly garage man. Thank God I haven't had the pleasure of dealing with the staff of the Dublin or Galway clamping companies.
But would you work with a secret camera in your place of work? If you work at a desk or on the shop floor, modern technology can make it very easy for the boss to video your daily routine. Automatically calculating how long you spend at your desk or work station is a doddle with modern pattern recognition software. People are even beginning to clock in to work nowadays using biometrics – finger-print recognition or iris recognition. You may not believe that it works but believe me it works very efficiently – much faster than typing a password or swiping a card and then entering your pin number. And don't even think about recreational surfing at work - modern spyware - with which I have intimate knowledge is powerful stuff. So just as Amazon or RyanAir can keep track of your purchases and travel preferences with a cookie or two, employers too 'have the technology' can keep track of your habits during working hours - virtual or otherwise. Just as in George Orwell's 1984 they may like to keep track of you and know that they are getting value for money. It was probably Adam Smith who first figured how to get value from employees. Smith was the Industrial Revolution's pin factory man who described how to increase productivity by breaking a complex task down into a series of simple, repetitive tasks. Technology forced workers away from a more relaxed cottage-industry style of work into very confined and rigid system governed by the factory floor layout. The modern equivalent may just be in cookies, worktime browsing spyware, hidden cameras and image processing software?
---