Special

Mars Sighting in Castlebar

The Connaught alerts readers to a very special night in the history of astronomy (last Wednesday) as it sees the planet Mars, a planet that has been a subject of mystery and wonder for people through the ages, coming closer to the earth than it has been in sixty thousand years.

I remember the film Capricorn One with great affection – remember that scene involving the close-up eating of raw snake by the astronaut in the desert and the accompanying screams from the audience? But the plot centered on the idea that the Mars mission was a fake – they didn't really go to Mars at all. The CT's photo which accompanies this weeks Mars article in the paper brought Capricorn One to mind. The photo shows just how special the sighting could have been from Castlebar as the photo of 'Mars' has whacking great big rings around it. The photo looks suspiciously like Saturn unless NASA and Astronomy Ireland are really not telling us something? Thankfully though the photos uploaded to Castlebar.News by some Castlebar enthusiasts with their digital cameras do not show the rings!

Museum of Country Life attracts 250,000 visitors in less than two years

The National Museum of Ireland – Country Life in Turlough Park, Castlebar continues to go from strength to strength with the announcement that it has welcomed its 250,000th visitor since opening to the public in September 2001.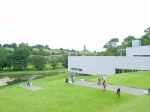 At this stage I am a regular visitor to the Museum (I know I count for a few at least of the quarter million visitors - me myself and I). It's a great place to browse around. Not just the main exhibits although you could spend hours looking at any one section but the gardens, Turlough House itself, the new house building project, also the restaurant and shop are excellent. The gardens have been brought back from the jungle that they were a few years back. The main greenhouse and formal borders and the wonderful perennial border are great especially on sunny days like we have had this summer - can you grow THAT plant in Castlebar? And have you noticed the vine clambering up the inside of the lean-to wrought iron greenhouse? It's also a great place to show off to visitors to Castlebar. Inevitably they are genuinely impressed by the Museum and not just being polite. So hats off to Des Mahon and Enda Kenny and all who pushed the project through. So many tourist attractions and theme parks around the country – projects that attracted massive grants - were doomed to failure but the Turlough branch of the National Museum is a roaring success.