Three from the Western People 31 Dec 2003:
Shane ties the knot
Westlife member Shane Filan and his new wife, Gillian Walsh, may be Sligo natives but their wedding was a real Mayo celebration. The celebrity couple chose Mayo's Ballintubber Abbey and Ashford Castle as the venues for their special day but it's not all that surprising when one considers their strong links with the county. The groom's mother Mrs Mai Filan was a native of Kiltimagh. She was a member of the McNicholas family of Ballyglass, and her brother, Billy, still lives and farms at the original homestead. Gillian Walsh's Mayo connections are on her father's side of the family. Father of the bride, Michael Walsh, hails from Corroy, Ballina. He is a son of the late Joe and Nelly Walsh and grew up in Derrygullinane, Corroy. He has three sisters — Mrs Josephine Sweeney, who lives in Knockmore, Mrs Phylis Monaghan, Curra-baggan, Knockmore and Mrs Kathleen Thornton, now living in Cork.
Huge investment in Mayo under the National Development Plan
Mayo is benefiting to the tune of hundreds of millions of euro from investment under the National Development Plan in regional and local infrastructure, local enterprise development, agriculture and rural development, social inclusion and childcare. To date almost €6.2m. has been approved for the development of childcare facilities, supports for staffing, capacity building and the general improvement of childcare provision in County Mayo. In 2003, over €19.3 million was allocated to non-national roads for work on projects such as the schemes at Glencastle Bridge, R334 Headford-Ballinrobe Road, the R335 Westport-Belclare Road, the R311 Newport Road, Castlebar, phase 1 and the R321 Bohola-Kiltimagh at Shanaghy.
Price war looms as German store looks at Castlebar sites
The German based discount food store Lidl is looking at property in Castlebar with a view to setting up a store in the town, writes Christy Loftus. Lidl is among the top ten food retailers in Europe having branched out from their German base little more than a decade ago. It now claims to be the largest discount store chain in Europe. Lidl already has an outlet in Ballina and their entry into the Castlebar business arena will be welcomed by shoppers in the county town who have already benefitted from the competition generated by four of the country's top grocery retailers Dunnes, Tesco, Aldi and SuperValu. The company's property purchasers have looked at a number of sites in the area, including the town centre property which housed the hat factory in the past.
---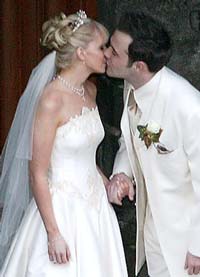 The Westlife Wedding item is accompanied by Michael Donnelly's excellent photo of the bride and groom kissing the Abbey at Ballintubber. This contrasts dramatically with a certain other Westlife Wedding earlier in 2003 which gained a certain notoriety from its treatment of photographers and local residents. Good vibes all round this time and I noted MDs photo on the Castlebar site within a couple of hours of the wedding too - and indeed picked up very quickly by Westlife Fan sites all over the world.

The green-blue NDP signs are a familiar sight all over the country. This is a massive programme affecting all areas of life funded mainly by the Irish taxpayer to the tune of billions. The list above is only a partial list from the first paragraph of the Western's article – which is effectively a press release from the NDP appearing in all the local papers. Thus, it should be read with a grain of salt as this is not investigative journalism. So are hundreds of millions of euros enough to upgrade Mayo's infrastructure? Probably nowhere near enough to provide the kind of transport, the western rail corridor plus roads, water, electricity, tele-communications – broadband. Then co-ordinated planning that put houses in towns and villages where they optimise resources and community development while at the same time enabling the tourism industry to flourish by minimising pollution and aesthetic impacts. In short the NDP needs to deliver on the infrastructure that Mayo needed yesterday in order to produce jobs and a decent quality of life in the future.

Another major supermarket for Castlebar! By the look of the jammed car parks and the thronged streets over the Christmas the town should have no bother in soaking up another large supermarket. With all the major brands arriving in town, Castlebar looks like it has reached critical mass and is starting to snowball. It's important that the infrastructure now keeps pace and that people think with a bit of foresight. While the 'ring' or relief road through the Lawn was seen at one point as being a white elephant – to the extent of attempting to stop the bulldozers. But now it is obviously inadequate for peak traffic volumes. Perhaps even more important than roads and rail though - cheap broadband is urgently needed especially bearing in mind that Castlebar's broadband was predicated on a certain gas pipeline coming from North Mayo.

Full-spec electricity voltages and capacity are also essential as are proper sewage treatment facilities in order to avoid going back to the bad old days of a seriously polluted Castlebar River and manky Lough Cullin downstream. We have to build out carefully in concentric zones moving steadily outwards from the town centre, while at the same time strictly maintaining plenty of green spaces within the inner rings for those living in the new housing estates.

And for goodness sake don't let the two remaining chestnut trees on Spencer Park go the same way as the convent building did! No fine or jail sentence could compensate for those two remaining trees.

Then we need to get into the new research economy that is touted as the future for Ireland. We need some solid R&D based enterprises here in town that make use of the highly educated population that we have and stretching our capabilities to a new level. The NDP infrastructure of itself and lots of shoppers in supermarkets are not sufficient. Make use of GMIT, Baxter and the fact that a higher proportion of people in Mayo have third level education than in any other county in Ireland to attract new heavy-weight enterprises.

In the meantime too please don't forget the tourism industry which is our biggest industry now - even more important than agriculture. Let's not jeopardise it by ignoring basic planning as seems to be the desire of our County Councillors at present. I was totally shocked by what was left on the cutting room floor after the present batch of County Councillors had had a right old go at the Draft County Development Plan. Just reading the sentences and paragraphs that are now missing is very instructive.

If these changes are anything to go by the tourism industry's long-term future is seriously jeopardised as ticky tacky boxes - one-off houses - spread willy nilly across tourism's basic asset - Mayo's fine scenery.