Clubs, societies, associations, businesses, family and friends are being encouraged to nominate a contestant for this years Mayo Rose of Tralee selection night taking place on Friday 20th April in the TF. And the Mayo Centre is now looking for Escorts too!

Simply download an Entry Form from the website www.royaltheatre.ie/roseoftralee or contact Bryana Hindle at the Mayo Rose Centre, TF Royal Hotel & Theatre, Castlebar on 094 902 31 for further details.

Winning a range of Newbridge Silverware jewellery and a cash prize of €1000, the Mayo Rose can also look forward to representing her county in the Irish Regional Finals hosted by Ray D'Arcy which will take place in Limerick City from Friday 1st to Monday 4th June. Six Roses are then chosen from 30 represented counties to join the Dublin, Cork and Kerry Roses to go through to the International Festival in Tralee in August, so that a total of 9 Roses from Ireland are represented. And to ensure that it will be a 'Lifetime of Memories' for the 2007 Rose of Tralee, she will receive a prize worth €25,000 to fund a year of travel that includes fares and accommodation, a generous clothes allowance and spending money, all courtesy of Newbridge Silverware. And that is in addition to an incredible array of jewellery, silver-plated cutlery and the Newbridge Silverware range of Home Ware products and the use of a car for the year!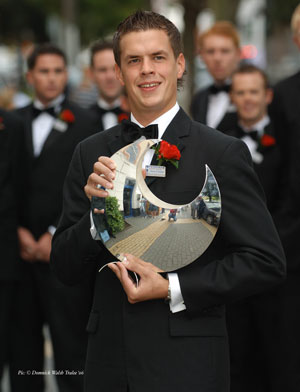 And the first ever search for Escorts to take part in the Mayo Selection Night has begun! We're looking for young, free, single, available men – one of whom will progress to the national selection in June. Are you an outgoing male who knows how to enjoy himself? Are you young, free, single and available? Do you know how to treat a lady well? And would you like to join the festivities in Tralee in August? If you can answer yes to all of the above questions then you could be on your way to becoming an Escort. The lucky 28 finalists selected from the national interviews in Newbridge in June will each escort one of the Roses for the entire week in Tralee and on the final night of the international festival the winner of the Escort of the Year Competition will be announced. The overall winner selected by the 28 participating Roses and will receive an array of fantastic prizes.

This is a fantastic opportunity for ladies and gentlemen across the county to take part in one of the biggest festivals in Ireland, attracting thousands of visitors every year from around the world. So if you think you have what it takes, or if you know somebody who would make an ideal candidate, contact Bryana Hindle on 094 902 3111 or info@royaltheatre.ie