In January 2001, Castlebar YIC lanched an Information Kiosk at their centre in Castlebar.



The Kiosk contains up to date Information on issues that are relevant to young people living in County Mayo. The range of issues covered are Careers/Employment, Travelling and Working Abroad, Health, Social Issues, Leisure, Education and Training.

This website has been designed to enable young people to access this information at any time, from the comfort of their home or school.

There are also links to websites that deal with these and other issues in great detail.

You can also have an email sent to you when the site is updated.
The latest version of this site is always available to download, it's simple install program enables you to have all this information on your desktop.

If you need further information or have any suggestions about the site please feel free to contact us.
Email: cyic@eircom.net

Click on link for general information about Youth Information Centres (YIC).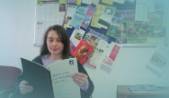 This site was developed
by The Castlebar
Information Age Town
Committee and the
South West Mayo
Development Company.









The Information was
Compiled by
The Western Health Board
and Foróige.