News: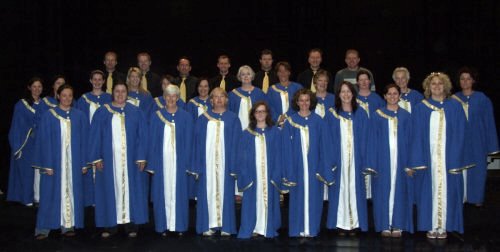 We enjoyed our concert at Linenhall on June 17th
See some pictures on our Linenhall Page
We're looking forward to visiting Germany in July
We'll be collaborating with Gospel Voices
Visit their website here
Preparations are being made for our upcoming concert at the Linenhall
It will take place on June 17th
Rehearsals are held every Thursday in the Parish Centre at 8pm. If you enjoy singing and feel like giving it a go, come along Thursday night at 8pm.
History:
Castlebar Gospel Choir was set up at the end of the year 1999 by
Father Michael Murphy, with Niamh O'Kelly as Musical Director
Members come and go, but some of the original cast are still to the fore
The choir's main objective is to provide uplifting and spiritual music at the 12.30pm mass on Sundays during the year, with a holiday during the summer. In addition, Easter ceremonies and other Church occasions are enhanced by the choir's music. We sometimes join forces with other choirs
The choir performs at other venues, such as Ballintubber, The Royal Theatre, The Linenhall Arts Centre and Turlough House
Social nights are very enjoyable, and have been known to feature a sing-song.
Rehearsals now take place at 8.00pm on Thursday nights,
at St. Gerald's Social Centre, Chapel Street, Castlebar (opposite the church)
A change came at the end of 2006. Niamh O'Kelly stepped down as Musical Director after six long and fruitful years of service. Dónal Sarsfield, from Ballyheane, stepped into the breach. He has brought the choir in new directions.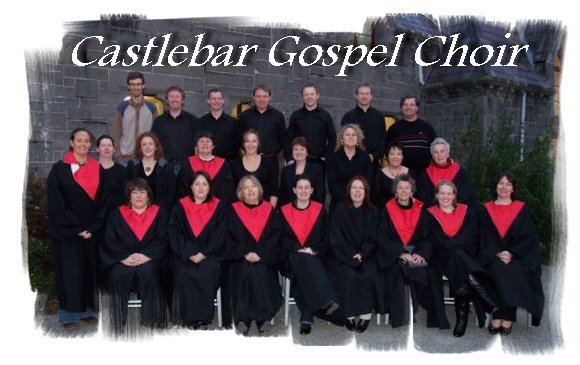 Click here to see larger version of this picture, taken at Turlough in Dec. 2007
January, 2008: Another change, as Dónal steps down as Choir Director
Good luck in your career change, Dónal. Thanks for your work.
February, 2008: Kathy Fahey from Belcarra is to take over the reins
June, 2008: Fr. Mike was moved from Castlebar, so it's adieu to our founding father. Thanks and best wishes in your new position, Father.
We're sorry to say that, for now, we are not available to do weddings