---
Round Towers of Mayo

---


There are five Round-Towers in Co. Mayo, situated at Aughagower, Balla, Killala, Meelick, and Turlough. Generally, these enigmatic monuments were built in an era covering the period from the 9th to the 12th centuries.

There are many differing opinions as to the purpose of the towers but so far, there seems to be no definitive answer to the question, -Why were they built? It seems that the only positive thing known about them is that they were all associated with ecclesiastical sites.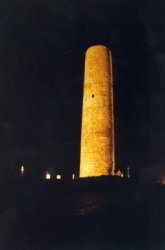 There is some speculation, that, because the doorways are set several feet above ground level, the towers were intended as places of refuge in times of trouble. Others speculate that they might be bell-towers from where the faithful were called to prayer by the ringing of a bell. These would probably have been hand-bells rung through one of the windows. There does not appear to have been any opening for a bell-rope.
Round-Towers range in height from approximately 20 metres in some cases, to 40 metres in other examples. The doorways can be round-headed (Romanesque) or lintelled. The windows are small and set high in the building. The interior of the towers was divided into several floors, each one reached by climbing a ladder inside the building. The roof was conical in shape.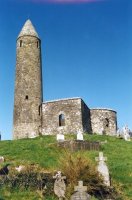 Whatever their former uses, the towers now stand as impressive and imposing monuments in the modern landscape of Co. Mayo.
The photo shows the Turlough round-tower near Castlebar and the Meelick round-tower near Swinford that was illuminated for the Millenium celebrations.