West Mayo Primary Schools' Final

Breaffy - 2-12
Ballintubber - 0-9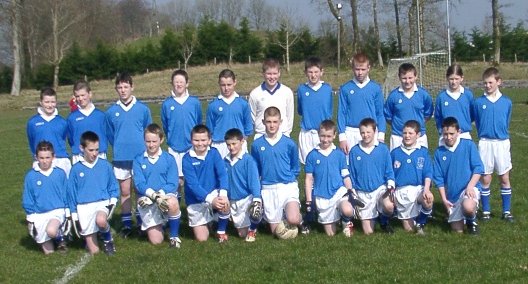 In a sun-drenched, picturesque Breaffy G.A.A pitch last Sunday (March 16, 2003 ) Breaffy recorded a marvellous win in the West Mayo Primary Schools' Final, their first win since 1992. The rubble and debris beside the pitch signalled the commencement of the club's exciting new development but perhaps even more important for the club was the manner and style of this victory by a group of very talented young footballers.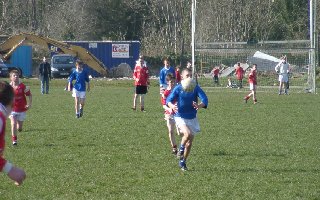 The seeds for this victory were sown in the first half when Breaffy raced into a 2-9 to 0-0 lead with some marvellous scores from the very accurate Martin Clarke, Rory Dollard, David Gavin, Francis Walsh, and of course from the midfield colossus, Aidan O'Shea. Ballintubber were unlucky and only the crossbar and some wonderful defensive play from Ryan Monahan and John Daly kept the Ballintubber boys at bay.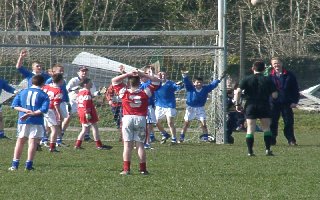 In the second half Ballintubber rallied strongly and some wonderful scores from the highly impressive Dean Gavin, Seán Larkin and Dean Loftus brought Ballintubber back into the game. Further scores from Cillian O'Connor and Cathal Chambers narrowed the gap even further and only some heroic defending from Joe Corless, Shane Conway, Peter Dravins and Colm Kelly kept Breaffy heads above water. The Ballintubber backs, in particular, Daniel Costello, Kevin Heraty and James McHale, made life very difficult for the Breaffy forwards in the second half and only Rory Dollard and Aidan O'Shea managed to raise white flags for the Breaffy Boys. James Caulfield , the goalkeeper played a very sound match. Other players to play well were Fergal Murphy, Chris Butler, Shane Moran,and substitutes Olivia Tolster, Conor O'Shea, Colm Hughes and Thomas Hanlon.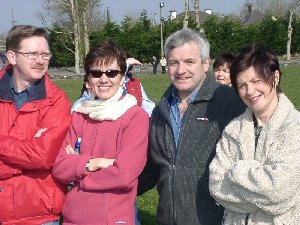 In the end, the final whistle blown by the very impartial referee Kevin Corcoran was greeted with great joy by both Breaffy players and supporters alike. The cup was presented to the Breaffy captain, Aidan O'Shea by the West Board Chairman, Ollie Dillon who paid tribute to both teams and complimented Jack Sheridan on the condition of the grounds. A lovely day! A wonderful spectacle! A great victory for Breaffy!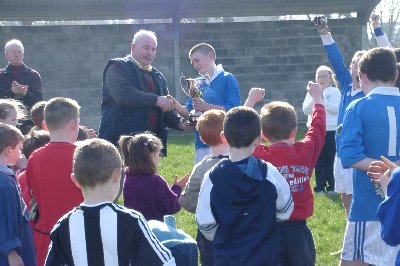 Breaffy Team:, James Caulfield, Shane Conway, Ryan Monahan, John Daly, Colm Kelly, Joe Corless, David Gavin (0-1), Aidan O'Shea (1-3), Peter Dravins, Rory Dollard (0-2), Martin Clarke (0-6), Chris Butler, Fergal Murphy, Francis Walsh (1-0), Shane Moran, Conor O'Shea, Colm Hughes, Olivia Tolster, David Monahan, Rory Mannion, Thomas Hanlon, Alan Fehilly, Jonathan Gielty.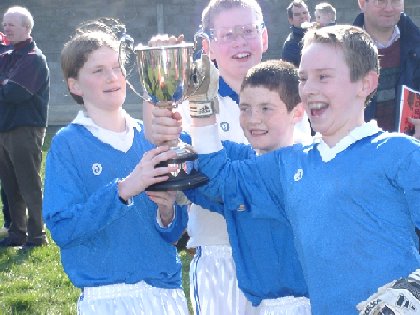 Ballintubber Team:, Gerard Murphy, Daniel Costello, Danny Geraghty, Kevin Hearty, Kevin Finnerty, James McHale, Darragh Summerville, Seán Larkin, Dean Loftus (0-1), Dean Gavin (0-4), John McGuinness, Cillian O Connor (0-3), Padraic Gavin, Cathal Chambers (0-1), Darren Murphy, Cillian Nestor, Jason Dempsey, Ryan Connolly, Andrew Walsh.