The Ryan Tubridy Radio show -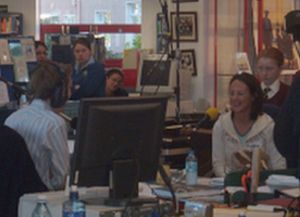 Last Thursday 20th October 2005 the Ryan Tubridy show came from Castlebar County Library. On the show Ms. Michelle Rowley Senior Infants class teacher was interviewed by Ryan about her experiences in the U.S.A. when she sailed for Ireland(see archives) .Michelle was accompanied by Mrs. Anne Cooney and 3rd class pupils. The pupils spoke of the books which they like to read and they also sang a song. Everybody agreed that they acquitted themselves very well. It was a first for Snugboro N.S. to be on national radio. Thank you to all who rang in complimenting the teachers and the pupils on their performance.
| | | |
| --- | --- | --- |
| | Click on the photo to see more !! | |
ROAD SAFETY
Congratulations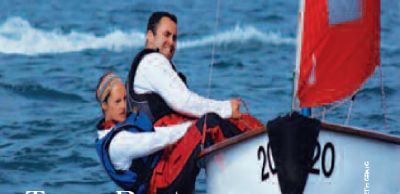 Snugboro teacher Michelle Rowley representing Ireland in the
World team sailing Championships in U.S.A. wins fifth place in the world
We wished Miss Michelle Rowley the very best of luck as she and the other members of the Irish Sailing teams embarked on the world championship team sailing competition in the U.S.A. Miss Rowley Senior Infants teacher in Snugboro N.S. and the other five team members departed for Boston on Wednesday Sept 21st 2005. On Thursday they travelled to Newport Rhode Island where they made final preparations for the competition. The competition proper began on Monday September 26th and continued throughout the week. We kept up with the events on our computers through the www.nyyc.org website. The final was held on Saturday October 1st. Ireland entered two teams of three Michelle's team being Ireland 2. It is a great honour for the school that Miss Rowley was chosen to represent her Country as a member of one of those teams and that they beat stiff competition from around the world to win fifth place. Congratulaions and well done Michelle!
Final standings for the 2005 Grey Goose ISAF Team Racing World Championship:1. USA 1 2. USA 2 3. Great Britain1 4. Great Britain 2 5. Ireland 2 6. Ireland 1 7. Italy 8. New Zealand 1 9. US Virgin Islands 10. Australia 1 11. New Zealand 2 12. Japan 1 13. Australia 2 14. Czech Republic 15. Japan 2 16. Canada
Congatulations Michelle.
We are proud of your achievement. From all of us here in
Snugboro N.S. - pupils, parents, teachers,staff & B.O.M.
Senior Infants paid a visit to the Fire Station
We paid a visit to the Library too!!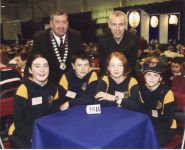 Quiz winners meet Ray Darcy
JUNIOR INFANTS WENT ON A NATURE WALK 2005/2006
| | | |
| --- | --- | --- |
| | | |
| We looked at the new buds on the trees and bushes around the school. | | This is a very tall tree!! |