In the coming months we hope to have a new webpage up from every class for 2003/2004 year. We are working on these already - so please bear with us in the meantime.
Update April 2005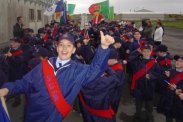 St. Patrick's Day 2005
Full report on Eoin's boxing victory
CLEAN UP REPORT AND PICTURES
Update March 2005
Update April 2004
Update December 2003
To view all the Santa photos taken around the school - click here
To see the photos taken of Art displays for Christmas - click here
To get a look at the update on school activities sent out by Mr. McHale to all parents - click here
Mrs. Henehan's class have a fully updated page with some super Christmas artworks
to view a selection from their webpage - click here or here to view the full list of thumbnail images

School Concert photos - click here
Junior Infants have a new webpage - this will grow - click here
Mr. Barrett's class took some photos of their constructions with recycled material
Art Award Winners - Much more still to come - check back soon.
Update Hallowe'en 2003