---
Well folks it didn't look too good at around nine o'clock in the evening as the clouds rolled in and the last rays of the sun drained slowly away but miracle of miracle the clouds kept moving and we got a clear patch.
This photo was taken from Fortfield in Castlebar by sticking a digital camera up against the lens of a small telescope - it was taken around the time that the highlights of Man United v. Wolves was taking place on ITV's the Premiership (so that was roughly 11:30ish I think).
I have to admit that I wasn't as impressed with the view of Mars as I was on Sunday - gone was the firey orange ochre and it appeared to be a much paler colour (maybe there was vast dust storms in action on the planets surface and this muted the colours slightly, one could say that it was no longer the blushing bride we had been watchin' up 'til now).
Don't know how things went for the Astronomy Ireland gathering in Ashwood Estate but I'm sure if they hung on long enough they would've got a good view. Keep an eye on their website for future events.
Hopefully this event has stirred the interests of a few of the younger generation - out of small acorns - I know of one Castlebar girl who turned up for the Halley's Comet viewing in the Military Barracks back in 1986 who now works for NASA. Come to think of it, we must find out more about this lady and see if she'll do a few articles for us - so keep watchin' the skies and keep watchin' Castlebar.News.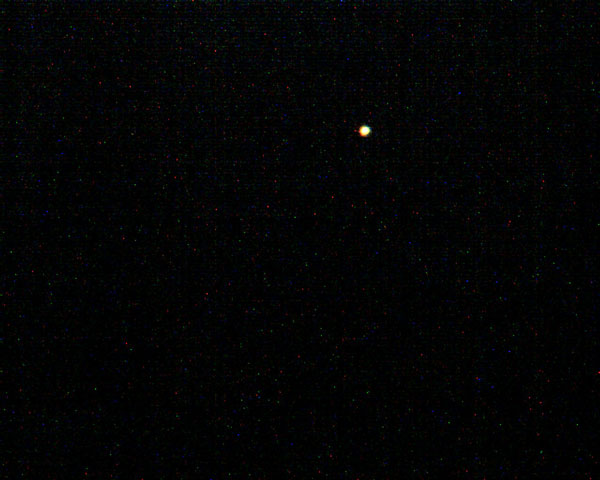 Mars over Castlebar on the day of closest approach
© Copyright 2006 by the author(s)/photographer(s) and www.castlebar.ie

Top of Page