---
Ray Foley returns with Summer Blast
Teenage party at the TF Royal Theatre, Castlebar
Featuring DJ Ray Foley, Funkstylerz B.Boy Dance Crew and DJ Brendan Redmond
Friday 16th June 2006 @ 8pm
Tickets: €12 in advance or €15 at the door
Ray Foley, presenter of "The Blast" on Today FM, is back by popular demand for another teenage party in the TF on Friday 16th June @ 8pm. Look forward to over 3 hours of non-stop party anthems with Ray and Brendan Redmond as well as incredible performances by Funkstylerz – the UK's #1 b.boy (breakdance), hip hop and funkstyle dance company. It's the SUMMER BLAST!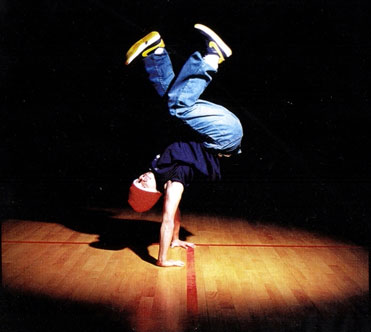 Leader of the Soul Mavericks BBoy dance crew "Mouse" – who will perform at the TF.
Soul Mavericks, lead by two-times soul champion finalist "Mouse", and joined by the UK's #1 female breakdancer, Angele M'Paria, are a group of specialist dancers each amongst the world's best in their chosen dance styles, and the makings of an incredible performing group. Specializing in bboying (breakdancing), popping, locking, robot, house, freestyle, old skool hip hop, new school and acrobatics – they have performed worldwide with the likes of Madonna on her World Tour 2006 and Music Videos, PSP and PS2 computer game 'Bboy', Kylie's World Tour, as well as Adidas and Levis Fashion Shows.
That's not all! There are inflatables, indoor games, glow goggles, glow necklaces, glow sticks and plenty of excellent giveaways including iPod Nanos, tickets, CD's and DVD's. Buy tickets from all usual outlets for €12, or pay €15 on the door. It's much more than just a disco! (Strictly over 15's)
© Copyright 2006 by the author(s)/photographer(s) and www.castlebar.ie

Top of Page