Duck Race & Heritage Day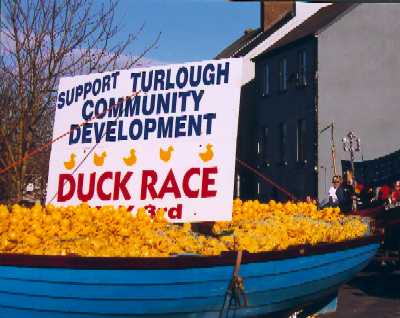 to be held in Turlough

on Sunday 4th of June 2000

 

The Heritage Day display will be held

in Turlough Village

Time 2 - 6p.m.

Race starts @ 3p.m.

Refreshments will be available in the Community Centre

Ducks can be sponsored by buying a ticket £5

Tickets may be available on the day -otherwise phone 21850 to arrange

Prizes for the winning ducks are:

1st- £500 plus voucher for Killykeen Homes-value £200

(sponsored by Coillte

2nd- £200 plus a 20" colour television

3rd- £100 plus Stereo system - value £99
(sponsored Mc Grath Electrical, Turlough)

4th- £100 plus Food Hamper value £30

(sponsored by Super Valu)

5th- £50 plus 2 tickets for Daniel O'Donnell concert on August 14th
(sponsored by Travellers

Friend Hotel)

6th- £50 plus food hamper

(sponsored by N.C.F)

7th- £50 plus voucher value £20

(sponsored by Turlough Nurseries)

8th- £50 plus voucher value £10

(sponsored by Turlough Nurseries)

9th- £50

10th- £50

 

 

This is a great family day out. The Heritage display will show arts, crafts, cars and artefacts from the past. The duck race will start at Connors Bridge which is down the side road beside the Community centre, it can also be accessed on foot from the N5. The plastic ducks, which are individually numbered to correspond with the ticket of the owner, are released from their captive crate at the waterfall at the bridge. From there it is survival of the fittest ducks to see which are the fastest to cover the course to Rowlands bridge (the 3rd bridge downstream from the start). Ducks will be followed on their way by the local "coaches," who will trawl the river for any slow or lost ducks. Anxious owners can catch sight of the leading ducks at the middle bridge, which is at the entrance to Turlough Park house.

When the race is over, the Heritage Day events will continue, which include: Dancing and music on the street.

So do come along and enjoy the fun!