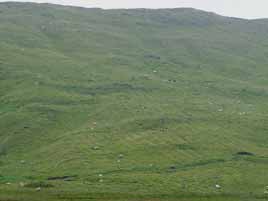 While it is a bit misty, the enlarged photo clearly shows the parallel lines of the lazy beds running down the slope. Lazy beds were used to grow potatoes before Famine times in the early 1800s. This would have been a densely populated area before the blight struck the potatoes giving rise to the Great Famine in the 1850s. Today sheep are reared extensively on the hillsides.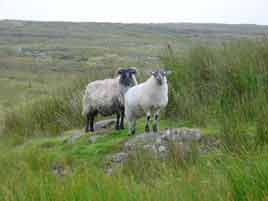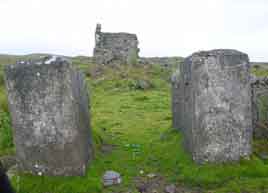 A solid gatepost at the entrance of a ruined house. The remains of small houses that once may have supported a family of 10 or more can still be seen along the road. The descendants of survivors of the Famine most likely emigrated to America. We get many requests from the great great grandchildren of these emigrants from the mid-1800s to help trace their roots.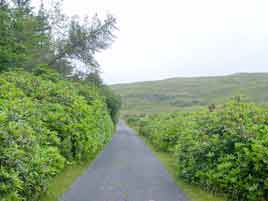 Sheep, bog cotton and rohododenron-lined roads characterise the top of the Partry Mountains.