---
Posted by M on June 16, 2005 at 17:54:24:

In Reply to: If we don't recognize the photo...... posted by KellyT on June 16, 2005 at 01:18:03: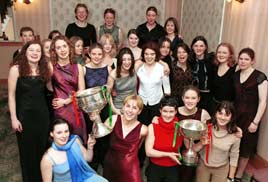 To find the photo you have to click on the link below that says:
'Quick Click Here to see the URL for this photo:...'
We have just added this to the top of the NB Board as well as the main BB and the poll where it we've had this option for some time. This will display the photo as a simple jpg. To find where it belongs to you have to look in the address bar of your browser for the URL of the image. The contents of the URL should give you an idea as to which individual sub-gallery the photo came from. You can then search that gallery using the front page search engine.
A second method is to try editing this image URL displayed in the address bar by first removing the actual filename at the end - it will usually end in .jpg - delete back to the first forward slash '/'
Sometimes it will be necessary to add glry/ to the url to get to the correct page.
The photo above is an example. The jpg url comes first and then the url for the corresponding index page.
http://www.castlebar.ie/photos/mdonnelly/sport/mayoladies/Mayo_Ladies_celebrate-tn.jpg
http://www.castlebar.ie/photos/mdonnelly/sport/mayoladies/
Sorry it's so complicated - someday we will simplify it. At least the random photo link in our new DIY gallery is a lot simpler.