High winds delay erection of Castlebar's E22m wind farm

The Western People report that high winds at the weekend delayed the erection of a number of wind turbines at a 22 million wind farm in the Raheenbar area close to Castlebar. Construction of the turbines, twenty two in all, across the Raheenbar, Cleggan and Dernadiva townlands is being undertaken by the Kilkenny-based Ecopower group. The wind farm is being constructed on commonage. The twenty-six owners of the commonage are leasing the ground to the power company and have taken shareholdings in the project. It was expected that two of the turbines would be in place by Monday 14 July 2003 and that construction will be completed by the end of the summer. The farm is one of the biggest to date in Ireland and will generate sufficient electricity for the national grid to cater for a town the size of Castlebar.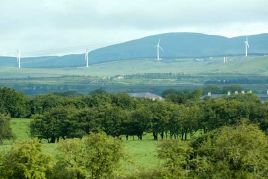 I got quite a shock the other day when I say the new blades peeping up over the brow of the hill to the North of Castlebar and to the West of the existing machines at Burren. The new turbines are already visible as Michael Donnelly's photograph on www.mayopics.com shows. These are big machines – much bigger than the Burren ones erected three years ago. These new turbines are targeted to produce 60 million units of electricity per annum from the winds that blow across Castlebar. It's nice to feel that Castlebar is in some sense at least self-sufficient in electricity and also removing 45,000 tonnes of CO2 from the national greenhouse gas emissions. The landscape is changing.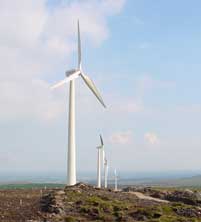 Algae closes top game angling lake in Erris
The Western People reports that the economy of a rural area in North Mayo has been hit a devastating blow following an extensive algal bloom which has ruled Carrowmore Lake out of bounds for anglers. The lake, just outside Bangor Erris, attracts salmon and sea trout anglers from all over Ireland, and abroad, each year and is now almost certainly closed for the remainder of this season. Bed and breakfast establishments, local pubs and shops are all losing out while the local Angling Club, which promoted the lake for tourist angling, has stopped taking bookings from anglers. The lake is the water source for the extensive Erris Regional Water Supply Scheme.
Oh boy! It's amazing how lakes get polluted and we are told that there is no problem from farmers slurry spreading on boggy ground, no problem with sheep overgrazing, no problems with fertilising forestry plantations, no problem at all from bungalows with septic tanks lined along the west shore of the lake. In fact all the usual suspects please stand up and take a bow - we know you are not guilty! And the Bellanaboy Gas Terminal – which was supposed to be located at the north end of Carrowmore lake - never even got a chance to contribute its little bit!