Once again St. Peter's N.S.Snugboro has great pleasure in announcing that our Green School has been successful in its application for the awarding of our THIRD GREEN FLAG!!!.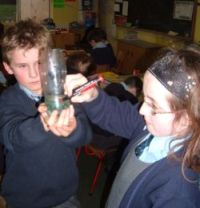 Water Week

Congratulations to our Green School's Committee and to their co-ordinator Mrs. Emer Dunne and Mrs. Angela Gavin. An Táisce stated in their letter to us that they were extremely impressed with our programme and "has no hesitation in making their decision" to award our .... THIRD GREEN FLAG. For this award we concentrated on all aspects of WATER.
The highlight was WATER WEEK

Water week was a lively, educational and fun–filled week enjoyed by all. (Click on www.castlebar.ie/education/st_peters_ns to see more.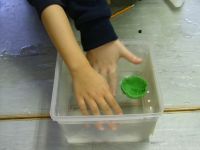 Water Week
Derek Mooney RTE1 radio featured our water with a live broadcast from the school. The Pat Kenny radio show RTE1 also mentioned our Water Week as did David Cawley on Mid-West Radio following this an interesting presentation was given by Orla Kennedy E.P.A. on all aspects of water. The green school committee also paid a visit the water-treatment plant in Tourmakeady. Many thanks to Mr. Gerry Shally who facilitated the group and gave them a very interesting tour of the plant. Congratulations to all involved.