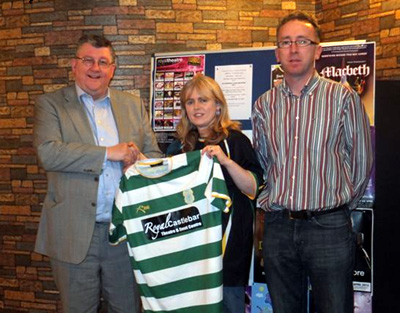 Mr Pat Jennings, T.F Royal Theatre Castlebar, Diane Nevin Secretary Castlebar Celtic F.C. Declan Kilkelly Manager Castlebar Celtic A Team.

Castlebar Celtic is delighted to announce that Pat & Mary Jennings of the TF Royal Theatre have extended their association with the club as our main sponsors. Mr. James Murray club chairperson stated that everyone involved with the club were delighted that the TF Royal Theatre have renewed their generous sponsorship of the club and that it was great to be associated with TF a name that is synonymous with the town of Castlebar.

Mr. Murray went on to pay tribute to Pat & Mary Jennings who are one of the main business employers of Castlebar and had the foresight to developed the world class facility that is the TF Royal Theatre which brings great benefits to many other local business in the town. Mr. Murray stressed the importance that all the people associated with the club to support the TF Royal Theatre and our other sponsors at every opportunity during these challenging financial times and without this type of support a club like Castlebar Celtic would not be able to develop on and off the pitch.