---

Dunville Park Falls Rd W Belfast rally by local ARN members protesting racist attacks in area.
The large protest rallies in Belfast last January against racial attacks in Belfast unfortunately only had a short lived impact.
The attacks have resumed and are no longer confined to a single area of the City With attacks on a Chinese Woman in Sandy Row (in which stones were thrown) and a Chinese Man on the Falls Road (in this attack bottles were used) both attacks happened over the course of a single weekend (Mar 20th/21st) also in the Falls district a survey of Filipino Nurses in the Royal Victoria Hospital has shown that every single one has reported having been the subject of racial attacks or abuse in the recent past. Many of the attacks have been orchestrated by British mainland neo-nazi groups trying to gain a foothold in Northern Ireland in some cases receiving cooperation from local paramilitary criminals (at least one of these outfits are trying to establish themselves in the South too despite having been involved in the Lansdowne road riots a few years ago) As a result the ARN have organised a series of protests by members of its local branches in each area in which attacks have taken place.
Todayís vigil took place at Dunville Park on the Falls Road the scene of the most recent attack. Most of the people taking part were local ARN members but several passers by joined in along with a couple of people (like myself) from other parts of the City who came along to lend support. Many people in passing vehicles blew horns or waved in support.
One of the protestors (called David) who I was speaking to was involved a row onetime with a member of the Gardai (Southern Irish police) after they boarded a the Dublin/Belfast bus just over the border singled out a himself and a Chinese teenage girl and demanded to see their passports
When the Girl didnít have a passport and he refused to show his the Gardai tried to order them off the bus at which point the row broke out because David (who was actually born in the Falls Road in Belfast but the cops refuse to believe despite his Belfast accent that he could possibly be Irish) Insists that he isnít going to get off the bus because as he puts it "I donít need a passport to travel within my own country". The cops insist that the bus isnít going anywhere until either he produces his passport or accompanies them off the bus at which point he starts answering them back in Irish which totally stupefies the cops and in turn causes great hilarity among the other passengers on the bus most of whom are this stage joining in the row saying that theyíre not going to let the cops take anyone off the bus unless they go too realising that they donít have enough space in the back of their car for a now disorderly mob of 25 people and the distinct possibility that if they send for reinforcements they could get a lot of bad publicity they opt for a hasty retreat :-)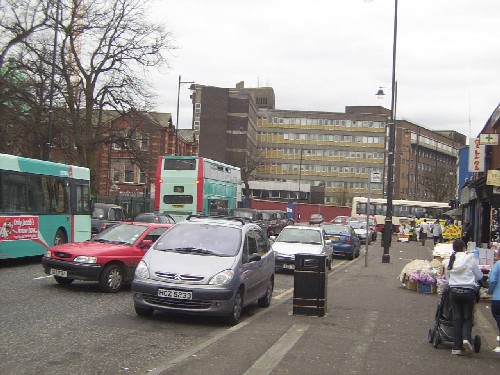 Every Phillipino nurse in the Royal Victoria Hospital has reported racial attacks or abuse.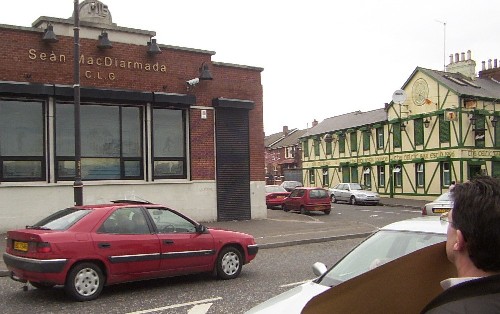 Dunville Park is just across from Falls GAA Club.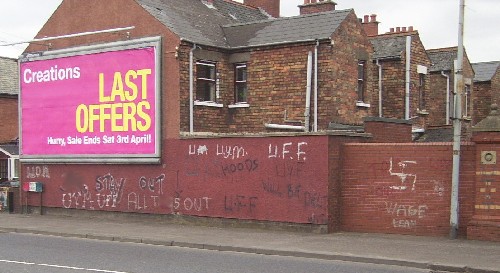 Racist and Sectarian graffiti Boucher Rd in Village district where attacks have also occurred.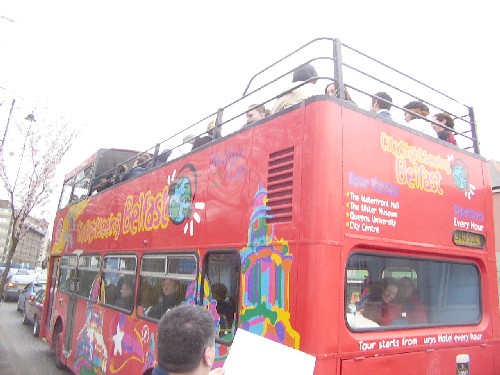 We get some shouts and waves of support from passengers on this sightseeing bus.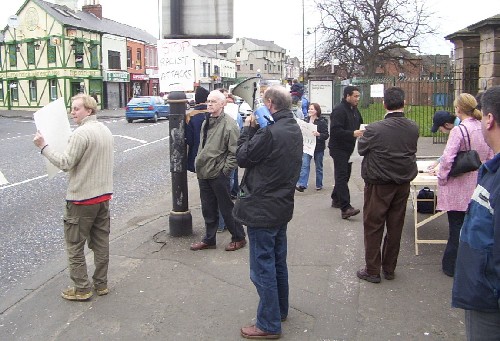 Vigil Start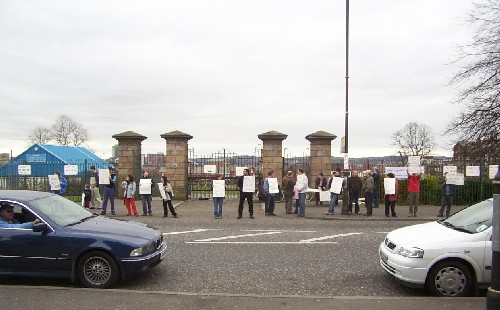 At Dunmore Park Gates
© Copyright 2006 by the author(s)/photographer(s) and www.castlebar.ie

Top of Page