---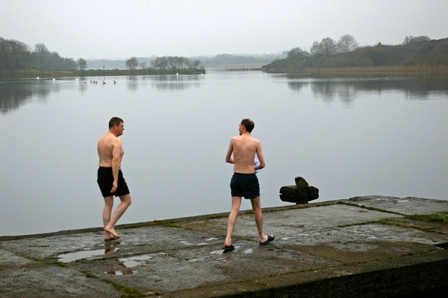 At 12 midday every Christmas for as long as I can remember, retired members of the Castlebar swimming club take on the frosty waters of Castlebars urban delta aka Lough Lannagh, The first two men to brave the diving board steps were Rathbawn drive natives Paul Ainsworth and Barry Gallery. I notice that their children looked on in disbelief as they saw their fathers behave as if the government had introduced a 10 drink minimum before leaving your house. "You can take the savage out of Rathbawn but you can't take Rathbawn out of the savage" I over heard a Snugboro native say, which has to be the winner of Irelands 2006 award for Irony.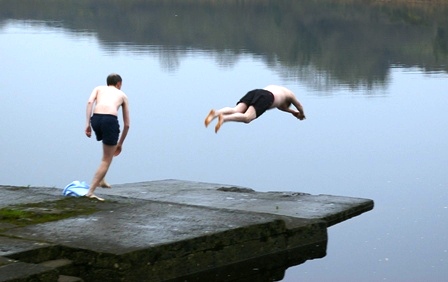 The first thing that struck me when Paul Ainsworth dived head first into the lake was, "there is a man who knows how deep this lake is"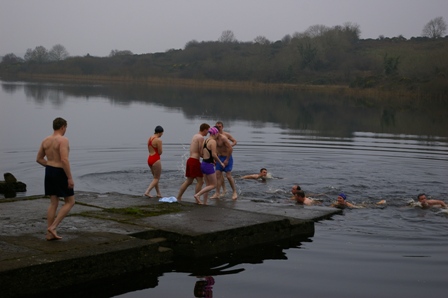 My grandfather used to say "If flutie Joe jumped into the lake, would you jump into the lake" He would not have been impressed. Like a heard of lemmings they lambasted them selves in the ice cold water. The swans are used to being fed by friendly passers by, but they must have sussed that something was wrong when their friends, turned up Christmas day, half stripped to the pelt, and insistent that they join them for a swim.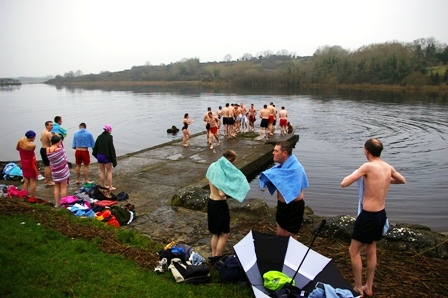 No one stayed in too long. Half the swimmers are already fully dressed and its only 1 minute past 12.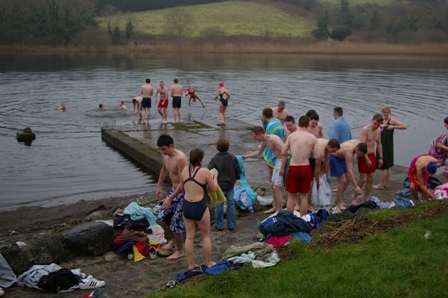 Costa del Lannagh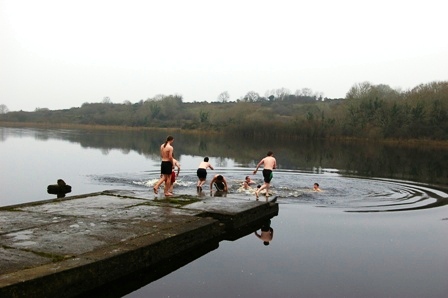 The waters were flat calm.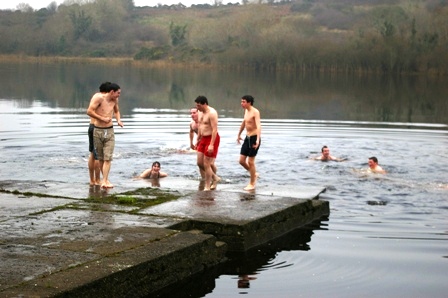 Congrats to everyone who took part I recognized a few of the Tooheys and McCafferys but didn't know everyone there, the only pity is there didn't seem to be any one collecting for charity, and not a lot of people knew about it. I'm guessing the local Padres were afraid of any competition for mid day mass goers. Maybe next year there will be a bigger crowd to support these warriors and a small fund raiser for people who are not so fortunate at Christmas.
© Copyright 2006 by the author(s)/photographer(s) and www.castlebar.ie

Top of Page