All-Ireland Champions Again
The biggest event on the underage Rounders calendar is without doubt the National Feile Championships held in Dublin on the 7th-9th August this year. As reigning champions a lot was expected from the Castlebar Girls and they rose to the challenge
The U13 Girls competition started off the weekend with teams from all over Ireland fighting for the title. In their first match Castlebar played Limekiln from Dublin. For the majority of the Castlebar team it was the first major challenge but anxiety was quickly quenched when experienced infielder Emma Flannelly ruled the bowler's match in her first game ever bowling. Her upper body strength proved too much for the Leinster champions. Great batting from Rebecca Conlon, Michelle Hopkins and Lisa Gilligan helped Castlebar progress to a 15-2 win.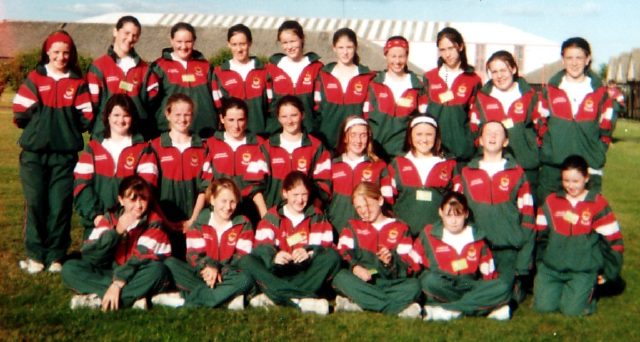 The Castlebar U13 and U15 Rounders teams
With spirits high Castlebar's next opponents were Erne Eagles from Cavan. This match was mainly a bowler/back catcher match with Emma Flannelly and Michelle Hopkins playing at their peak. The few balls that Michelle failed to catch straight off were quickly bulleted to 1st base where Aisling Walsh with professional ease made the outs needed. Final score 12-0
Next up were Sallins from Kildare. Sallins won the toss and batted first but only managed to get two home. Katie Tynan and Liane Smyth's camogie skills started to emerge. Their trained eye for the ball guaranteed a hit which successfully brought each of them to record bases each time. This spurred a relay of great batting from the rest of the Castlebar girls especially Majella Haverty and Aisling Walsh. At the end of the first inning the score was Castlebar 17 – Sallins 1. Kildare's next batting couldn't draw close to the feisty Castlebar's girls. They easily won 17-4.
The final brought together Erne Eagles from Cavan in a show down match. Castlebar were confident going into this match due to their earlier win over this team and this was instilled by the excellent play of their captain Majella Haverty. They got the Cavan players out easily and followed this up with excellent outfield hits. For some like Aisling Walsh a fantastic and accurate batter there was bad luck. She batted a massive hit out the field for an U13 player but was caught by Erne Eagles star Joan Badden (BBJ). This didn't stop the drive of a very young team who ended up winning the match 15-5.
The following day was the U15 competition. The first team Castlebar played against was Kildimo from Limerick. Due to Castlebar's reputation, the Limerick team appeared to be intimidated from the start of the game. Due to weather conditions they opted to 'bat on' from the very start in which they only got 3 runs. This left Castlebar only having to get 4 runs to win the match. This proved an easy target for Castlebar with Olivia Tolster getting the winning run with ease.
Next up were Sallins from Kildare. Kildare are a new team in Rounders circles and proved to be an easy conquest for bowler Olivia Tolster who through smart bowling prevented a lot of outfield hits. Those who did hit, hit towards 1st base. Constant quick thinking from Emer Dolan led to a number of fantastic catches.
Erne Eagles from Cavan were the next team they played against. In this match Castlebar met and experienced and well trained team. Impressive batting from Claire Ryder, Orla Conlon and Kathryn Sullivan for Castlebar off to a good start. Ciara Groonell on 2nd base played to a very high standard with excellent throwing and catching. Michelle Newcombe sealed the win with an excellent home run hit.
Castlebar played Limekiln from Dublin in the final. Castlebar were geared up for this match. Sarah O'Neill got the ball rolling with what seemed an impossible catch on home base. This was quickly followed by excellent throws by her and Michelle Newcombe to their 1st base minder Emer Dolan to get the outs. It was now Castlebar's turn to bat. Great determination in Tressan Maughan resulted in a spectacular hit down 3rd base line. She paved the way for the rest of the girls. Excellent batting from Emer Dolan, Claire Ryder and Ciara Groonell let to mayhem with Dublin outfielders Amy O'Shea and Laura Crowe. As Dublin settled into the match Amy caught a great ball hit from Kathryn Sullivan. Kathryn aimed to seek revenge by catching what surely should have been a home run by Dublin star Amy and throwing a great ball to Tressan Maughan on 3rd base to get another runner out. Claire Ryder excelled herself on the pitch by taking advantage of every hit that came her way to make the out. The deadly combination of Olivia Tolster and Sarah O'Neill played a vital role in this game. With the deadly duo making a total of 8 outs between them. Dublin had no answer to the high standard of play that Castlebar showed. Final score - Castlebar 21 – Dublin – 1
U13 Team – Emma Flannelly, Michelle Hopkins, Aisling Walsh, Liane Smyth, Katie Tynan, Majella Haverty (Cpt), Lisa Gilligan, Rebecca Conlon, Sarah Groonell, Emma Cunningham and Aoife Durcan
U15 Team - Olivia Tolster, Sarah O'Neill, Orla Conlon (Cpt), Emer Dolan, Juliet Connaughton, Tressan Maughan, Emma Flannelly, Michelle Newcombe, Mikeala Foy, Ciara Groonell, Claire Ryder, Kathryn Sullivan.
Managers – Helen Lydon, Brianne Moran, Eleanor O'Boyle, Kathryn O'Boyle and Grainne Cashin.
Castlebar U13 and U15 rounders teams wins also win at the Community Games Championships.