---
The Hospital on the Mall
Posted by md on October 19, 2004 at 03:22:09:
Has anyone got any information? I believe there was a Dr Knott associated. It was located approximately where the County Council buildings are today Aras an Chontae……
---
Posted by Royal on October 19, 2004 at 17:48:04:
In Reply to:
hospital on the mall
posted by md on October 19,
There were actually two Doctor Knots who practised at the County Infirmary at the Mall, Castlebar, Co. Mayo.
The first Doctor Knott came from Dublin & married a Miss O'Malley, a descendent of Grace O'Malley (Granuaile) and niece of Major General George O'Malley whose statue is in the grounds of Christ Church, Castlebar. He was appointed Surgeon to the County Infirmary & Physician to the County Jail. He practised for forty years at the Infirmary & he died aged 64 years in October 1871.

His son, Dr. Middleton O'Malley Knott succeeded him & upon qualifying as a doctor in 1864, he was appointed medical doctor to the Militia in Castlebar. He quit shortly afterwards & practised in England for a few years. He came back to C/bar & took over from his father & practised for nearly 50 years. He was also medical officer to the troops, the jail, and the police and had an extensive private practice.

He died in Nov.1920 aged 82 years & was buried in the Church of Ireland graveyard in Castlebar. One of his sons also practised as a doctor but not as far as I know in Castlebar.

---
Posted by Tempus on October 20, 2004 at 19:14:07:
In Reply to:
Re: hospital on the mall
posted by Royal on October 19, 2004 at 17:48:04:
The old infirmary was indeed situated at The Green, where now stands the Co. Council offices. Prior to the council offices, it was known as the Council yard, and well into the sixties, part of the old remains of the hospital were still intact. I often heard the story of the man with a dreadful stammer meeting Dr. Knot and saying to him " Are----you-----knot-----the-----doctor"? – and getting the reply :"Yes----I-----am-----Knot----the----doctor"!
---
Ould Stock

on October 24, 2004 at 18:45:02:

The County Infirmary, opposite the Mall, Castlebar, was a three-storey structure, tastefully designed and erected in or about 1750 by means of a grant allocated by the Irish Parliament in College Green, Dublin.

Dr. M. O'Malley Knott was County Surgeon for a number of years. There were 60 beds in the infirmary and the number of patients treated over a year would have been 1,000. Dr. Knott served during the closing stages of the 19th century and the opening years of the 20th century. With his daughter, Mrs. Fitzgerald, he built a Swiss-style chalet at Mountain View, later occupied by Mr. A. V. G. Thornton, State Solicitor.

The house is now occupied by Ward and Ann McEllin, both solicitors. Ann is a granddaughter of the late A. V. G. Thornton. I think the house may be been called Maida Vale at one time. Later Dr. McKeon became county physician. The matron was a Mrs. Hardiman. Included on the staff were Mrs. Rodgers and Miss Scahill. When Mrs. Rodgers resigned she was replaced by her daughter, Nurse Alice Rodgers, who trained in London.

The next county physician attached to the hospital was Dr. Anthony McBride, a native of Westport and brother of Major General John McBride, signatory of the 1916 Proclamation. Dr. McBride gained a great reputation for his dedication to the hospital and its patients. A very humble man, he is buried in Aughavale cemetery in Westport, where a clump of stones marks his grave. He was a granduncle of the poet Paul Durcan. The infirmary closed in the early 1950s and some of the wards were used by the Castlebar branch of the Irish Red Cross Society.

---
Posted by Butch on October 27, 2004 at 23:27:51:
In Reply to:
Re: hospital on the mall
posted by Old Stock Again on October 24, 2004 at 19:26:14:
Aye, Homer may be nodding off, but Johnny here is scratching his head; As to how the answer relates to the question; the answer smacks of insider trading: clique-ish, clannish, conspiratorial, between two very knowledgeable, eloquent, contributors, to a PUBLIC "Board". If I may pose as "Advocate for The People": In spite of MD's scant inquiry!
The thread unwound rapidly. Royal's post setting the pace, with a marvellous missive ending enigmatically with the still unanswered question; were not there two Doctor Knot's? Tempus rose to the occasion with an anecdote written so well that one could hear the stammer of the patient visiting the "Dr.Knot", that, reminded me of the day in class, when Bro. Augustus asked Sean Bourke why he was coughing so much. Sean, a chronic stammerer, then bravely stood up to face the no-nonsense famous teacher, in front of our class, and replied, "I have some ph-phl-phl-phle-phle-phleg-phleg-phlegm caught in my throat". Sean promptly sat down, and a subdued class plus teacher, humbly returned to business. "The Thread"; now turned golden with the excellent historical repast by "Ould Stock", a contributor, by the way folks, who is virtually impossible to fault, quite to the contrary, "Ould Stock" enriches the Nostalgia Board with his every superb postings.
However, just to nitpick, his statement that the said "Hospital" was opposite the 'Mal' (please forgive my spelling as over here we pronounce it 'Mawl' like 'garage' is pronounced 'gurauge'). As the 'Mal' might be considered somewhat of an oval in shape, to be 'opposite it!' would be akin, to advise someone to 'take the next crossroads on the right!'
Tempus to the rescue puts the matter straight, calling the 'Mal' by its colloquial handle "The Greeen", and places the said Hospital smack in the middle of the old council yard. The mention of the council yard brought back memories to me. I was a persistent visitor to 'Teach O' Mhuiricu' next door to the yard, and before I headed for home would stop into the machine graveyard, fascinated by the ancient rusted defunct coal fired steam roller that sat staid and silent. Its trundling roar was alive once in my life as a garsun. Before I would see it, My ears pricked up to its unique sound. I would run like the dickens never ever to miss it and guess whether it would appear on the top of 'Flynn's Hill' on the Newport Road returning to "The Yard" or coming round by P.J. Howard's on its snail's pace out to the country. Huffing and puffing, closing slowly towards me where I edged on the road its clamour reaching a crescendo, flickers of red yellowed fire giant piston a turning, my mind squished under the monstrous metal roller, darkened men asmiling, engulfed by the awesome energy of noise and power, I stood mesmerised, and watched faithfully as it plondered away receding regretfully around a corner. Hidden but still heard. I revived and returned to a child's reality.
EPILOGUE: Some years ago I was amazed to see on our website here, a video of The annual St. Patrick's day parade. My old friend 'The ancient Steam roller was all spruced up for a Sunday Mass bright new colours of yellow and green shining brightly, but I could not hear it. Its tantrums, its rolling big barrel crunching the tarmacadam anymore, nor could I smell its coal fire greasy, oily soot darkened running life, I didn't recognise it any longer. I can see it - and hear it – and thanks to the Nostalgia Board I just did.
I have a new pink spool of thread in front of me here it is 300 metres long and is made in Egypt. Like all threads, is easily broken, and can be knotted up again, but doesn't sew so smoothly and looks rough and disjointed. Continue ye to sew sweet memories of yore and weave ye webs of wondrous whiles of days gone by, gone but not forgotten. Broaden the horizon of your past to illuminate the picture for our guests. Therein lies our continued success A Dhuine Uaisla, Slan libh, Seamas O'Dea etc., etc., etc...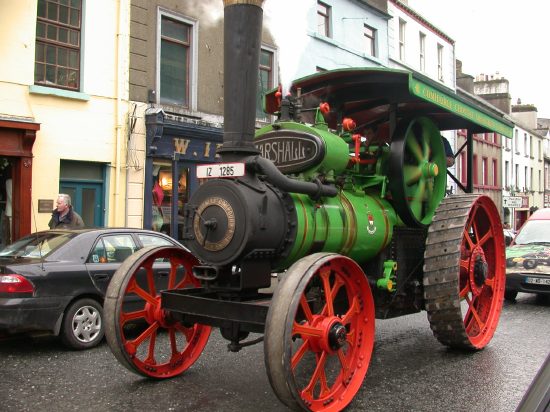 ---

For more stories of Old Castlebar make it your business to log on to the Castlebar Nostalgia Board on a regular basis!
© Copyright 2006 by the author(s)/photographer(s) and www.castlebar.ie

Top of Page