---
There were great celebrations in The Welcome Inn on Friday night last when Castlebar Mitchels Ladies held their presentation evening. The large attendance was addressed by club chairman, Michael Nolan and P.R.O Michael Gallagher.
The chairman thanked the players, management, parents, committee and sponsors who had worked so hard to develop and expand the club in 2005. He said that the proper foundation for future success was being cultivated within the club with huge emphasis on underage development.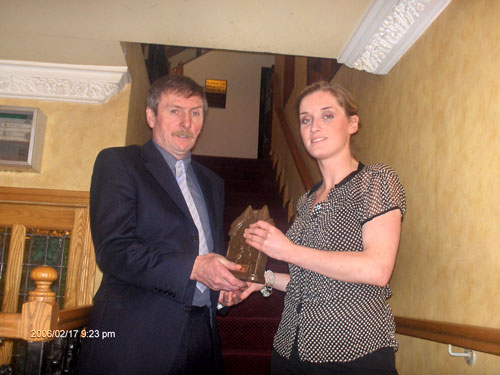 Castlebar Mitchels Ladies chairman, Michael Nolan pictured presenting the senior player of the year award to Claire O'Hara at the club's presentation night in The Welcome Inn (17 Feb 2006)
There were five 'player of the year' presentations made, with Michelle Kelly taking the U-10 award for her excellent displays in goal. The U-12 award went to midfielder, Shauna Conway, while Caroline Ormsby captured the U-14 award for her performances in the half-forward line for her team.
The U-16 prize went to centre-half back, Agnes Hoban, for her excellent displays while the senior award went to Claire O'Hara, the Mayo centre-half back for her dynamic displays for the club in 2005.
Michael Gallagher congratulated the winners but he also told the audience that there were at least four players in each team who were in the running for the awards.
Padraig McManamon, senior manager, then made a special presentation to Fiona McCarthy, Sharon Flynn and Siobhan Lawlor for their wonderful service to the club over the years. The three ladies have worked tirelessly for the club and the presentations were well deserved.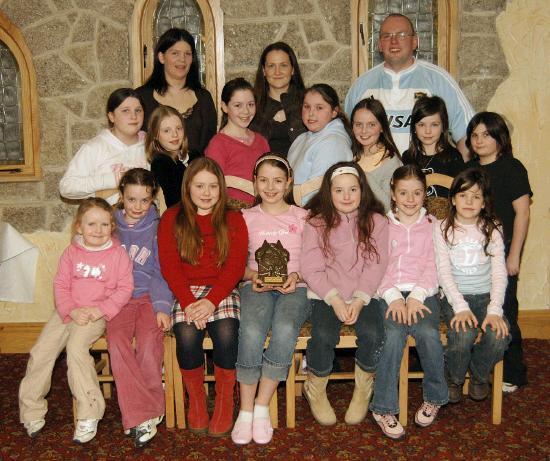 Members of the Castlebar Mitchels ladies U-10 team pictured with their managers, Sharon Flynn, Linda Barrett and Michael Gallagher at the club's presentation evening.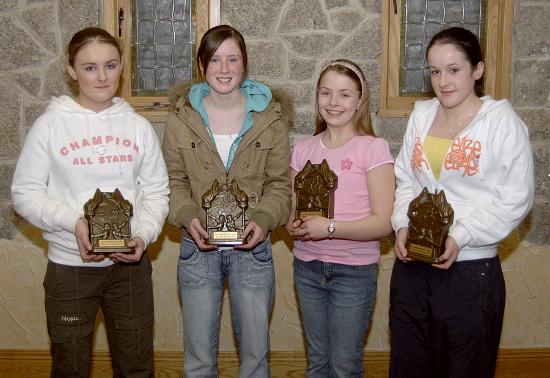 Players of the Year at the recent Castlebar Mitchels Presentation evening. Shauna Conway U-12; Caroline Ormsby U-14; Michelle Kelly U-10 and Agnes Hoban U-16.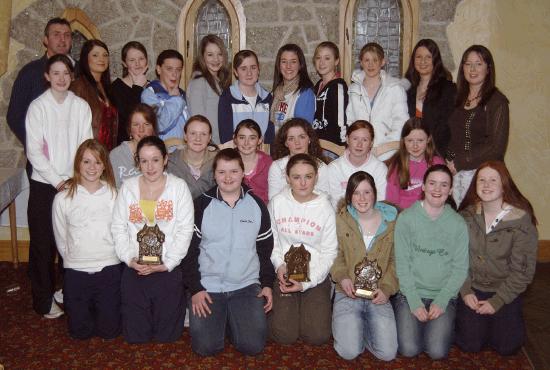 Members of the Castlebar Mitchels Ladies U14 and U16 teams pictured with their managers Padraig McManamon, Rose Moloney and Siobhan Lawlor at the club's presentation evening.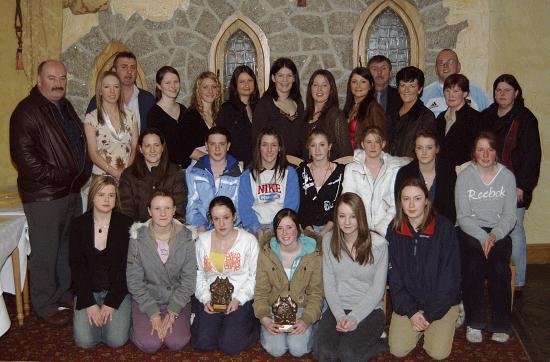 Members of the Castlebar Mitchels Ladies U-16 and senior teams pictured with committee members Kevin Connolly, Padraig McManamon, Michael Nolan, Mary Sullivan, Michael Gallagher, Fiona McCarthy and Sharon Gray at the club's annual presentation evening in The Welcome Inn.
© Copyright 2006 by the author(s)/photographer(s) and www.castlebar.ie

Top of Page