---
A CELEBRATION OF ALL THINGS HUMBERT –
A review of The Humbert's last weekend 31st Aug to 3rd Sept 2006!
It has been said that none are truly from Castlebar unless on their baptism they had passed through "Fagin's Gates" in the local Church of the Holy Rosary! If that is the case, the same could also be said that you came of age when you went through the doors of The Humbert or Rays, eventually you wandered down to Johnny McHale's, Mick Byrne's or Paddy Moran's and at the end of your days either Coady's or Rocky's would see you on your way!
However since Monday 4th September 2006, the doors of a Castlebar landmark The Humbert Inn on its Main Street have remained unopened. For now the usual hustle and bustle of a thriving pub normally echoing with laughter and conversation, echoes an eerie silence within its walls and an exterior which one person said "looks like a building in need of a hug, wondering where did every one go"?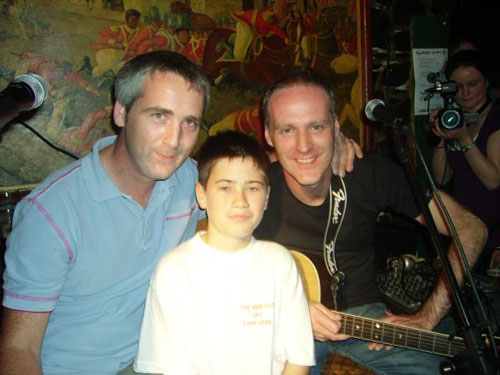 It is not the first time the building has been vacant between occupancies. When Liam Moran sold it to John and Helena Connaughton in 1994 there were similar scenes of people drifting around in a total loss as to where to go, while waiting for the Connaughton's renovations to be completed. Stalky's Dennis Gilligan used to jokingly refer to the displaced '94 Humbert regulars as "the no-wheres"! As they wandered around the town, with literally no other bar to go where they felt equally at home. In fairness to Stalky's toasted sandwiches in their little plastic bags of the time, it was the home cooking of the Humbert Inn, along with your seat and your drink the way they knew you liked it, which was required! God bless the "no where's of '94, they did not even have a Carmel Donnelly in Wynnes to call into, in order to meet up and lament their loss! Already there are many in September 2006 who can now sympathise with how they felt!
The ghosts of The Humbert Inn (any 200 year plus building must be able to boast a few) must also be wondering why it has gone so quiet? Because from Thursday 31st August to September 3rd, hundreds of people celebrated all things Humbert day and night, as the reign of General John Connaughton came to an end, co-incidentally reflecting the same date that the French General Humbert also withdrew from Castlebar during the United Irishman's Rebellion of 1798! It was public knowledge for many months that the premises had changed hands and people had varied reasons to be there. However, it was mainly to attend John Connaughton's last days in The Humbert and the sight of a planning notice on The Humbert's front window for the famous bar's conversion to retail units, on what many had thought was a listed building, which brought in so many people to The Humbert Inn for one last time!
HUMBERTS LAST STAND – Thursday 31st August 2006.
On 31st of August 1798, John Moore was pronounced President of Connaught at a great banquet within what was known at the time as The Inn and on the same date in 2006, the last Humbert Thursday night with John Connaughton, know affectionately as "Johnny Humbert" may have been no less a great event. The combined musical talents of the bands, "Hammer Duck" and "What's New Pussy Cat" added to the event. In a scene reminiscent of The Humbert's music tradition of the 1970s, nine singers/musicians crammed before The Humbert fireplace with many more musicians/singers in the crowd, including Catherine Maguire, Alan Geraghty and Ian McDonald. Mind you in the 1970's there could be up ward of 25 musicians around that same fireplace, but in defence of the music of 2006, they did not have all the equipment that bands require today! The combined group consisted of Karen Lyons, Tanya McDonnell and Sharon Cuffe on vocals, Mick Buckton on guitar, Craig Donaldson on Bass, Donal Hoban on drums, Tom Lyons Guitar/Vocals, Joe'O'Grady on Conga's and Kiltimagh's Jonathan Staunton sharing Bass. Tom Lyons must have invited along half of the surrounding area of Balla and the atmosphere was incredible! Old favourites were heard like Sheryl Crowe's "Everyday", Tom Petty's "Wont Back Down", Eurythmics "Thorn In My Side" and the last song of the night Tina Turner's " River Deep, Mountain High" to name but a few.
Tom Lyons spoke a few words at the end of the night to thank all who were present and mentioned how he felt he had grown up in The Humbert having played there for six years during the reign of Liam Moran. "The Pussycats" originally consisted of Tom Lyons with John Flatly, was eventually joined by Mick Buckton and finally by whom John Connaughton affectionately termed as "the girls", Karen, Sharon and Tanya. The Ladies were very pleased when Tom Lyons stated, "when he met them first they were babies and today they were babes! Tom Lyons also spoke of his memories of Helena Connaughton who sadly died in 2004, describing her as "big, bright, bubbly woman who always made you feel that it had made her day to see you!" He commented on" how positive she was during her illness and that no matter how she must have been feeling herself, always asked you how you were and was genuinely delighted to meet you". All present agreed with his sentiments, as always she was fondly remembered with many eyes moving to her picture hanging at the bar. Incidentally, Helena's picture was the last item to remain hanging in the bar up to 13/09/06, as she over saw the final clearing out of The Humbert Inn on its closure!
Link to photos taken on 31 August 2006
HUMBERTS LAST STAND – Friday 01st September 2006
Friday 1st September saw the last serving of The Humbert's lunchtime menu after 12 years of brilliant service in delivering a home cooked taste in a swift, friendly manner. Along with John and Helena Connaughton, Helena's sister Kate Hegarty shone in the way they welcomed people, how they found them seats and rarely left anyone waiting more than a few minutes for food! No matter how many were in The Humbert including clerical workers, local builders, local tradesmen, shop workers, professionals, passer bys etc there was always room for one more. Many a friendship was forged, by meeting people while just popping in to have lunch!
John Connaughton has an amazing memory for detail, no matter how unusual your eating request would be, you rarely had to ask him for anything a second time. Of course none of this would have been possible without the equally wonderful efforts of the kitchen and floor staff including Ann, Annie, Clare, Majella, Mary and Teresa. The "Majella Special" was legendary among The Humbert regulars, any combination on the food menu was possible with Majella, (who has a memory for detail akin to John Connaughton) and anything could be included or excluded to your fancy! Curiously one food item almost brought a stampede to The Humbert each Thursday! If you were not there by 10 past one, you had not a hope of savouring the Chicken Coujons! It was perfectly normal for the likes of Pauline Cawley's Beauty Saloon & Staunton's shops to pre-book their order for the infamous Coujons and not in the least unusual to meet people running from their cars to be there on time for them! But no matter how many were demanded, there were always some left for young cousins, Aisling Hegarty and Robert Connaughton after school!
From 8 until 10 on Friday evening 31st August, Peter Killeen of Community Radio Castlebar kindly agreed to broadcast a two hour radio show celebrating the music of The Humbert over the past 12 years hosted by John Mulligan and Mark Conway. Old favourites associated with The Humbert rang out over the airways along with an acoustic session from The Humbert's heroes Frank Durcan and Noel Davitt along with amusing memories and banter from ex-Humbert custodians Kieran (Dusty) Munnelly, Hassan Dabbagh and a nostalgic look over the years by Karen Conway. It was noted on the radio show that night "even if The Humbert was not within Castlebar in 50 years time, it will never be forgotten by Castlebar!"
Back in The Humbert itself, Tommy Berry and Alan Geraghty provided the night's music. They may have been the only two musicians playing that night but they never lost their audience. Well known songs like "T. for Texas" by J.J. Cale, "That's Entertainment" by the Jam, "Far, Far Away" by Slade, "Born To Be Wild" by Steppen Wolf, "No Woman No Cry" by Bob Marley and a Janis Joplin version of "Summertime" were delivered by the talented Westport duo with Alan Geraghty on Bass and Tommy Berry on Acoustic guitar. There was a different atmosphere in The Humbert on Friday night compared with Thursday, possibly due to the "Electric Picnic" gang heading to Laois, but on reflection it added to the weekend, as no two nights were the same.
Castlebar's Linenhall was holding an exhibition of prints by Brendon Deasy celebrating the life and achievements of Michael Davitt. Brendon's work has also been exhibited in The Victoria and Albert Museum, Trinity College Dublin and The National Library of Ireland. Brendon Deasy had heard about closure of The Humbert Inn from a colleague in Laois and made a point of visiting the bar on Friday while in Castlebar, stating that "a building such as The Humbert should be retained due to its historic importance to the town and that it would be inconceivable that a building of its character could be demolished at any time"!
Link to Photographs taken on 1st September
HUMBERTS LAST STAND – Saturday 02nd September 2006
Saturday 2nd September saw the usual drifting in of people while shopping, catching up with friends since the previous week or just sitting at The Humbert's large front window, reflecting on the many times they had sat with others watching the activities of the Main Street passing by. It was initially thought that an 8.00pm kick off for the Saturday session of the "Humbert's Last Stand" music event was a bit early, but was that ever proven wrong! The much-admired Dennis McCalmount, famed for his 12-string guitar, began the proceedings with "Fragile" by Sting, his own compositions "Demons" and "Gone", "Stairway to Heaven" by Led Zeppelin and ended with a song that will always be Dennis's song – "Hallelujah" by Jeff Buckley. Although many, many artists have passed through The Humbert Inn, Dennis is one the acts which became part of The Humbert. His play with lyrics are legendary, with shouts of "everything's gonna be all right, FREE DRINK IN THE HUMBERT TONIGHT", ringing out of his version of Bob Marley's "No Woman No Cry". Along with his version of Radio Heads "Creep", changing the lyric's to "I want a perfect body, I want a perfect nose." Dennis became part of Christmas in The Humbert when he would sing The Pogues "Fairy Tale of New York", using a falsetto voice for Kirsty McCall's singing and using his own fine voice the for Shane McGowan's parts. Rest assured Dennis, there will be people from The Humbert travelling to hear you again!
After Dennis, Ballyvary Sister and Brother Duo Sinead and Damian O'Donnell known as "Liebido" noted for their trademark harmonies, took their place before the famed "Races of Castlebar" painting by Tom Coucill. They preformed "Desire" by U2, "Mrs. Robinson" by Simon and Garfunkel, "American Pie" by Don McClean, "Summertime" by Gershwin and "Perfect" by Fairground Attraction. But the main song they will be remembered for by The Humbert Regulars and also preformed on the night is their version of "Volcano" by Damien Rice complete with haunting flute segments from Sinead O'Donnell.
Next up was Balla's "Joker Mouse" with James Mannion Guitar/Vocals, Dave Richardson on Lead Guitar, Noel Walsh on Bass and Colin Walsh on drums. Their set included "Message in a Bottle" by The Police, "Play That Funky Music" by Grand Funk Railroad, "The Boys are back in Town" and "Parisian Walkways" by Thin Lizzy. (Dave Richardson's blinding "Parisian Walkways" guitar solo would have won praise from Garry Moore himself!), an original song by James Mannion "Feeling Easy" and concluding with Neil Young's "Rocking in the Freeworld". This resulted in James (aka Bob) jumping onto the bar, successfully dodging the hanging fan. While still playing guitar, he encouraged the crowd to change the lyrics to "rocking in The Humbert"! As he safely descended to the safety of the stone floor, not for the last time, the crowd simultaneous burst into many rousing choruses of "We love the Humbert, we do, we love The Humbert, we do, we love The Humbert, we do, Oh! Humbert we love you"!
After a few technical hitches the acoustic duo "Alternative Route" comprising of Lee Bastic and Con Murphy went on to entertain the growing number of people who had gathered both inside and outside The Humbert Inn premises. Their set comprised of "July" by Mundy, "2468 Motorway" by Tom Robinson, "Aint no Sunshine" by Bill Withers, "Save Tonight" by Eagle Eyed Cherry, "The Hills of Donegal" by Goats Don't Shave and song that has been sang in many a get together "Let the Grasses grow". During their set, one Mr. Brendan Parsons made his way to The Humbert microphone taking his place as he has done so many times in the past in front of The Humbert fireplace, treating all before him to a version of Johnny Cash's "Ring of Fire". Brendan and his family have been Humbert regulars for many years and as always it was a pleasure to hear Brendan's deep singing voice echoing around those ancient stone cut walls.
The band "Furious George" was to have played the next set but had to cancel at the last moment, much to groups and many others disappointment. Strangely within an hour of "Furious George" having to cancel, three ex-members of another Humbert legendary band "Uncle Fuzz" rang to ask if there was room for them to play within the line up. The trio comprising of Ger Staunton on drums, Keith Fadden on Lead Guitar and Paul Mannion on Bass left the crowd screaming for more. They may have played the shortest piece and it may have all been instrumentals, but for many their performance was the high light of the night! Mick Sheridan of Railway Tec., (who in his youthful wisdom has retired to Thailand), would have normally fronted "Uncle Fuzz". Mick's singing performances with both Uncle Fuzz & The Freaksters will never be forgotten, along with his sister Louise's rendition of "Summertime". However, the remaining Uncle Fuzz trio surpassed themselves on the night with a set including "Instrumental" an original by Uncle Fuzz, "Pusher Man" by Curtis Mayfield, "Soul Sacrifice" by Santana and a second original by Uncle Fuzz "Good thing".
The penultimate band of Saturday night was "Curlisduane", who have taken their name from the area around Ballyglass, Claremorris from which they hail from. Although all instruments were not played on the night the multi talents of James Keaveney who can boast a vast knowledge of Guitars, Vocals, Synths and Piano, along with Dave McNamara on Vocals/Bass along with some occasional percussion and John McDonnell on Drums fired out song after well-known song! While more than capable of performing cover versions, this talented trio presented to The Humbert capacity crowds their own compositions of "Headstone", "Sunrise", "Your Face", "The Deceiver", "Keep on Trying" and "Half-Light". A vast majority present were familiar with "Curlisduane's" work and without exaggeration by the time the lads had finished, the atmosphere in The Humbert Inn was as power packed as if all were celebrating what was hoped to be a Mayo victory in the then impending All-Ireland final.
At this stage in the night the crowds around The Humbert had swelled both within and outside the building, not even the night's rain could dampen everyone's high spirits, with many people enjoying their own Humbert party in the alleyway between The Humbert Inn and Wynne's Newsagents! Although over one thousand people attended The Humbert's final weekend celebrations, there was not even one troubled incident! Typical of other great nights in The Humbert despite the numbers, at no time was there any need for bouncers due to the party like atmosphere around the pub. One incident did mar the event; a plague commemorating General Humbert's campaign was removed from the front wall of the pub! Wynne's security cameras have recorded this incident, therefore it is requested that if the culprit arranges the return of the plague, no more will be said about it. It is up to you to do the right thing, or the theft will be taken further!….
The last of the seven acts on the Saturday night of "Humbert's Last Stand" were the incredibly talented and professional "Vinyl" from Westport, better known to their Humbert audience as "Jagged Rocks". Headed by the ever dynamic Ricky Barr on Vocals/Guitar, Breaffy's Nicholas Timothy on Guitar, Brothers Joe Halloran on Drums and Mick Halloran on Bass they raised the already charged atmosphere to fever pitch with their versions of "The Bucket" by Kings of Leon, "California" and "Give it Away Now" by Red Hot Chili Peppers ("Give it Away Now" choruses being sung by the crowd as Ricky pointed the mike towards them for extra volume), further songs were "Sex Machine" by James Browne, "Funky Music White Boy" by Grand Funk Railroad and the final song of this amazing night was a haunting version of "Painted Black" by The Rolling Stones.
Just before yet another rousing chorus of "We love The Humbert" in the midst of all the music and mayhem an extraordinary event occurred! Quoting from Ricky Barr on that Saturday night, "I just want to have a one minute silence.... to look around these walls and think about the friends that you've met.... the craic that you've had..... and all the nights you can't remember! All the tidings, the up flows and down flows...... maybe you lost your virginity here I dunno! Just think about it, never again..... we're never gonna meet up here again!" A minute's silence was requested and amazingly despite one or two giggles in the first few seconds, the entire Humbert Inn simultaneously fell silent. Within seconds a hush enveloped the bar front and back, there was no sound from the till, no one moved from where they stood, no sound came into the building despite the crowds outside, it even seemed as if the traffic had stopped inhonour of the request. Perhaps if Ricky Barr's one minute silence request to commemorate the memories of The Humbert Inn did not quite stretch to a minute, it will always be remembered that he achieved a good fifty seconds! A remarkable occurrence, considering the attendance present at the end of Saturday night, 2nd of September 2006.
Link to photos taken on 2nd September 2006
HUMBERT HISTORY & TRAD SESSION– Sunday 03rd September 2006
Despite the late hour in which most people eventually wandered home on Saturday night, on Sunday 3rd September the crowds began to gather from early lunchtime within The Humbert so as not to miss one moment of its last day with John, Katie and all the rest of The Humbert crew. The rain of the previous night was forgotten and the bright sunshine reflected the spirits of those present, although admittedly the inevitable tiredness was beginning to make its presence felt.
Further to an attempt to re-unite the famed 1970 -80's traditional group "General Humbert" to attend a last weekend in the pub from where they launched themselves to international success, its founder Mr Stephen Dunford of Castlebar and Killala made a very welcome appearance early on Sunday within The Humbert Inn. Adding to his established musical talents, Steve is an accomplished artist and author of among other titles, the soon to be published "In Humbert's Footsteps - Mayo 1798". Steve had great antidotes over the years regarding "the craic, the music, the memories and the ambience within The Humbert". Further to the names of Mary Black, other members of the Black family, John Donegan, Shay Kavanagh, Ruairi Somers, John Hoban, Frank O'Reilly, Fintan Murphy and not forgetting John Dunford of course, he also noted that these and others like Frank Kilkelly who went onto work with Sean Keane, Brendan O'Reagan who went onto work with De Dannen and Sharon Shannon, up to more recent times with the likes of The Kilkenny Family, have all added to the musical legacy of The Humbert Inn and put Castlebar musically on the map.
Stephen Dunford also recounted the importance of the United Irishman's Rebellion of 1798 and the huge authentic and genuine link with which Killala, Kilcummin, Ballina, The Humbert Inn, Castlebar, Newport, Sligo, Swinford, Leitrim, Ballinamuck in Longford and on down to Enniscorthy in Wexford (describing how the Rebellion is commemorated in Wexford) have in connection with Humbert's expedition. One particular story told by Stephen Dunford which is also noted in his forth coming book "In Humbert's Footsteps - Mayo 1798 " brought the reality of the link between 1798 and of what are today local French-Mayo family names.
One example is that of Gillardstown (Drumshee) near Bonniconlon, which is named after Robert Gillard, a young foot soldier of Humbert's army. Local tales state that during the Battle of Ballinamuck, Robert became separated from his unit. He hid in a bog hole, for a day or so thereby, successfully avoiding detection by the marauding British troops, before fleeing westwards, back in the direction from which he had just recently marched. Once back in Mayo, the terrified young soldier was given sanctuary in the home of the Neary family of Rathreene. According to family lore, Robert Gillard fell in love with their Daughter Bridget. In 1799 the couple was married and became the parents of five children, their many descendants are numerous and still live within Mayo to this day. One well-loved Humbert Inn employee is Mr. John Gillard of Castlebar. It is thought provoking to consider that 200 years later, he worked within the same premises responsible for his fore father's destiny. It is also quite possible that both John and Robert Gillard could have stood on similar ground within or around The Humbert Inn, (as the main 1798 French camp was close by) with only time dividing them.
Although time was now pressing Steve kindly retold further little snippets of information regarding The Humbert – In relation to the well known painting by previous Humbert owner Tom Coucil, titled "The Races of Castlebar" depicting the British retreat from Castlebar (also explained known as "The Hurry") ahead of the advancing combined Irish and French armies in 1798. This is actually a reproduction of an original painting by John D. Reigh, which first appeared on the Shamrock Magazines Christmas Supplement in 1887 and is the property of the National Library of Ireland. Stephen also advised that Humbert's second in command Sarrazin ended his days in the service of the British army as an informer. It may have been two hundred years on, but any example of a "turn coat" at anytime, in any event, was frowned on by his listeners.
When asked what happened to General Jean Humbert after the "Races of Castlebar", Steve explained that despite his success within Castlebar, plus the fact that Humbert was one of only three foreigners (along with William the Conqueror and King William of Orange) to defeat any English army within the then British Isles and distinguishing himself in two Zurich battles against both Austrian and Russian armies, Humbert had a bad relationship with Napoleon Bonaparte, which curtailed his military career and resulted in his immigrating to America, living on a small pension from France. After gaining distinction at the Battle of New Orleans in 1814-15 from General Andrew Jackson, he finally died penniless in New Orleans in 1823 further to a lifetime of living beyond his means. Stephen Dunford also mentioned that John Cooney of The Humbert Summer School has launched a petition campaign to persuade President Jacques Chirac to recognise General Humbert and 'the Races of Castlebar' on the Arc de Triomphe due to Humbert's famous victory and to put right the injustice of Napoleons prejudice against him. With the help of the Department of Foreign Affairs it is hoped that General Jean Humbert will be noted along with the other military triumphs of the French revolutionary armies, before celebrations marking the 210th Anniversary of his expedition in 2008. As Steve left, the possibility of a 2008 French invasion was pondered, with Monsieur Chirac himself unveiling a plaque to commemorate his fellow countryman within the walls of The Humbert?
While this discussion was taking place a newly formed band, which has recently won Newport's Battle of the Bands began setting up. Despite the hectic schedule of the weekend's proceedings, John Connaughton had kindly agreed when asked by proud Parents and Humbert regulars Danny and Mary McNulty, to allow the Humbert's youngest musicians of the weekend to perform, so as to be able to say, that they too had the distinction of playing in The Humbert! "Vacant Space" comprises of Robert McGinty on Vocals/Bass, Donal McNulty on Guitar and Pat Bennett on Drums. This trio proved to possess a talent far beyond their youth, Robert McGinty's voice defied his 16 years, Pat Bennett kept everyone's foot tapping, while Donal McNulty displayed all the talents frequently displayed by his Mother Mary on many occasions within The Humbert on guitar.
No sooner than "Vacant Space" had cleared the area in front of the fireplace, it soon filled up with the many traditional musicians, which Bernard Joyce from Chancery, Ballyvary had kindly gathered to mark The Humbert's long-standing association with Traditional music. The Seisiún gathered momentum as more and more musicians found their place before the stone fireplace. Unfortunately, Humbert neighbour Mick Baynes had to send his regrets, but among the musicians present before the famed stone fireplace were John Francis Chambers from Newport, Martin Hession from Galway, Bernard Joyce, Zane Joyce, John Kilkenny, Noel Kilkenny, Mick Monaghan, Tony McCarthy, Tom O'Toole, Margo Randles and Tony the Rambler. It was commented later on in the night, that should The Humbert ever re-open, even in twenty years time, there should be a traditional session every Sunday, due to the vast array of talent present! Reels and Jigs as not have been heard in a while within the walls of The Humbert flew up among the ever-increasing crowd as local photographers Michael Donnelly and Ken Wright organised groups of willing, smiling people into their ever-professional photographs. Later in the week it was general agreed on seeing Humbert regulars Ailish O'Brien and Sinead Parsons on one of the local papers front page, that further to Sinead's long association with The Humbert and the fact that Ailish had travelled home especially from England to attend The Humbert closure, that it was only right that they became "The Humbert Cover Girls"!
Photographs taken on 3rd September 2006
03/09/06 THE CLOSURE OF HUMBERTS LAST STAND & THE VERY LAST HUMBERT SUNDAY OF FRANK, NOEL & THEIR MANY GUESTS…..
Never easy halting an enthusiastic group of Traditional musicians, but eventually two guys as much a part of The Humbert Inn as its stone walls, beams and arches, made their way to that famed fireplace, whose dying embers have roasted the rear of many a poor drummer over the years! There are many, many fine people and musicians who have passed through The Humbert over the years, but there are few of whom are as well thought of as the synchronised guitar-playing duo of Frank Durcan and Noel Davitt! Versions of Humbert classics by Frank and Noel filled the building after Noel joked - "Well, Frankie, I always said we'd close the place"...! Starting with Neil Young's "Harvest Moon", Smashing Pumpkins "Cherub Rock" & Johnny Cash's "Hurt". Between Frank n' Noel's usual banter and jukebox selection of songs, as the night continued they willingly called up a veritable who's who of different Humbert singers/musicians present to play.
First up on the Frank n' Noel last Sunday Humbert guest list was Westport's Luke Davis and Anthony McNamee (who jokingly was mistaken in a photo on www.castlebar.ie as Mel Gibson). Luke Davis did not get off lightly either, when he was mistaking introduced as Luke Kelly by Noel Davitt who good naturedly complimented him on how "healthy he looked" on realising his naming error! Luke on guitar & Anthony on Bodhran went on to play the first song Luke ever played in The Humbert Eric Clapton's "Knocking on Heavens Door" & a soulful version of James Browns "I Feel Good". Frank and Noel then returned to the mikes with Snow Patrols "Run" and with one of their more popular covers of The Red Hot Chilli Peppers "Otherside" – popular as our Frank gets to sing along on the harmonies!......
Next guest of the night was James Mannion of "Joker Mouse" accompanied by Frank Durcan who gave a bluesy rendition of AC/DC's "Whole Lot of Rosie" followed by Pink Floyd's "Wish You Were Here", thoughtfully dedicated by James to everyone who could not make it for the last night in The Humbert. Cigar break completed, Noel Davitt returned to join Frank in a version of Smashing Pumpkins "1979". This was followed by another Humbert tradition, the lilting voice of Lisa Kerrigan accompanied by twin sister Mary Kerrigan on Guitar with a song that will always be Lisa's , her version of Jewel's "You Were Meant For Me" followed by Mike Oldfield's "Moonlight Shadow". Frank and Noel returned to the Humbert's helm joined by Enda Ward of "Agiven" on Bass, with covers of The Who's "Substitute" and a band close to Noel's heart, The Ramones "Nazi Baby".
Their next guests who can be argued to be just as famous as Frank and Noel, were the combined talents of the infamous Mick Buckton on Guitar and Craig Donaldson on Bass, Tom Lyons (who had made a point of journeying back from Dublin to be present on the last night, of "What's New Pussycat" and "TomBuck 2" of previous days with Mick Buckton) and Eddie Rodgers, who surpassed himself on the Blues Harp. Tom Lyons said that" it was so long ago since they first started playing in The Humbert that people were still cranking up telephones, they had some fantastic nights , that Tom felt he grew up in The Humbert and it was great to play a few tunes on the last night in place he loved so well." He also mentioned "that John and Helena Connaughton were great people who took over a great tradition which went back over 200 years in this pub". A wise crack from the crowd, asked if Tom if he was there at the start – "yes" laughed Tom, "I was there at the start… nearly!" The quartet assembled on the night started out with Bob Dylan's "See my light", as Tom Lyons did a truly amazing imitation of old Bob's voice, accompanied by well seasoned harmonies from Eddie Rodgers., followed by a Blue Grass version of a Hoagy Carmichael song expounding the virtues of "the big time woman, from way out West" and ending in some classic Humbert Blues with Eddie Rodgers thanking John Connaughton for the memories before treating all before him to a version of Slim Harpo's "King Bee".
Just Before leaving the famed Humbert fireplace Tom Lyons pointed out "that just before we clear out of here, we would just like to remind you, that of all the bands and all the guys who played tonight (Sunday), that one of the one's who got some of the least accolade were the ones who did the most work! Could you please put your hands together for Frank and Noel (he asked) coz these guys are my heroes, they are the only people younger than me that are my heroes, absolutely class music here for the last… whenever"! Class music, yes! Oh so true Tom, oh so true…………….
As the fireplace cleared once more, Frank and Noel returned to the mike and Noel asked for a big cheer for the then soon to be Mr. and Mrs. Buckton, Mick and Anna (who we all wish, health and happiness for many years to come from The Humbert crew who could not travel to their Spanish wedding, although Noel jokingly threatened on the night to transport the entire Humbert over to Spain!). The music continued with Neil Young's "Out On The Weekend" with Frank and Noel being accompanied by Eddie Rodgers on the Blues Harp. Michael Buckton on guitar and Alan Geraghty on Bass then joined Noel Davitt for what he described as "a real Humbert favourite", Talking Head's "Psycho Killer" followed by The Beatles classic "Come Together" after Noel remembered two of the many people they had met through The Humbert who he particularly wanted to mention and who were no longer with us, Angie Devanny & Brian Gillespie. Next batch of songs completed, both Evan Heneghan (Furious George) & Garry Wynne asked to be on singing standby, everyone moved on from the fireplace except for Alan Geraghty who was joined by his musical compadre Tommy Berry who preformed 10cc's "Dreadlock Holiday", The Jam's "That's Entertainment" with the crowd joining in the on "that's entertainment" ending in a special Tommy Berry version (even better than the real thing) of Slade's "Far, Far Away"
In a classic case of musical chairs (or should that be bar stools), Mick Buckton returned to the fireplace to accompany Aideen Brett, the stylish vocalist with "The Fretts" who said "I'm just sorry we are not here in two weeks time ,when we bring home Sam, but we will be here in spirit wont we?" As for the first time in living memory, it would not be possible to celebrate or watch a match within The Humbert on the day of an All-Ireland final. As Mick Buckton made talented guitar playing seem effortless, Aideen then continued with Radio Head's "Creep" with a Humbert mention within the "I wish I was special" lyrics followed by Fleetwood Mac's "You Can Go Your Own Way". Back at the Frank and Noel ranch, they called for Dougie Kennedy of "Ellie's Wrath" on Bass to join them and called for their customary two pints. Having to make do with Bud as the Carlsberg had left the building, Noel Davitt when on to say that "we've known you all a long time and you've given us some great memories, it's absolutely brilliant to be doing here"! – "Tis a great honour" (throwing in his trademark laugh for good measure)" to be here on the last night!" Audience participation was called for by Noel (as if anyone could stop them) for another Humbert classic The Rolling Stones "Sympathy for the Devil", followed by Iggy Pop's "Passenger" as per Noel's lyrics of course!
Frank and Noel were then joined by what Noel Davitt described as the "legendary Humbert Gospel Choir" he went on "wait till you hear this for a vocal extravaganza!", as the usual Humbert suspects joined them for "Copper Head Road" by Steve Earl. (Blink guys and you would have missed their talents!) God knows, it is very, very difficult to stop Frank n' Noel while in full musical flight! But eventually the night had to reach its inevitable conclusion! But not before Frank and Noel had the last words with Johnny Cash's " Folsom Prison Blues," David Bowie's "Ziggy Stardust" the Frank and Noel unique version of Led Zepplin's "Gallows Pole" and the very last song ever played in The Humbert, deservedly preformed by Frank Durcan and Noel Davitt, the adequately titled "We Got To Get Outta This Place" by Fear.
Thanks were extended to all that were present and the conduct of each night's crowds was commended. Thanks were also extended to the kitchen and floor staff, the bar staff for the last weekend who included Carmel, a returned Caroline and Dusty (Kieran Munnelly), John, Kate, Kevin, Lisa, Mark and Michelle. Thanks were extended to each and every musician/singer who entertained so many over the weekend and over the years. Further thanks were extended to those who helped make the weekend such a success, Mick Buckton and Tom Lyons for helping to organise Thursday night, James Mannion and Dave Richardson for lending their back line equipment for the weekend and also a very special thanks to Frank Durcan and Noel Davitt who ensured that the last Sunday night ran as smoothly as it did. Seamus Geraghty (Killmena) for lending his drum kit and for doing such an amazing job on sound, Priscilla Kerrigan (Castlebar) and Amanda Mulderry (Breaffy) from the Gillian Marsh GMTV Productions in Crossmolina who filmed the entire four nights of the last weekend for archiving, in such a professional and courteous manner, The Connaught Telegraph for their assistance with posters, to www.castlebar.ie for all the space they have given The Humbert, (there are now many Humbert photos within the Castlebar Photo Gallery), Carmel and Marie for their clerical support, Bernard Joyce for organising Sunday's traditional session and lastly but by no means least, the Humbert regular who generously donated the funds required to cover the cost of holding the weekends celebration who humbly wished to remain anonymous.(Again, well done, your generosity guaranteed the weekends success). If any one was omitted it was not intentional and thank you for all your help. Those that are sadly no longer with us from The Humbert were remembered on the night including, Helena Connaughton, Angela Devanny, Justin Clarke, Jason King and Brian Gillespie. Also remembered are Mary Cosgrave (Ballina), Liam Harvey, Tony Kelly, Jimmy Molloy, Michael Murray, Brendan Munnelly and Martin Scahill.
John Connaughton was then called to say a few words, encouraged by rousing choruses of "Johnny, Johnny", as he approached the microphone. In John's usual humorous style he began – "I'd like to thank myself for putting up with ye, especially Noel Davitt; he learned only one song in the last four years! I'd like to thank Karen Conway for organising this weekend, she put a lot of hard work into it and it's been great. I'd like to thank all the musicians and everyone involved, especially Frank and Noel. Thanks to Katie and all the bar staff who worked very hard here tonight, but most of all I'd like to thank all those who have supported me over the last 12 years or so, through good and bad and everything, thank you very much....... and drink is no good for ye guys, it's about time ye got off it!"
Looking around, the enormity of the last moments of The Humbert Inn with John Connaughton hit home to most of the people present as he finished his speech! There were no great out bursts of sadness, but it is at times like these that the silent falling of tears and shaking shoulders which occurred from both the men and women present, which is far more poignant! In scenes reminiscent of family weddings and re-unions, as people began to leave The Humbert Inn for what is feared to be the last time by many people, they truthfully wondered if and where would they all meet up again? The Humbert Inn was a home from home for thousands over the years and it was generally thought like any home that it would always be there for them. The loss of the bar of The Humbert Inn to a retail development has been a crushing and disappointing blow to many!
As people began to leave and the unenviable job of cleaning up began, The Humbert Inn premises due to the hour naturally brought in the Gardaí who were on duty that night. As witnessed before on the few occasions over the past 12 years in which the local Gardaí over saw the vacating of The Humbert Inn, while the staff continued to tidy up, the customers good naturedly moved outside, as the Gardaí professionally and courteously monitored the proceedings. Before leaving, John Connaughton was wished well by one of the Gardaí present and was complimented on the co-operation of The Humbert Inn along with its clean sheet over the past twelve years, as no convictions during this time had been recorded in John Connaughton's name! And what a twelve years! There have always been stories told about The Humbert, each generation who drank/eat in there claiming that it was always better in their day! The last round of eighteen year olds who eventually found themselves being served, have no great memories of the past to compare the 2006 Humbert with and love it all the same!
SOME THOUGHTS AND TALES OVER THE HUMBERTS LAST WEEKEND
Over the weekend business plans abounded for The Humbert in order to retain it as a bar, the proposed apartments made sense and it was agreed that more buildings on the Main Street should look into the same. There was a call to bring in a family to manage The Humbert, to retain the family like character of the pub and it was cheerfully suggested that, if there had to be a single Manager, then let it be Dusty, as long as he did not do the cooking! It was pointed out that The Humbert could be Castlebar's answer to existing Galway musical pubs, bands did not necessarily have to play in front of The Humbert fireplace as there was an existing raised stage area to the rear of the bar. There was also room for a sound desk in this area, seating and lighting could remain or be taken out as required. It was also stated that The Humbert Inn had received a lot of coverage lately and that its threatened demise would ensure a well filled bar should it re-open. With tongue in cheek, it was generally agreed that due to the success of "The Humbert's Last Stand" weekend, that The Humbert closure should be come an annual event!
Tales were naturally recounted over the weekend and you can be sure that many more have yet to be uncovered or perhaps, may not able to be uncovered! Some new stories included those of many couples meeting within The Humbert, among them Philip and Geraldine Cresham who met there in 1979, another tale from a couple from either end of Castlebar who swear that would have never met if not for the central location of The Humbert Inn, a girl whose Mother was given one of Tom Coucill's painting from behind the then bar on hearing of her Mother's impending wedding, people stating they have been going to The Humbert for the past 18 years, or since 1976 or even later, a man who first went into The Humbert at the age of ten over fifty years ago and was still there on the last Saturday night, another gentleman who with a few more from Westport in the 1960's used to cycle the 22 mile round journey just to travel to The Humbert and weekly still called in….But for now that is for another piece for others on The Humbert Inn, the well loved, historic pub on the Main Street of Castlebar.
As the doors closed on Sunday night 3rd September 2006, for some it was the end of The Humbert Inn weekend celebrations, for others a lamentable end of an era! However for the Humbert hardcore, the craic, the memories, the music and more than the odd beverage, continued consistently into the late hours of Monday night. To be within The Humbert Inn during the next few days following its closure, was to see empty seats devoid of people, empty shelves, empty counters, a darkened bar, crates awaiting return to suppliers, an empty cellar, a quiet kitchen, a bare fireplace, stark looking walls, a bare looking floor and the ever open blinds, closed!
I received a genuine text 25/02/06 around the time when the sale of The Humbert was first confirmed and rumored to become a bookies office saying, "It's an institution for a lot of us, love and friendship came out of that little pub, as well as heartache and pain. It may close its doors but we'll always have it in our hearts." Well put! There have been many fine contributions to www.castlebar.ie Bulletin Board in regard to the Humbert closure, of particular note further to The Humbert Inn Legend Comes
To A Close news article is the posting of August 30th 2006 by Zero which included the comment "What were we to do? Too old for Stalky's and too young for Johnny's, The Humbert just seemed like the right place" – so true! Also worthy of taking the time to read is the 31st August 2006 posting of "So Long Farewell to our Beloved Humbert", which includes a mention of The Humbert as where many a "Mass" was attended, is equally as well scripted as Zero's posting – well done guys!
My thanks to everyone who so kindly commented on "The Humbert Inn Legend Comes To A Close" history piece I submitted to www.Castlebar.ie and also to all in www.castlebar.ie for running all things Humbert including so many photos on the Castlebar Photo Gallery for us all. When reading this please, consider forwarding your own Humbert photos to the Gallery - it would be great to see other photos from down the years or from the last weekend! Go on share them with the rest of us and give them a day out, they're no good stuck in your photo albums and cameras!
What ever the future holds for The Humbert Inn, the decision to no longer retain it as a bar has been regretted by many and should the structural character of the bar not be retained, for so many there will always be treasured memories of The Humbert Inn, as not everyone in their life time are as lucky to have experienced we have within The Humbert and "The Way Things Should Be"! As it potentially joins Cannon's Bar in Market Square within that mystic place among the nostalgic discussions relating to Castlebar far into the future!......
© Copyright 2006 by the author(s)/photographer(s) and www.castlebar.ie

Top of Page