---
Michael Davitt's Grandson Views Commemorative Davitt Exhibition At The National Museum Of Ireland - Country Life


Fr. Tom Davitt C.M., Grandson of Michael Davitt, visited the National Museum of Ireland - Country Life, Turlough Park on Tuesday 5 Dec, to view the current exhibition commemorating the life of his grandfather.

Michael Davitt 1846-1906 an exhibition to commemorate the life of the father of the Land League will run until 8 January 2007. This striking exhibition was organised by Mayo County Library and Mayo County Library and is rich in images of Michael Davitt and his times. It traces his life from birth in Mayo, to founder of the Land League, imprisonment, Member of Parliament and international activist. It is supplemented with artefacts drawn from the National Museum of Ireland's collections associated with Davitt and the Land League.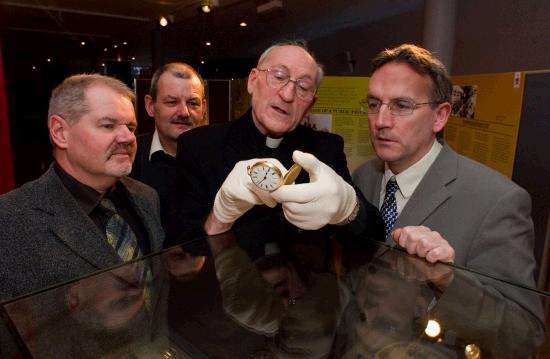 Fr. Tom Davitt remembers seeing in his Father's study this gold pocket watch, belonging to Michael Davitt his Grandfather. L/R: Dr. Seamus Mac Philib (Senior Curator National Museum of Ireland), Albert Siggins (National Museum Turlough House), Fr. Tom Davitt, CM and Austin Vaughan County Librarian. Pictured at the Michael Davitt Exhibition, which is currently running at the National Museum of Ireland, Country Life. Pic Michael McLaughlin.



On viewing the exhibition Fr. Davitt said "I've always been more interested in Michael Davitt as my grandfather, rather than as an important figure in Irish history. He was my father's father, the only one of my four grandparents whom I did not know, though I knew his widow. Over the years I have tried to build up a mental image of the sort of man he was, by reading about him, by reading his books and diaries, and supplementing what I learnt from my father by speaking to American relations about forty years ago, who remembered him as their Uncle Michael. I also like to visit places associated with him"

Dr Seamus Mac Philib, Senior Curator at the National Museum of Ireland said that It is great that such a close blood relative to Michael Davitt as his grandson, Father Tom Davitt was with us in the Museum today. "Father Tom has an intimate knowledge of Michael Davitt's history and captivated us with his knowledge of the family. It is especially appropriate that Father Tom came here and that we mounted this exhibition here, given that Michael Davitt and his parents came from a district so close to our museum. The National Museum was delighted to have this opportunity to mount this exhibition in collaboration with Mayo County Library and Mayo County Council."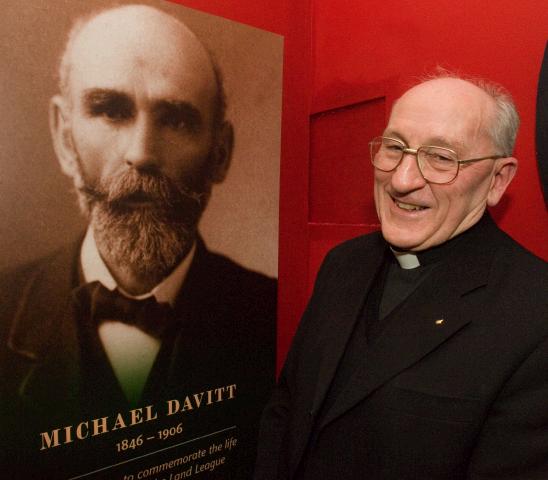 Fr Tom Davitt CM, grandson of Michael Davitt pictured at the Michael Davitt Exhibition, which is currently running at the National Museum of Ireland, Country Life. Pic Michael McLaughlin.



Austin Vaughan, Mayo County Librarian, stated: "We are extremely pleased with the success of the events to commemorate Michael's Davitt's centenary. Mayo County Council produced a book, an exhibition and a website to mark the occasion. We were delighted to meet Fr. Tom Davitt and practically all Michael Davitt's living descendants through the year, to welcome them to the county and to show them the esteem in which Michael is held in Mayo".

Admission to the exhibition is free.
Opening times: Tues- Saturday: 10am - 5pm. Sunday: 2-5pm. Closed Monday (incl. Bank Holidays).
For further information on this exhibition please contact:
Dr. Séamas Mac Philib, National Museum of Ireland - Country Life, Turlough Park, Castlebar, Co. Mayo
Tel: 094 90 31762 Fax: 094 90 31628; Email: smacphilib@museum.ie <mailtotpark@museum.ie>
or
Bernie Byron, Marketing Executive, National Museum of Ireland - Country Life
Turlough Park, Castlebar, Co. Mayo
Tel: 094 90 31755 Fax: 094 90 31583; Email: bbyron@museum.ie
www.museum.ie </mailto


© Copyright 2006 by the author(s)/photographer(s) and www.castlebar.ie

Top of Page