New Year musings on the Bulletin Board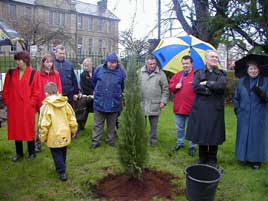 Planting the Millennium Tree at the end of the Jubilee Year 6th January 2000. Photo: Muirsín Durcan
Castlebar ICA: Feedback on the Castlebar ICA 50 Anniversary Celebrations

Mayo Papers Review: Browse through our quick overview of the weekly papers for Castlebar and Mayo.
Tennis Club: Warren Atkins wins National under-14 title. Check out the report on his heroic performance at the Castlebar Tennis Club Website.
CRCFM Live: Live RealAudio webcast from CRCFM - 11:00 to 21:00 weekdays and 9:00 to 18:00 weekends. Ireland's first community radio to be webcast live. CRCFM's web site gives details of programmes and presenters.
Panto rehearsals in full swing. Book early to avoid disappointment. Photo courtesy: Michael Donnelly.
| | |
| --- | --- |
| The Year through Muirsín's lens : Muirsín Durcan's photographic odyssey in the year 2000 from Castlebar to New York. | |
Castlebar Parish Newsletter: 31st December newsletter from Castlebar: The Parish Newsletter
Castlebar Guestbook: Say Happy New Year to your friends and relations in Castlebar and abroad.
Castlebar Roots: Have you got Castlebar roots? Post your family details on our roots board. Your long lost relatives may just see it!
New Years Greetings: Let your friends from Castlebar and elsewhere know that you're thinking of them this New Year, by sending a Virtual Castlebar New Year card
St. Pat's Special Christmas Site: Happy Christmas from St. Patricks Boys School - Carol Singing - they raised £1400 in four hours! - Santa's visit to the school, GAA, Rugby, Stories, Riddles, etc....
---
Seasons Greetings: Photographs from Castlebar taken on Christmas Day and photographs taken during and after the big snowfall.
Photo Gallery: Hundreds of Castlebar photographs taken for www.castlebar.ie over the last six months or so - have a look.
Keith Heneghan: A new photographic site on castlebar.ie
---
Try our new Archives of our Front Pages