Your support is needed for the upcoming 'Highest' bra chain world record attempt! The event takes place on on November 22nd - we will also attempt the 'Longest' chain as well if we are successful in getting the numbers of bras that we need.
The Bra Chain Event is in support of two important Cancer Support Charities in the West: Mayo Cancer Support and Cancer Care West.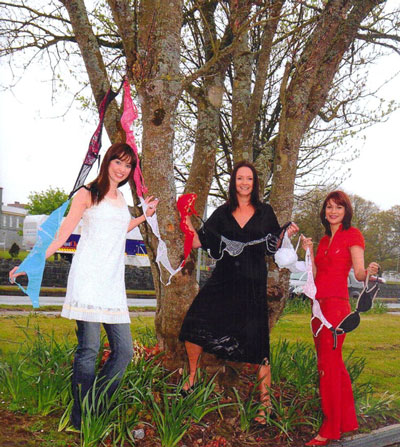 The Mayo Roses support the world record attempt in aid of cancer support.
The event will also help to raise awareness about Breast Cancer as it has now reached epidemic levels.
The cut off date for donation of bras is November 7th after which we will co-ordinate their collection and then clip and plier them to ensure that the chain is unbroken. See locations below for Castlebar Drop-off Points.
If we have the number we need to do the 'Longest' bra chain (120,000) this will take place in the grounds of Westport House. As it stands at present we have more than enough to create the 'Highest' bra chain and that takes place on the 22nd November on Croagh Patrick.
There will be an ecumenical service to send us on our way up the Reek and the theme of this is 'A Celebration of Life'. There will also be music and food at the Reek for all present and there will also be an information stand for Breast Cancer Awareness provided by Curves Fitness Centre.
There is a lot of interest from all over Ireland, so we are expecting a big crowd, weather permitting!
We need at least 1000 volunteers for the climb, so if there is a way that you or anyone you know can help us as a volunteer or with recruiting other volunteers, we would really appreciate it. Local chambers of commerce are helping with the event.
This is a Guinness world record that we are attempting and the team at Guinness are very willing to help us achieve our success, so there will be a lot of publicity surrounding the event, putting Mayo, big time, on the Map.
---
Castlebar Drop Locations:
CASTLEBAR GENERALLY
Bella Lusso
G.M.I.T
Rock Rose House
Mayo General
lou Marelle
Davitt House
Supervalu
Dunnes
Sanzio
Baxter
Aras an Chontae
Swimming Pool
Beanstalk
Age Action
Horkans Lifestyle and Garden Centre
Ladbrokes-Castle Street
An Sportlann
Murphs Restaurant -Moneen
Turlough stores

HAIR AND BEAUTY IN CASTLEBAR -
Regina Livingstone
Peter Mark
Davorens
Vanilla
Blanka
Koru
Zone
Katchina
Lisa Marie
Vogue
Mulroys
Urban Retreat
Adam and Eve
Eamonns Hair Salon.


---