Imagine letting artists take over a town, what would happen? Love Castlebar want to find out!
An Taoiseach Launches innovative 'The Spaces Between' project by "Love Castlebar".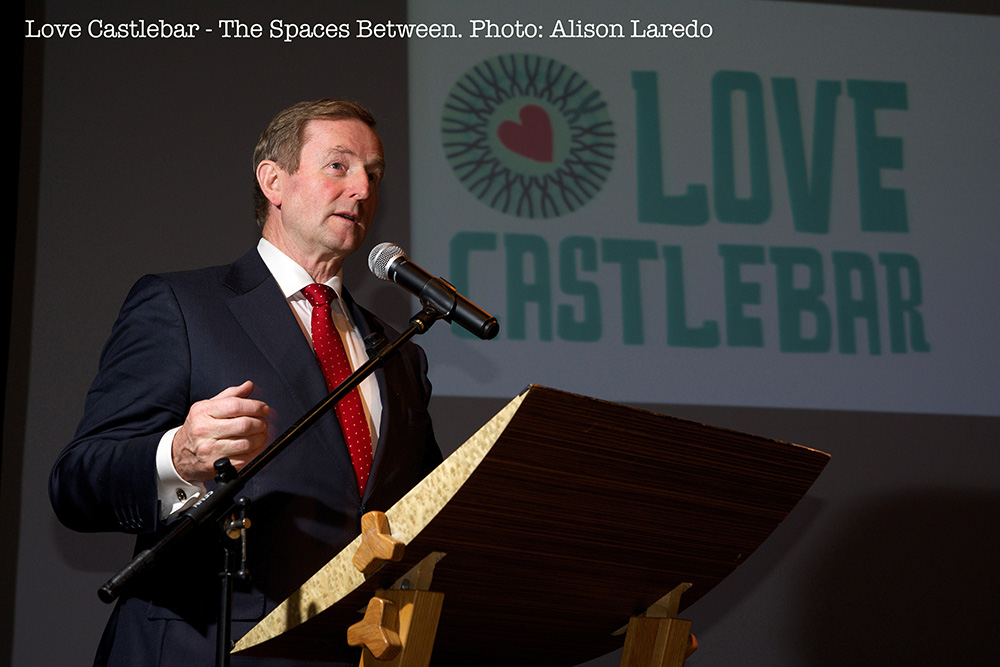 An Taoiseach, Enda Kenny, speaking at the launch of 'The Spaces Between' project. Photo: Alison Laredo
The Spaces Between
"The Spaces Between" is an initiative to enhance the vacant/derelict spaces of the town, crowdsourcing ideas from the creative community for visual art and horticultural installations. Love Castlebar will fund all materials required for completion and provide all the muscle and skills required for implementation.
The ideas is to create a series of photographable moments, to transform the spaces between the buildings which create the first impression, shape our expectations of and sentiments towards a place.
There will be five weeks to submit ideas which will then go before a selection panel. Ideas will be implemented by April 27th 2015.
Helen O'Hara, Love Castlebar CEO, commented "The spaces in between project is a wonderful opportunity for the people of Castlebar to unleash their creativity and help make this one of the best places to live in Ireland".
An Taoiseach, Enda Kenny TD, launching the initiative commented "Love Castlebar is an excellent example of positive citizen engagement and community mobilization. I wish Helen and the team of over 200 Volunteers the very best with "The Spaces Between", and their ambitious plans for 2015".
---
About Love Castlebar
Love Castlebar is a voluntary organisation, established almost two years ago. We implement a number of projects to enhance the social, economic and cultural landscape of Castlebar.
Helen O'Hara is the founder and CEO of the project and is committed to it on a full time basis. She is supported by the brilliant Love Castlebar Team and over 200 volunteers across all projects.
The vision of which is to become the leading citizen platform for implementing proven social innovations to benefit of the Castlebar community.
Love Castlebar in 2014
Facelift:
117 Volunteers have cleaned, painted and renovated 20+ vacant and derelict buildings in the town. They've had a lot of fun along the way.
Ambassadors:
50+ volunteers act as ambassadors supporting major events and groups visiting the town, most recently we hosted an evening for the data & drone conference at Johnny McHales before they departed for Achill, huge success! Other Events included: Web Summit Data & Drone Conference, International 4 Days Walks, Mayo International Choral Festival, World Irish Dancing Championships, World Handball Championships, Connaught Fleadh Cheoil.
Love Castlebar Card:
This year we have issued over 7000 Love Castlebar Cards, 100+ businesses offer a 10% discount to all visitors with the card, this has been really well received.
Events:
We run a number of free events for families like The Teddy Bears Picnic, treasure hunts etc. We also provide free face painting at all events in the town Heart of Castlebar, Christmas lights, Green & Red Day, etc.
Summer of Family Fun:
We awarded the Summer of a lifetime through a social media contest to the very lucky McHale family and partnered with MWR to showcase and promote all the activities available to families in Castlebar. This ran for six weeks from Mid July.
Social Media:
We are a positive voice for Castlebar with an extremely rich social media presence. We have 6588 friends and followers on Facebook and 1023 followers on Twitter. We also have a monthly feature in all of the local media publications.