St. Pats and Omagh County PS Celebrate a Very Successful Project
It's amazing to think that a year has passed since St. Patrick's De la Salle BNS and Omagh County Primary School decided to become cross border partners as part of the Dissolving Boundaries Project. The Dissolving Boundaries Project aims to create links between schools at all levels, primary, secondary and special schools. The year has been very successful with both schools becoming involved in a local history project.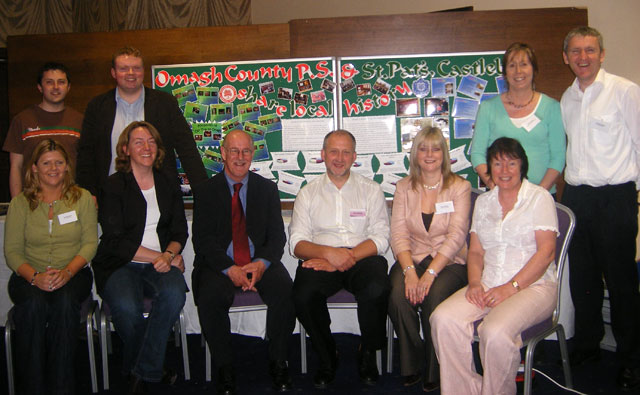 Dissolving Boundaries Committee with participating teachers from St. Pat's and Omagh County PS attending the end of year conference in Cavan Crystal Hotel, Cavan on April 22nd and 23rd. Front Row: L to R: Caroline Lane (St. Pat's), Angela Rickard (Programme Director, Rep. of Ireland), Dr. Roger Austin ((Programme Director, Northern Ireland), Nigel Metcalfe (Programme Co-ordinator, Rep. of Ireland), Marie Mallon (Project Support Officer, Northern Ireland), Jane Smyth (Programme Co-ordinator, Northern Ireland). Back Row: John McEvilly (St. Pats), Keith Wysner (Omagh County PS), Anne Parke (Omagh County PS) and Adrian Keena (St. Pat's).
On Thursday 8th of November 2007 the children from Omagh Primary School visited Castlebar to meet their new friends in St. Patrick's De la Salle BNS. Their day was spent visiting the Country Life Museum in Turlough, going on a historical trek around town and having fun and games in St. Patrick's school playground.
On Friday 22nd of February 2008, the boys from St. Patrick's De la Salle BNS travelled to Omagh in County Tyrone to visit their friends in Omagh County Primary School. On the day we were greeted by Mr. Thompson, the school principal, Mr Kieth Wysner & Mrs. Ann Parke, two of the teachers involved in the Dissolving Boundaries project. Having had a light snack in the school canteen, the boys were given a tour of the school and then played some time playing games in the school playground. The children from both schools, then went to the Ulster American Folk park.
This open-air museum was well worth the visit. It tells the story of emigration from Ulster to America in the 18th & 19th centuries. The children got to visit an 18th Century school, a tenant's house, a Landlord's house, a weaver's house, a printing shop and a forge. At each house costumed guides took on the roles of the people who lived in the 18th Century Village and told the children about what life was like back then. The children even got to visit the 'dockyard' and explore an 18th Century sailboat before it 'set sail for America'. 'In America' the children got to visit the local store, some log cabins and a farm house. All in all a great day was had in Co. Tyrone.
On Wednesday last, 23rd April 2008 all of the teachers involved in the Dissolving Boundaries Project met in Cavan to attend a conference and to present the work of the children to the project team. Adrian Keena, John McEvilly & Caroline Lane travelled to represent St Patrick's. Their work included survey results on the children's grandparents, comparisons of the history of Omagh & Castlebar and reports from the children on their trips to each others schools.
The partnership is ongoing. Over the next few weeks the children will be busy video conferencing each other, and over the next couple of months they will be working on internet projects together.