We filled many, many shoeboxes with toys, sweets etc.
These boxes will be distributed to poor children all over the world this Christmas.


This year our Concert was held in our brand new school hall.It was to be staged over two nights, Wednesday and Thursday , December 14th and 15th. However a power cut on Wednesday evening led to the cancellation of the event. Wednesday's show will now be held on Friday, December 16th, commencing at 7.30pm. Below are some of the pictures taken at our dress rehearsal. As you can see it was truely a gala event which was enjoyed by everyone. Congratulations to all involved!

Junior Infant Show.
Junior infants led by their teachers Ms. Mannion and Mrs. O' Shea sang Christmas songs and did a little play called "Do- Whacky- Do"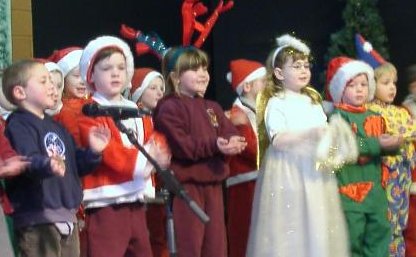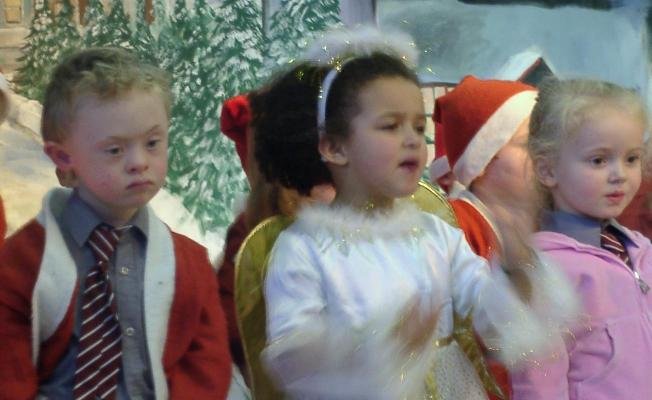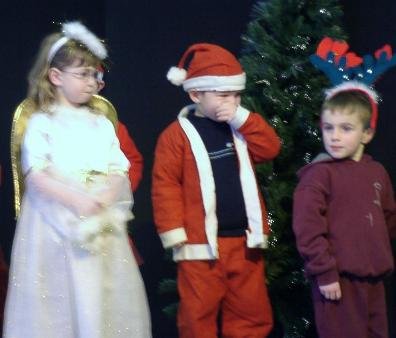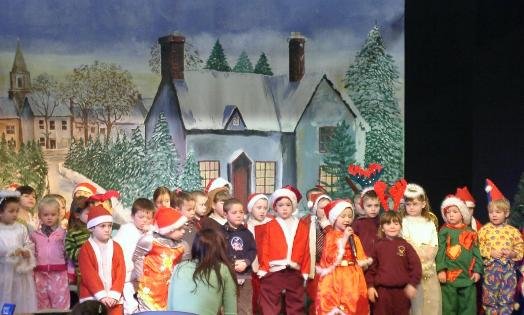 Senior Infants Play.
Senior Infants and their teachers, Ms. Fergus and Mr. Bolton, presented "The Christmas Farm"
Below you can see some of the cast.
( We have more pictures to add to this section!)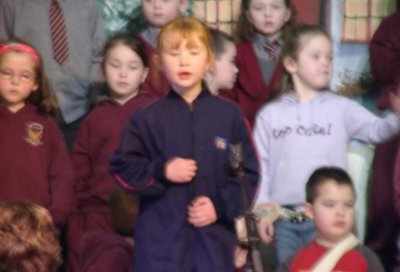 First Class Play.
First Class performed the Children's musical "The Gingerbread Man".
Mrs. Mc Nea is their Class Teacher.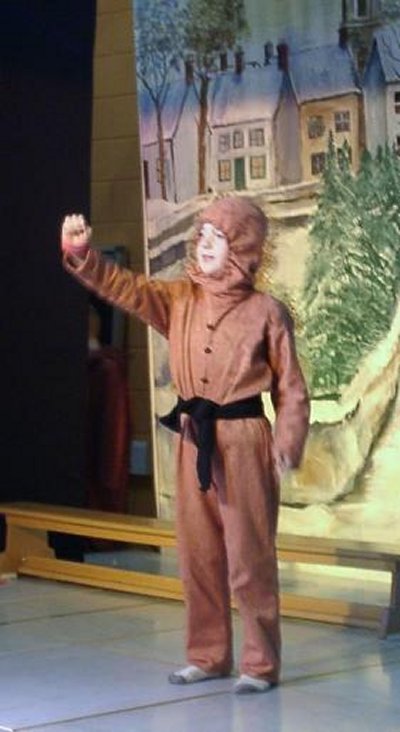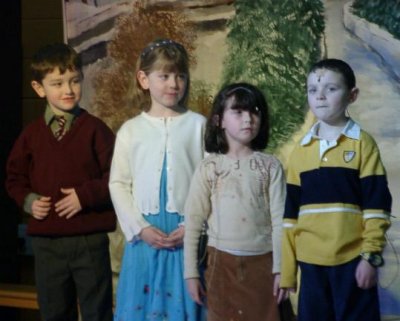 The Children!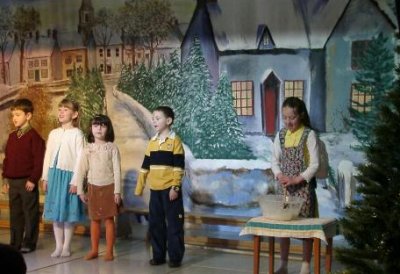 Making The Gingerbread Man!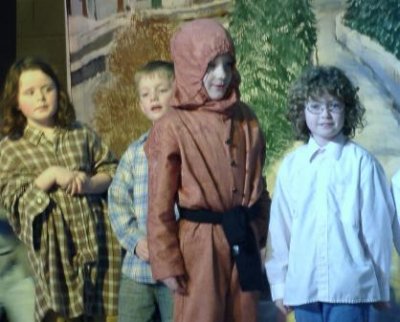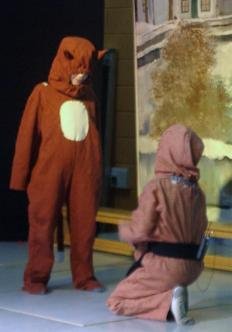 The Gingerbread man meets the Fox!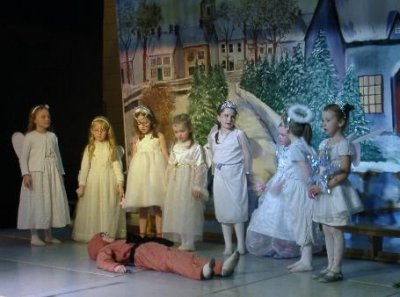 The fairies arrive!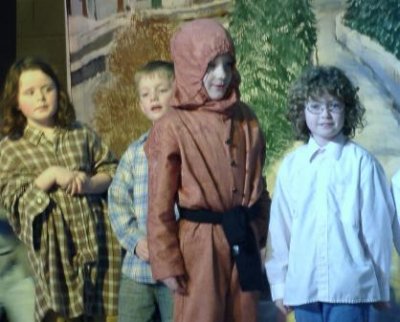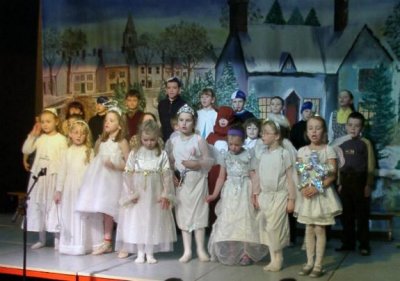 Well done 1st Class!

Second Class Concert.

Second Class, directed by their teachers, Mrs. Murphy and Mrs. Mc Gauran, presented
" Scarecrow's Christmas"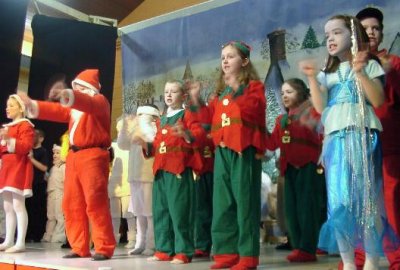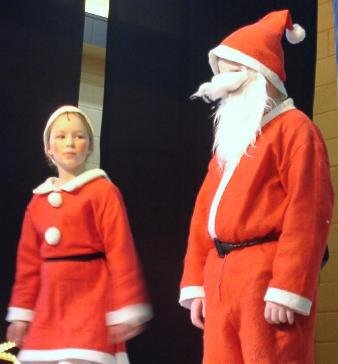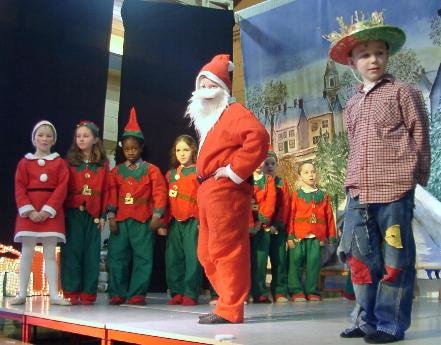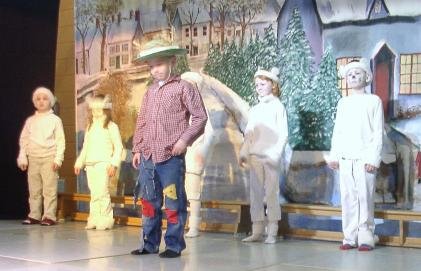 Third Class Play.

Third Class and their teacher, Ms. Siobhan Tuohy, told the Christmas Story.
The School Choir and Ms. Nestor helped them with the music.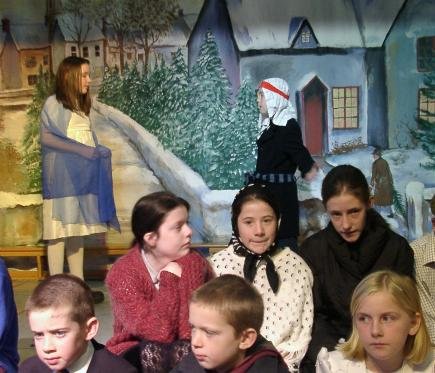 Mary and Joseph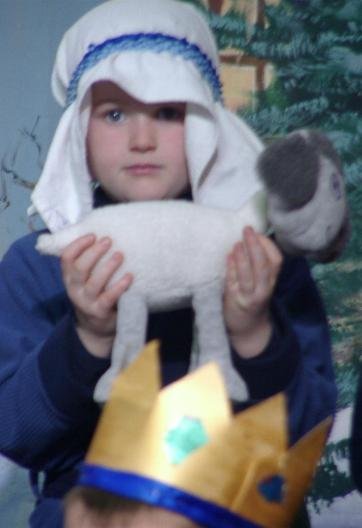 This little Shepherd minded his sheep!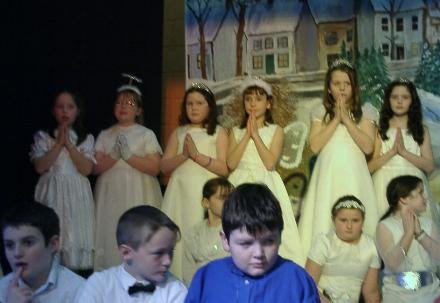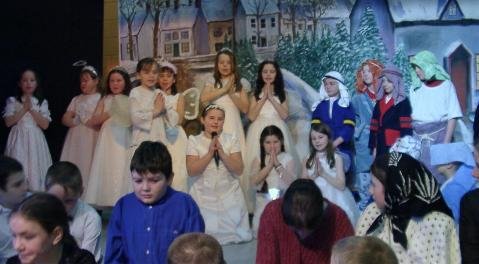 The angels told the shepherds to go to the stable.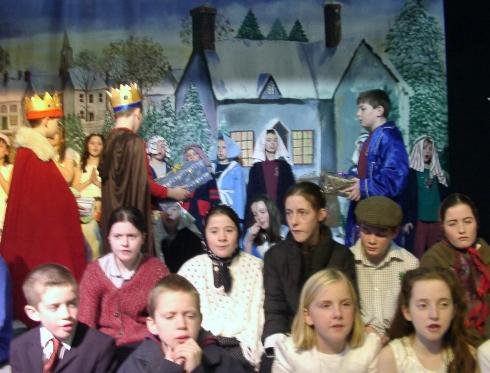 The Three Kings brought gifts for the Baby Jesus.

Fourth Class Play
Fourth class presented a bilingual play called Tir na nOg.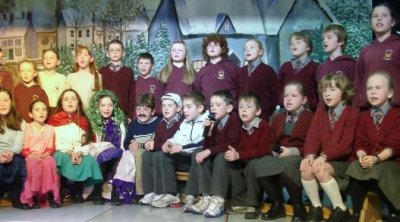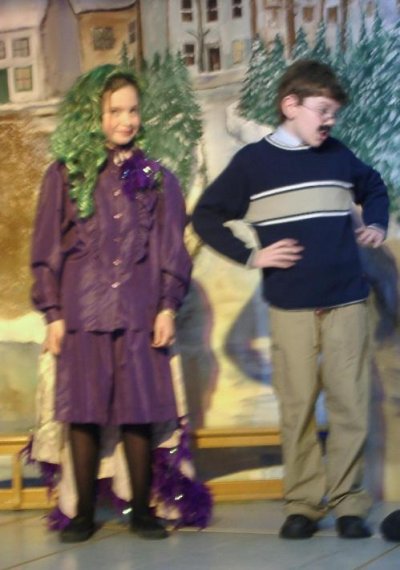 Fifth Class Concert.
Fifth Class Play was called Cinders.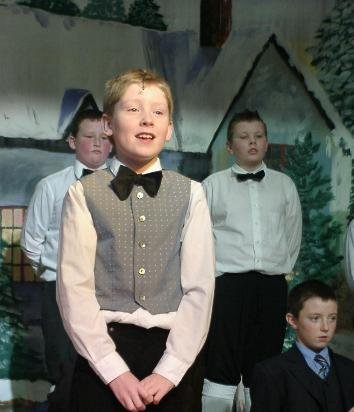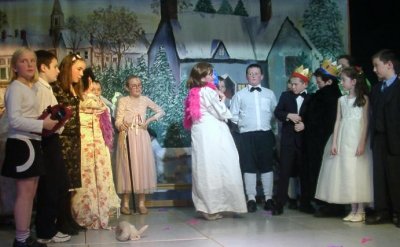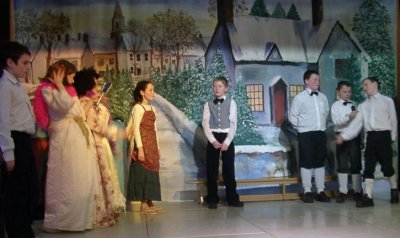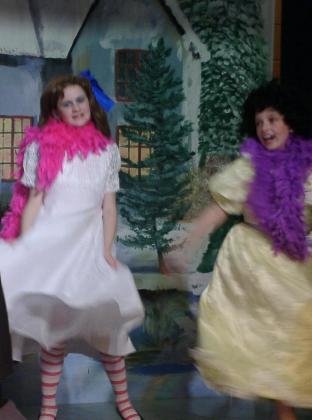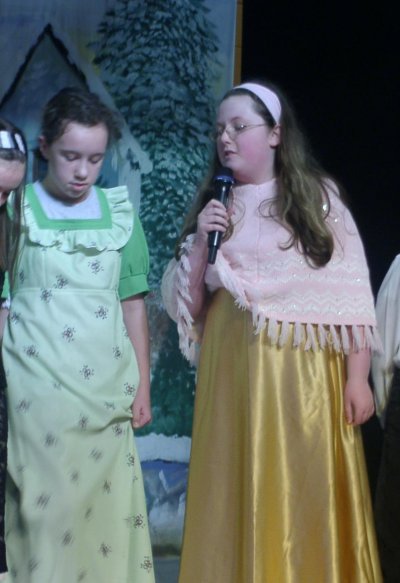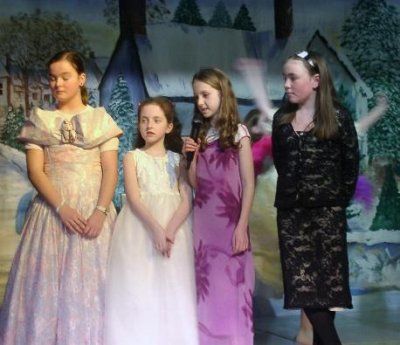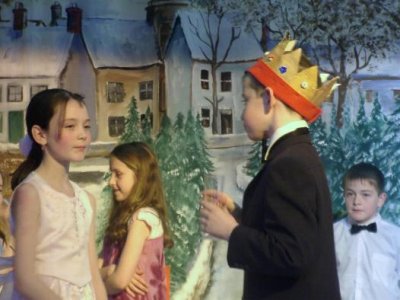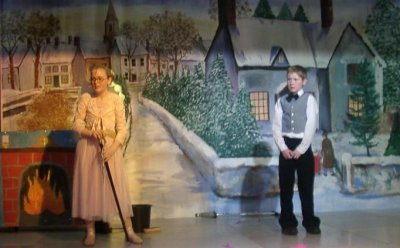 6th Class Concert.
6th Class staged their play on Thursday, December 15th. It was called "The First Confession"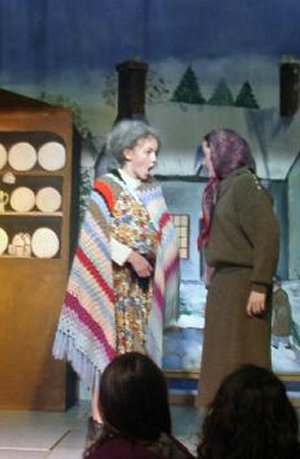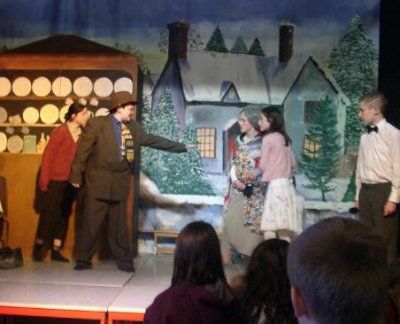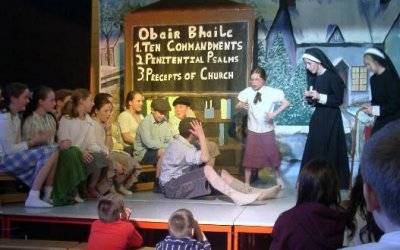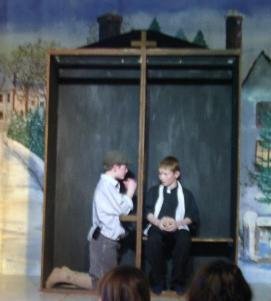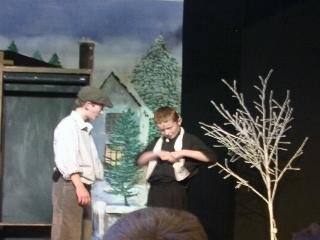 On Friday, November19th, Breaffy Parents Association launched their most recent fund raising iniative. A gala party night was held for all the children and their parents to launch our Christmas cards. The cards feature the art work of the children in Breaffy National School.

As the pictures below prove it was a most enjoyable night!

Christmas 2003

" Harramble" - Kenyan Aids Orphan Project


Breaffy woman, Laura Heneghan, leaves for Kenya on December 8. Sixth Class children have written letters and painted pictures and posters for the children in the Aids Orphan Project which is run by a retired school teacher Sarah Warimu, mother of Maryanna Wangari who runs a shop in Galway called 'Harramble' in support of this project. The sixth class children also donated 150 euro of their own money to help buy Christmas presents for the Kenyan children.







On Sunday, December 8th, we held our Christmas Carol Service and Nativity Play in Breaffy Church.


This event was a great success. All our families attended.

Well done to Junior infants, Senior Infants, First, Second and Third Classes and their teachers.

We hope this will become an annual event.

Below are some photographs taken at the Carol service.

Our Beautiful Angels!

Third Class Presented the Nativity Play

Of course no Nativity Play is complete without Mary, Joseph
and the Little Drummer boy!

Here are some samples of our Christmas Paintings taken from fourth class.

School Concert.

On Tuesday, December 17th, we held our Christmas Concert in the School Hall. All our parents, families and friends came to watch us on stage.

The first act was a musical called "Star of Wonder" .
This was presented by Mrs. Ryder's 4th Class.
"Star of Wonder" told the story of a group of children who found the Christmas star. Their task was to put the star back in the sky in time to save Christmas. 5th Class helped with the singing.

John Flatley accompanied all the singers on the keyboard.

Below are some images from the 4th Class musical.



The entire cast and some of the 5th Class choir.

"The Singing Policeman!"

"Who can help us save Christmas?

"




John Flatley.

The next act on stage was a bilingual play, "An Torramh", which was presented by Mr. Grealis' 6th Class. This play told the story of a miserly American who came to Connemara to visit his cousin, Sean Pat, and to research information for his book on Irish customs. Sean Pat and his accomplices were hilarious in their attempts to free the American of his dollars!

See the photos below.

The entire cast.


Our third act was "Search for the Stars". This comedy was presented by
Ms. Thornton's 6th Class.

An illustrous panel of judges were on hand to judge the competition!

Even ABBA entered the competition!





Our host and hostess for the evening were
Daniel O'Donnell and Cilla Black.

"Santa and the Snowmobile " was presented by Ms. Forde's 5th class. This musical comedy told the story of Sam Swift, a salesman, who tried to sell a snowmobile to Santa.

4th class helped with the singing.

Niamh O Kelly and her students from GMIT helped prepare the choir for this act.

Santa, his reindeer and Sam Swift.




The entire 5th Class cast.

Some of the 4th Class Choir.

Our final act of the evening was "Cor na Nollag"

4th, 5th and 6th classes joined together with Mr. Moran to sing two seasonal songs, "The Christmas Rapper" and "Night of Silence"



"The Christmas Rapper"

Contact us:


Phone: (094) 9024699
fax: (094) 9027394
Email: breaffynationalschool@eircom.net