---
Sunday the 18th of July 2004 and Mayo take on Roscommon in the Connacht Final in McHale Park Castlebar.

Twas one of those days when the Irish weather couldn't make up it's mind (so I apologise in advance if the lighting ain't the best in some of my photos).

Whilst we were quietly confident ahead of the Galway match, were we a little nervy with having the favorites tag against a Roscommon team that had a habit of geeting tight results in this years championship.

Still up to McHale Park in Castlebar we went with our tickets clenched tightly in our hands and our hearts beating a little faster than normal in anticpation of the what would be served up to us on this Connacht Final day.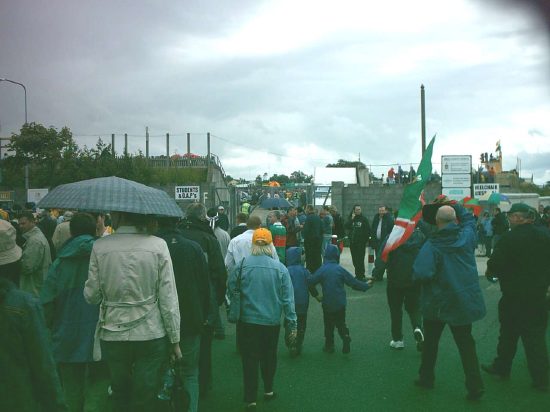 Heading into McHale Park - a few 'spits' of rain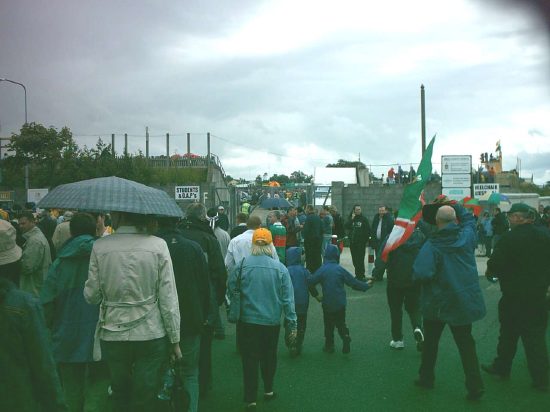 Heading into McHale Park - a few 'spits' of rain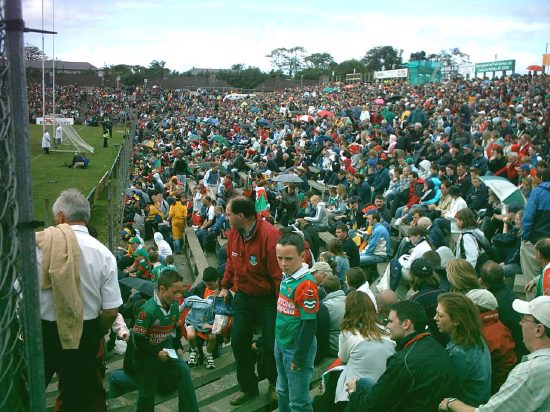 A good crowd - the Roscommon fans turned up in numbers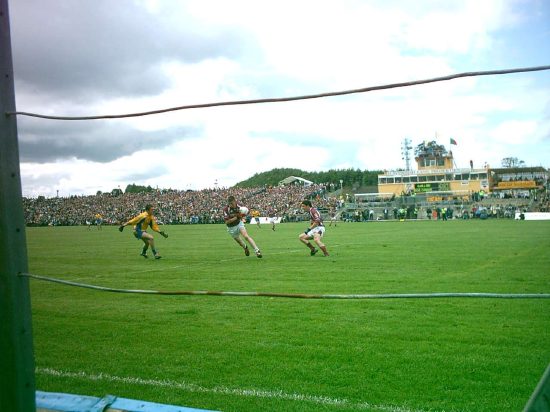 The Curtain Raiser - Galway v Roscommon in the Minors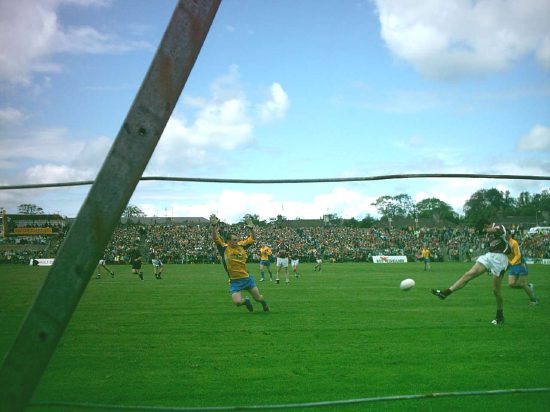 Galway were lucky enough to win this one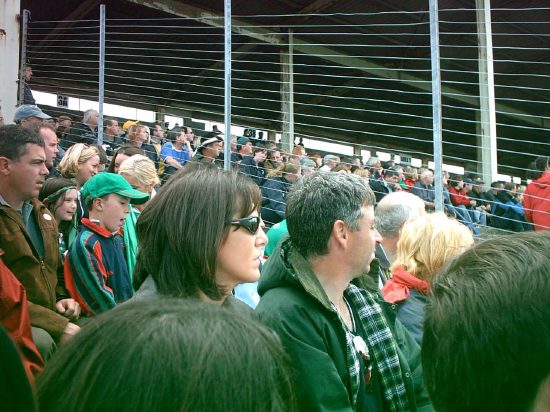 The game had enough twists and turns to keep the crowd engaged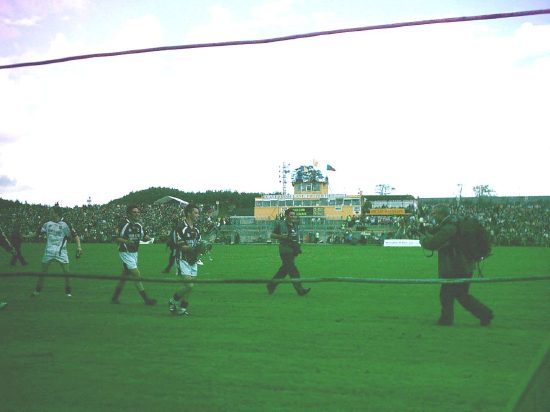 And finally the Galway lads got their hand on the Cup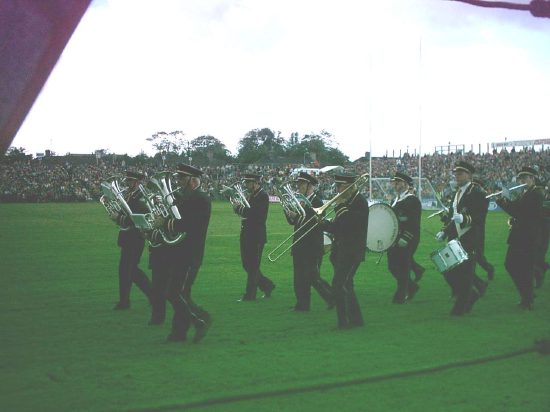 Then the Big Show - kicked of by the Castlebar Town Band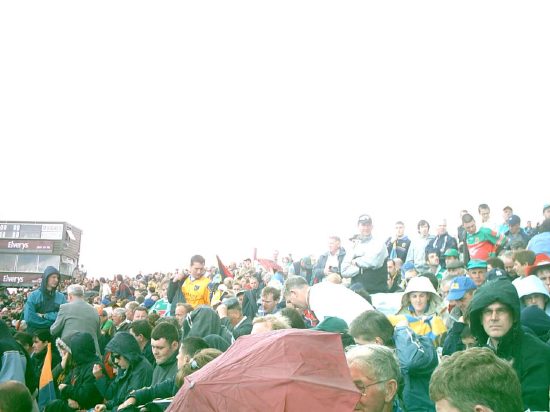 Of course then the rain came down . . .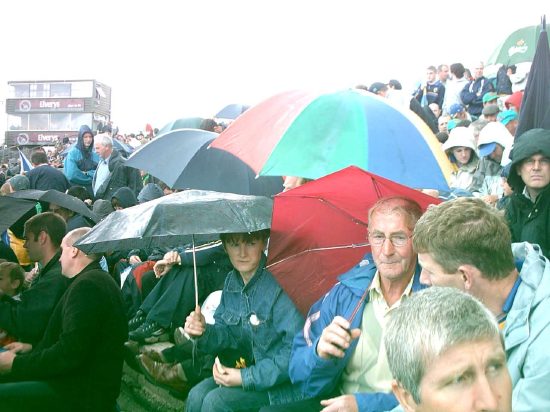 . . . and though we all got a little bit damp no one melted.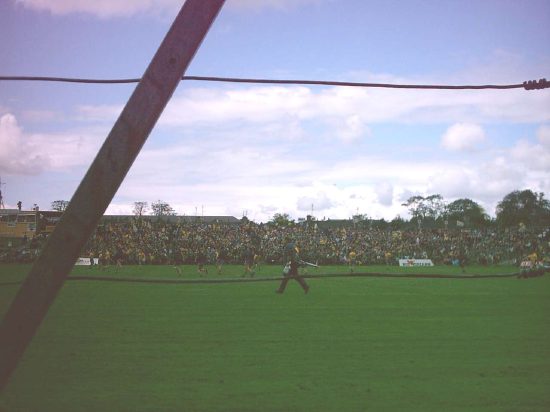 Then the Roscommon team burst on to the pitch !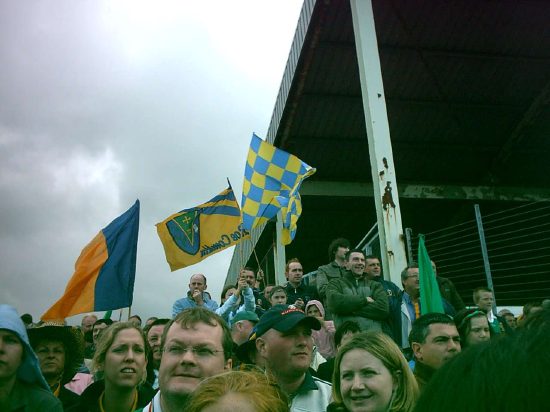 Support was good and hopes were high amongst the Ros.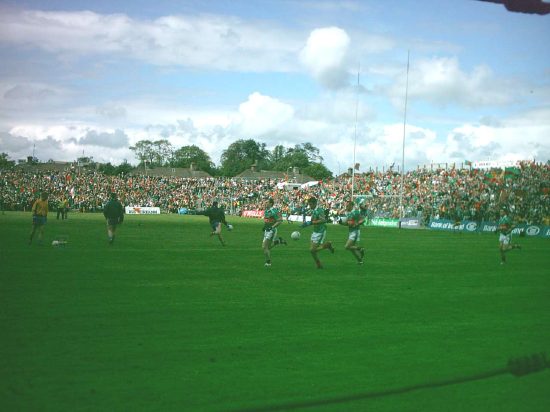 Then Mighty Mayo exploded on to the scene.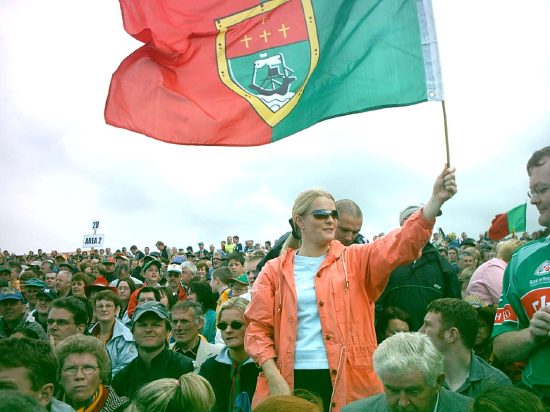 And they were greeted by the raincoated many.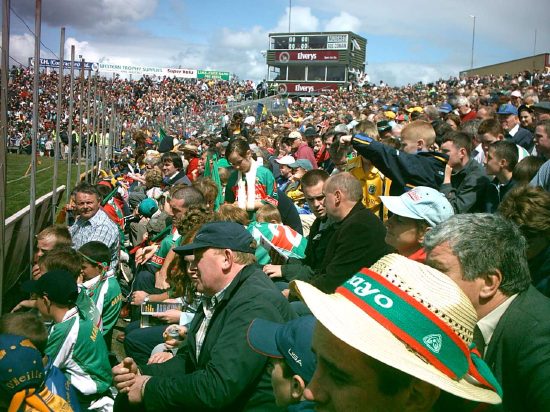 Of course this is Ireland . . . so then the sun came out !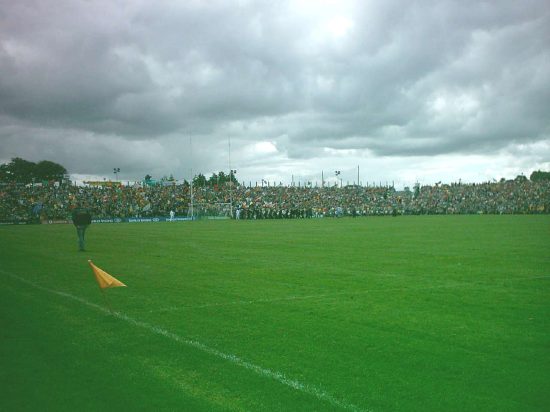 The parade started but would ye look at them threatin' clouds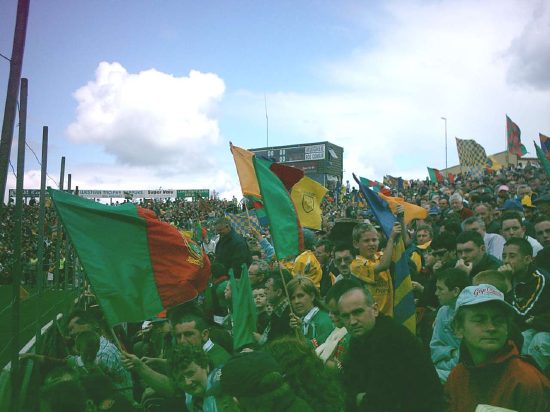 A sea of scarlet and green mixed with primrose and blue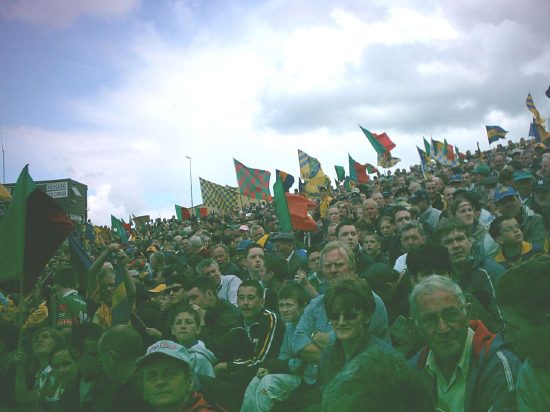 You could sense the anticipation.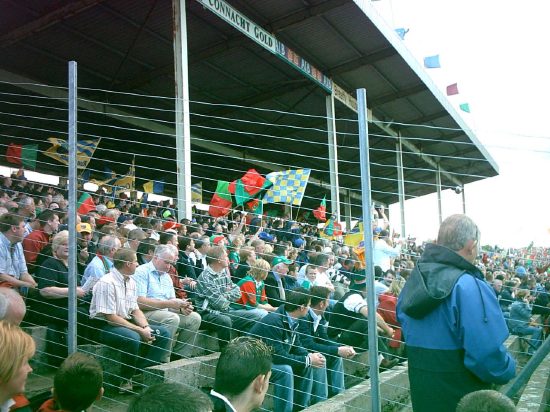 Even the fans in the 'posh seats' raised a flag.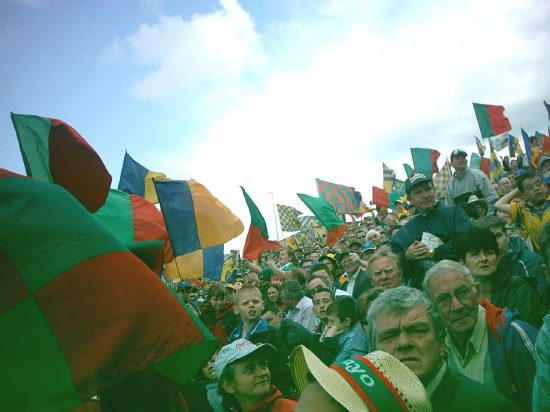 Here the come, getting closer . . .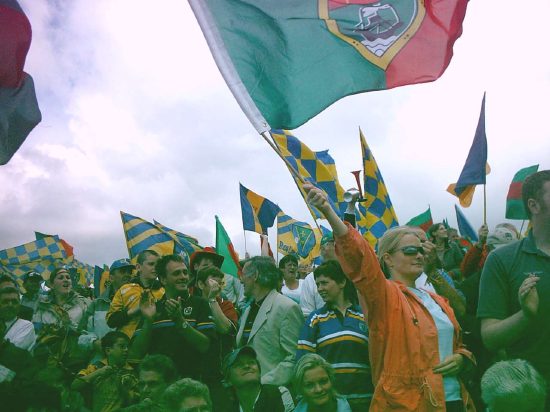 Whoo hoo, C'mon MAYO ! - Up Roscommon !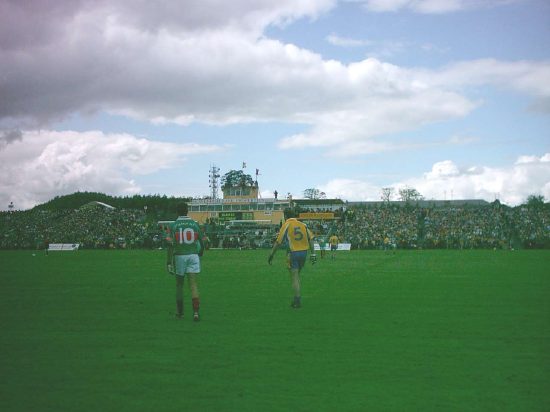 And then the game kicked off - James Gill (10) being marked by David Casey (5)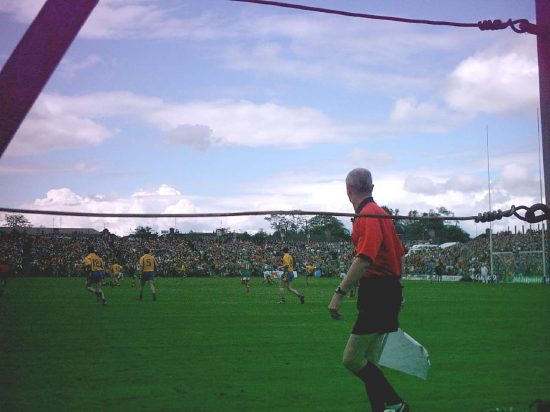 Early Action in around the Ros goalmouth - had to keep 'Cake' busy.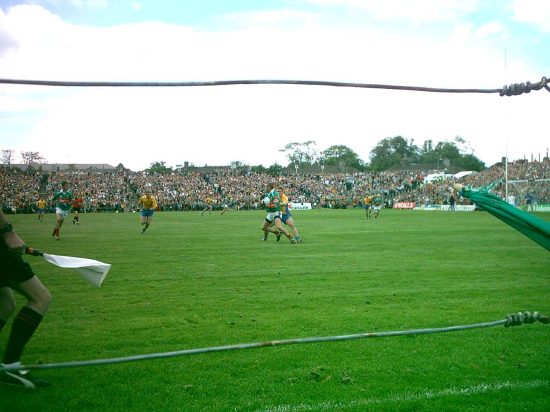 Mortimer senior (Trevor) gets to grips with the game.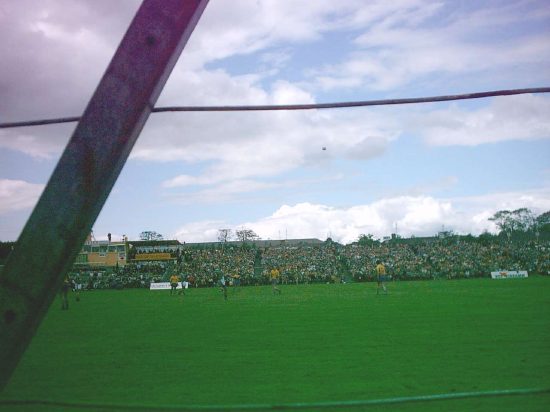 Mortimer junior (Conor) cooly slots the first one over the bar.
© Copyright 2006 by the author(s)/photographer(s) and www.castlebar.ie

Top of Page