---
Oh the joy of a Connacht Final win - we haven't seen one of these for a while but after the game on Sunday it was evident that the win brought a big smile to a lot of the Castlebar and Mayo faces that I met.

It was great to see the likes of James Nallen, David Brady and Kieran McDonald so giving of their time after the match to make sure that so many youngsters (and adults feeling like youngsters) got their autographs.

Most people don't appreciate the fact that these guys don't get paid for this and whilst they have lives outside of football they don't get a lot of privacy, so be nice to them folks and give them some space in their everyday lives.

I noticed on Sunday that there are a few of you out there who like to throw smart comments at players when they're looking after the PR side of things with the kids but just remember that these lads have just spent over an hour running their guts out and haven't even had a chance to shower or change so if you can't be nice, just go home and don't be annoying them.

So we've a quarter final date in the vast superstadium of Croke Park to look forward to in about three weeks time.

Will you be travelling up to the Big Smoke to indulge in over priced drink, food and accomodation ? Of course you will, sure you can't 'bate' a weekend in Dublin and I've no doubt that Mayo fans will descend on Dublin like a swarm of green and red bees.

And of course dreams are going to turn to thoughts of Sam and an All-Ireland title. Paddy Power have Mayo quoted at odds of 7/1 to win the title, fourth favorites behind Armagh, Kerry and Tyrone but there's a lot of football to be played yet and I don't think we'll be assuming that we'll be in a semi-final just yet never mind a final.

I remember reading a newspaper interview that some journo did with Pat Rabitte back in 1996/97 and being a Mayo man of a certain age Pat could recall as a young fella Mayo's epic All-Ireland wins in the 1950's - as he put it, he never saw any reason why Mayo shouldn't be in an All-Ireland final because based on his experience we should've always being up there fighting for honors.

Well we had our crack at it in the eighties and nineties and but for the bounce of a ball we'd have been put out of our misery and then of course Galway came crashing on to the scene and swept the boards and have been dominant up until recently. Many of these things are cyclical in nature and whilst it's hard to keep a good team motivated and fresh blood coming through the ranks I don't think the current Galway team is dead yet, they'll be back to provide another close encounter with Mayo, Roscommon or Sligo next year.

You know without wanting to hype up our lads too much I have to say that there is a special feeling about this team.

They've played well but we shouldn't expect too much if they come against one of the big guns remaining in the Championship

Well they've done a great job so far and they're three games away from an All-Ireland title but is it too much to hope for ? My head says 'maybe' but my heart roars 'NO !'.

UP MAYO !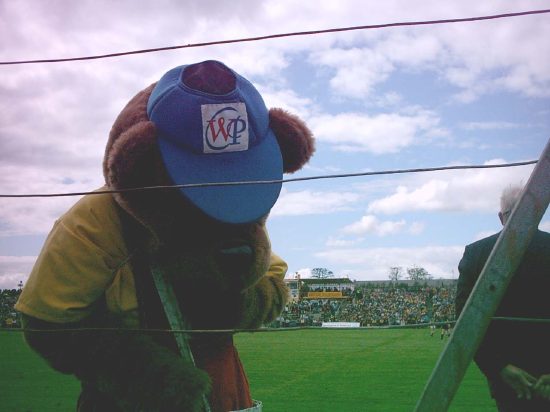 Bear in the Big Blue Hat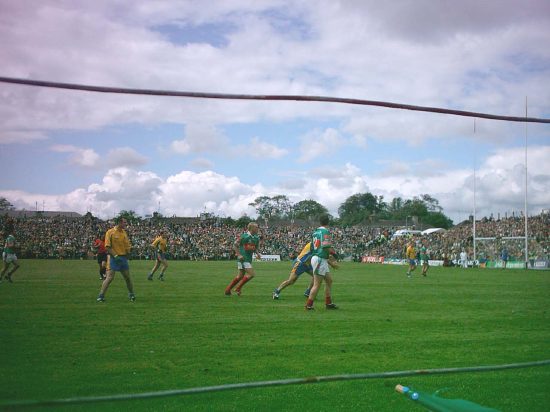 Flaxen haired footballing God Kieran Mac.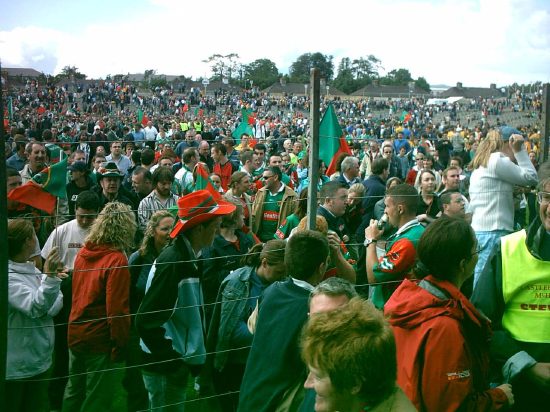 We win and then the red and green sea covered the pitch.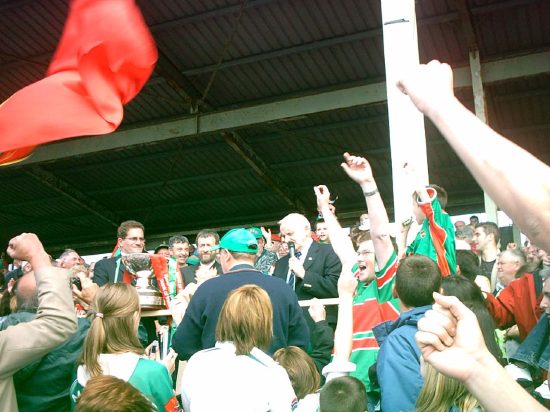 Preparing the Cup with Green n Red ribbons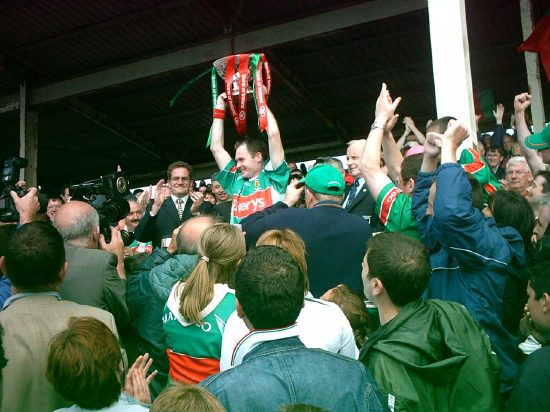 Fergal Costello the Captain raises the Nestor Cup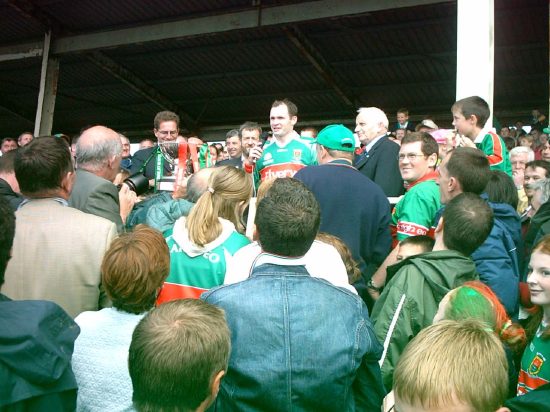 "A guinea oohsla . . .", in fairness Fergal made a fine speech.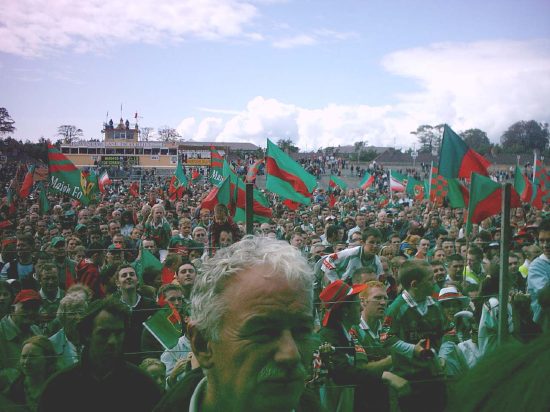 Where you there ?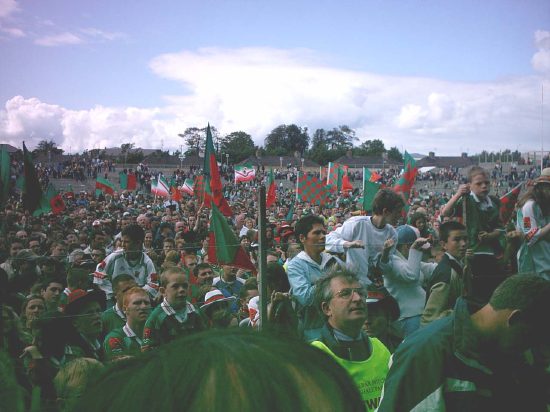 Where you there ?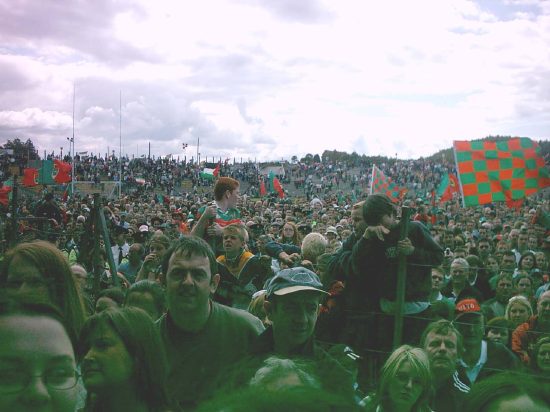 Where you there ?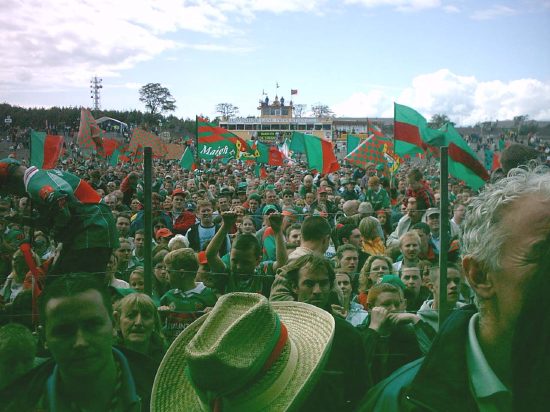 Where you there ?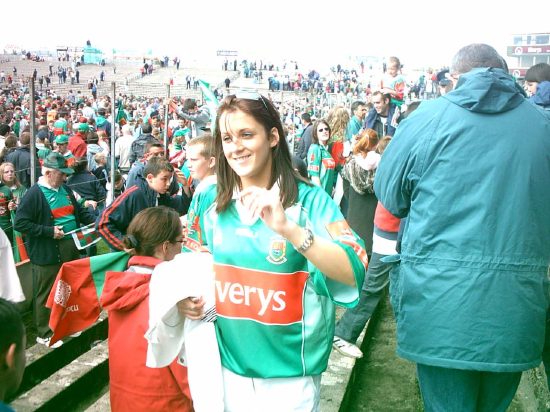 Didn't ya know . . . the best looking women are in Mayo.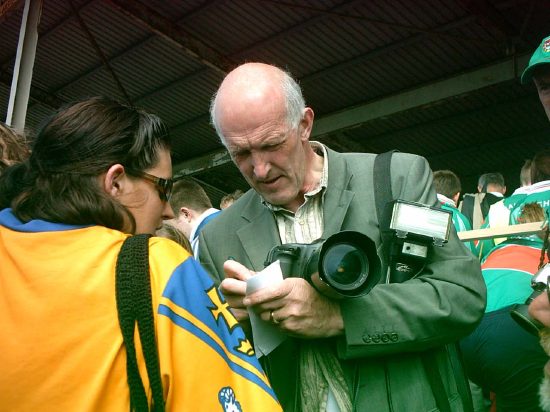 Our own contributor Micky D giving autographs ;-)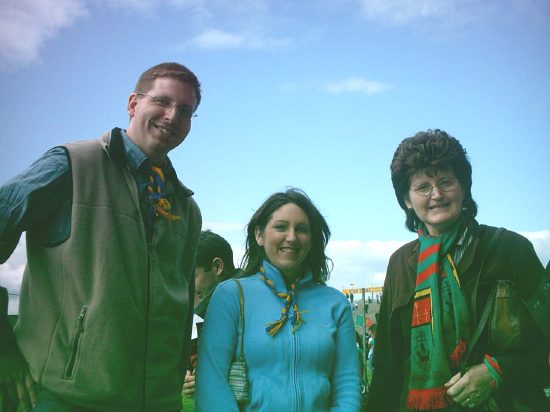 A Roscommon couple with their Mayo Mammy.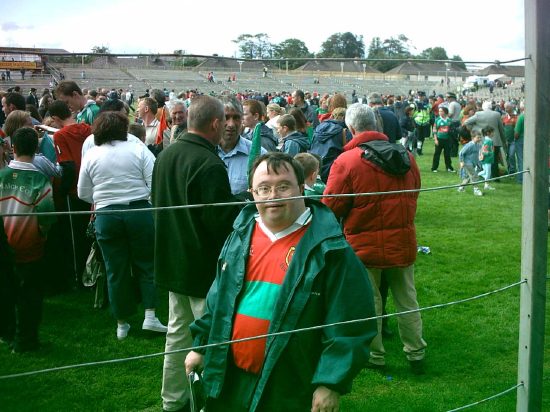 Noel Lydon one of our Special Olympians (his father keeps McHale park in great shape).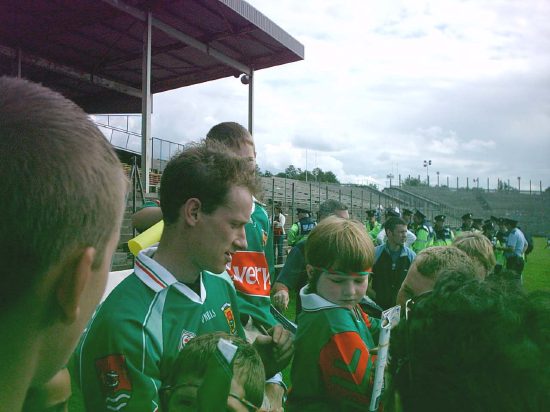 James Nallen - fair play to him, he was signing autographs for nearly an hour after the game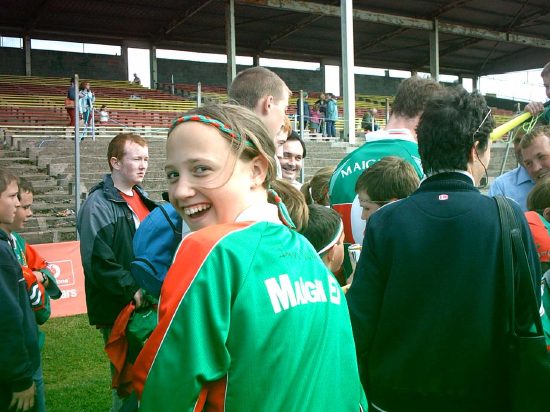 And when you see the joy it brings it's all worth it !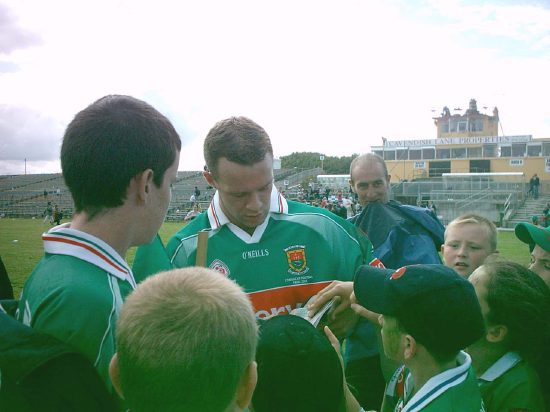 David Brady - another man caught by the signature hunting mob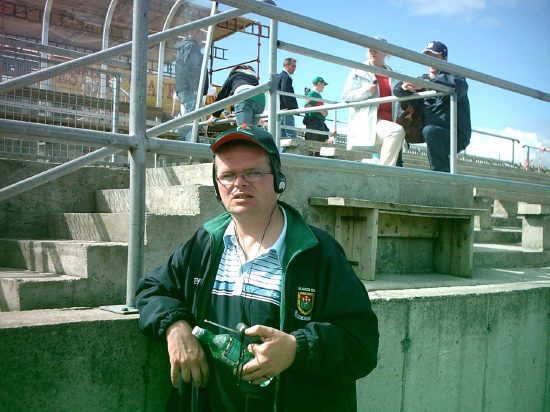 Paul O' Shea - a proud Kiltimagh man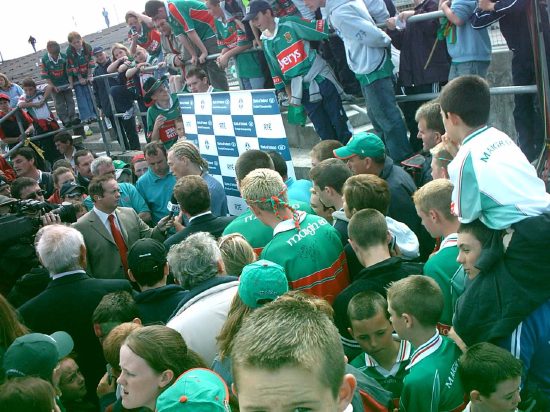 Kieran Mc being interviewed by Marty Morrisey for RTE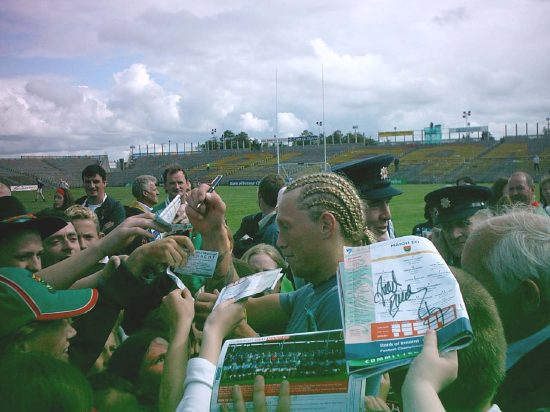 A real football hero - who needs Beckham when we have Kirean Mc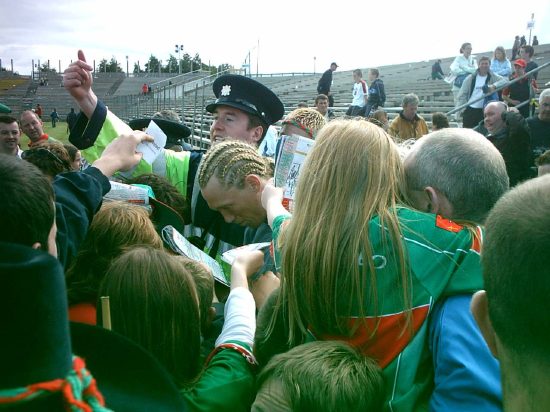 "Look it's Kieran Mc, he's signing my Garda notebook !"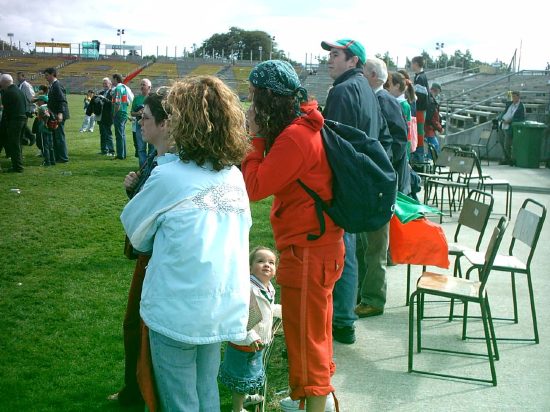 "When I grow up I'm gonna to dress all in red like that girl"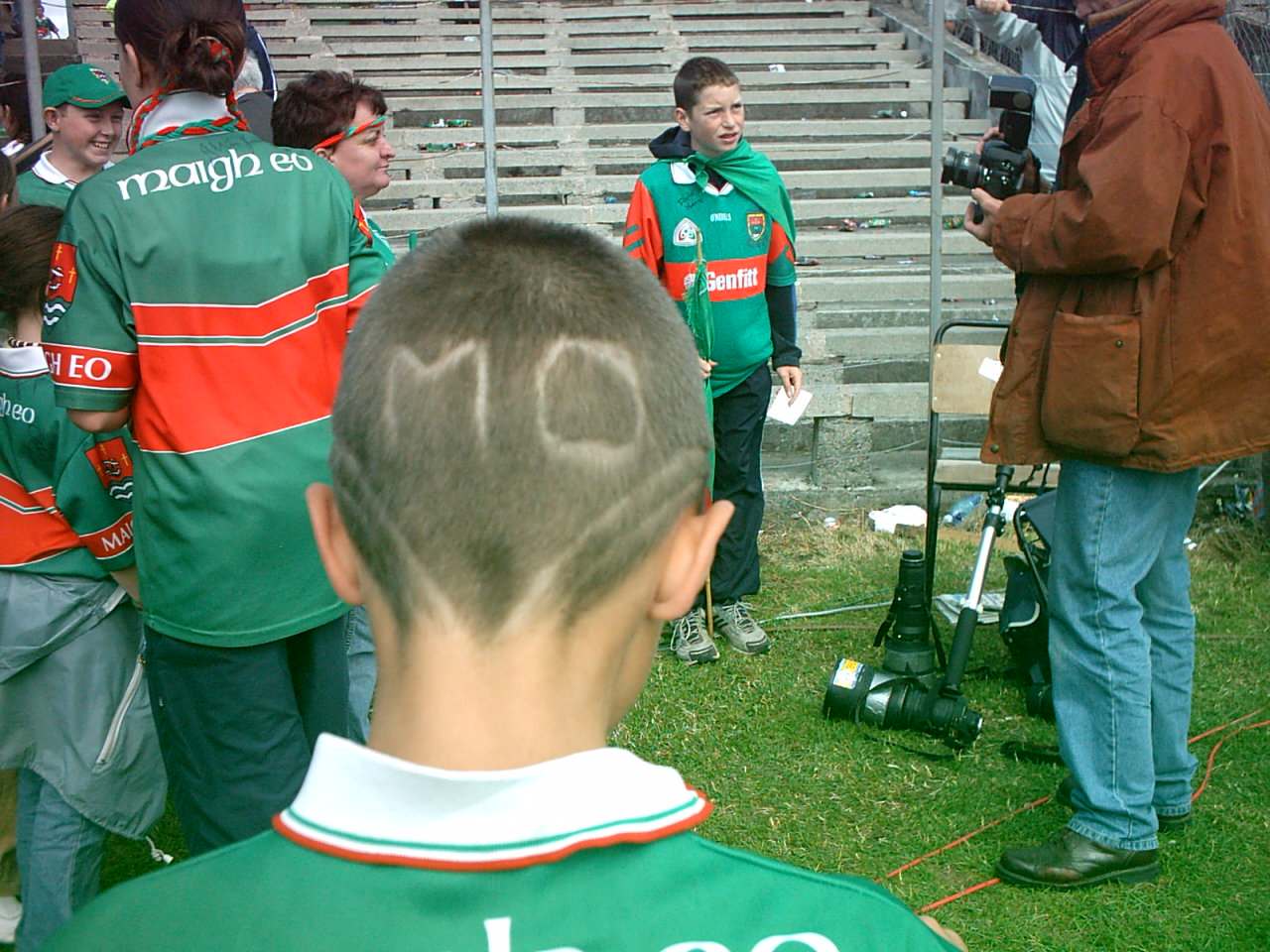 Do you think the hype is kickin' in yet ?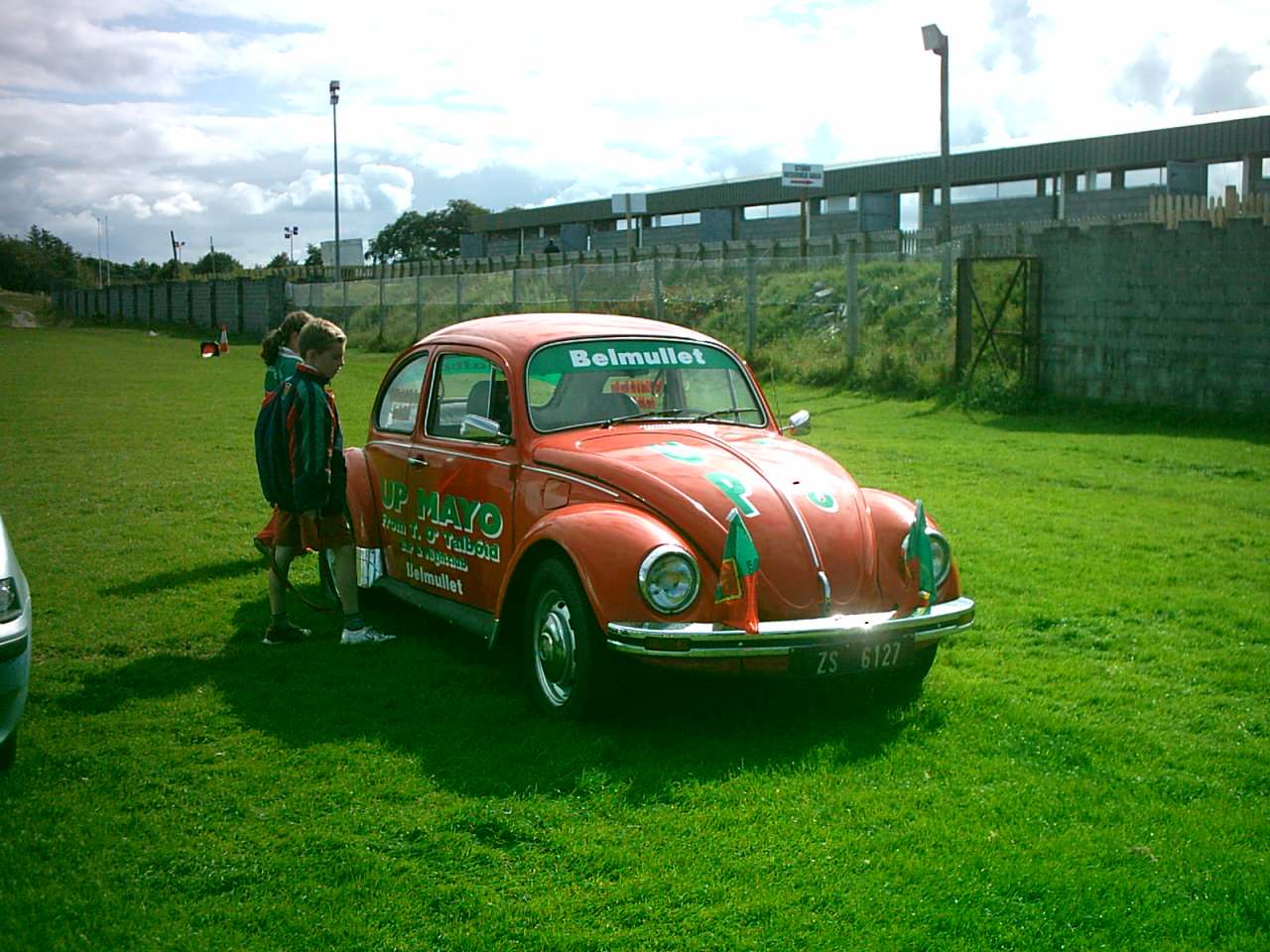 Hype - what hype ? Did this car really make it all the way from Belmullet ?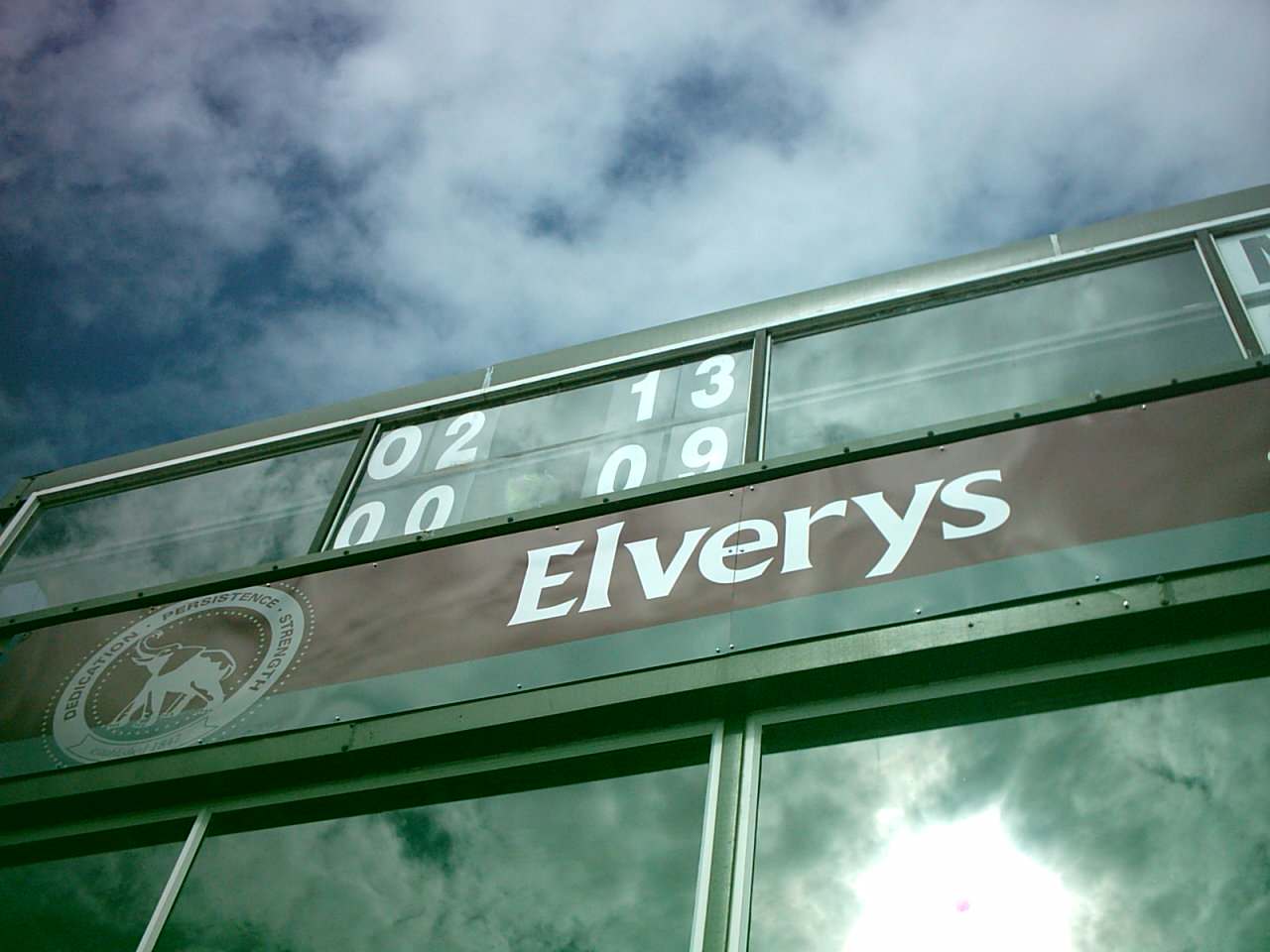 The final score Mayo 2 goals and 13 points, Roscommon 9 points
© Copyright 2006 by the author(s)/photographer(s) and www.castlebar.ie

Top of Page