---
A deceased member of the Leatherback turtle family was washed up on Bertra Strand at the weekend.

Friends of mine took a number of photos with their camera phone (on either Saturday or Sunday the 16th or 17th of July) and managed to email them to me today.

Apologies for the quality of the photos but camera phones are still in their infancy but you get the idea that this poor member of the turtle family was a giant.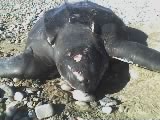 Some damage to the forehead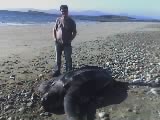 To scale - now you get an idea of how big this turtle is !
Leatherbacks are an endangered species and you can find out more about these creatures by visiting the following websites :

http://www.leatherback.org

http://www.turtles.org/leatherd.htm



© Copyright 2006 by the author(s)/photographer(s) and www.castlebar.ie

Top of Page